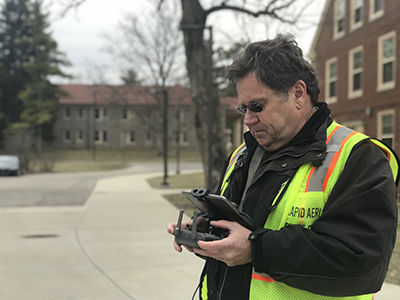 Apr 04, 2019
Drones are flying on Miami's campus in an effort to increase efficiency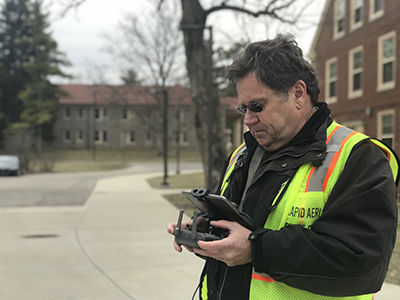 Dennis Fisher of Rapid Aerial operates a drone to inspect Miami buildings (photo by Shavon Anderson).
By Kristal Humphrey, university news and communications
If you've seen a drone hovering near a Miami building as you walk across campus, don't worry. No one is spying on you.
As a result of a Lean project, Miami's physical facilities department is using drones to inspect the roofs and gutters of some buildings.
The Lean project looked at how drones could be used on campus to increase efficiency, and one idea was to use them for visual inspections of roofs, gutters, chimneys and cupolas. Normally a lift is used to enable employees and contractors to do inspections and repairs.
After Miami chose Rapid Aerial as its time and materials contractor for drone services, physical facilities had them inspect four academic buildings that are difficult to access due to their height and location: Benton and Pearson halls and the engineering and psychology buildings.
Rapid Aerial also recently inspected Miami's residence and dining halls. Students are notified three days in advance anytime a drone will be flown near their residence hall, although the camera cannot see into the rooms due to its angle.
The drone is operated by one contractor who slowly scans the entire roof, takes photos of problem areas and sends the photos to physical facilities.
Advantages to using drones for inspections
The advantages of using drones for inspections include:
Decreasing the damage to lawns from using lifts. Even though physical facilities staff do things to minimize damage to the ground, like putting plywood under the lifts, there is inevitably some ground repair work that has to take place.
Increasing the frequency of inspections for buildings that are hard to reach. Some buildings are hard to reach due to the topography of the ground around them or the height of the buildings. To take photos of these buildings with a lift would require scaffolding to get to the roof.
Inspecting the workmanship of new buildings still under warranty. In addition to using drones to find areas that need maintenance or have leaves accumulating in the gutters, they can also use them to inspect the workmanship of new buildings to see if repairs are needed while the buildings are still under warranty.
Saving time. Since using drones for inspections shows which buildings need maintenance, it saves the time of someone using a lift to inspect the buildings. This enables staff to do other tasks.
"We will be able to more strategically target the areas of concern and not spend time moving a lift and looking at areas that don't need attention," said Jeff Johnson, director of environmental health and safety.
Johnson said physical facilities is collecting metrics from the recent drone inspections to determine the cost avoidance. Miami uses a contractor to remove leaves from the gutters of the residence and dining halls, so using a drone for inspections may save money since it will show which areas need attention.
Miami's drone policy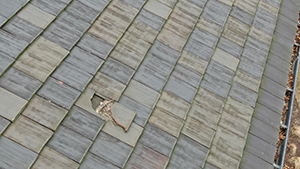 Drone photo of a broken roof tile on a Miami building.
Miami has a policy for the operation of small unmanned aircraft systems, including drones and model aircrafts, on university property and in university airspace.
If someone wants to fly a drone on campus for recreational or educational purposes, they must submit a request in writing to the associate provost for research. If they want to fly on campus for other business purposes, they can go through Rapid Aerial by submitting a work order with physical facilities at 529-6111.
For more information or questions, contact Johnson at 529-1723.