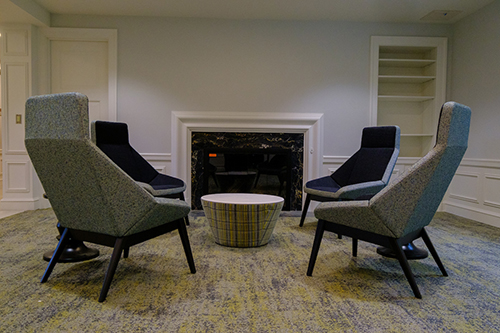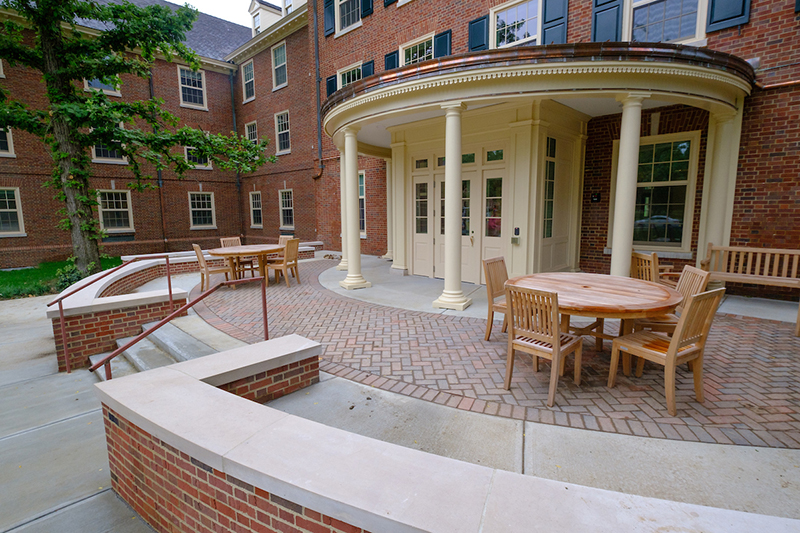 Renovations to MacCracken, Richard and Porter halls included updating the grounds and outdoor gathering spaces.
Photo: Scott Kissell
Aug 21, 2019
Three renovated residence halls offer accessibility, open spaces and more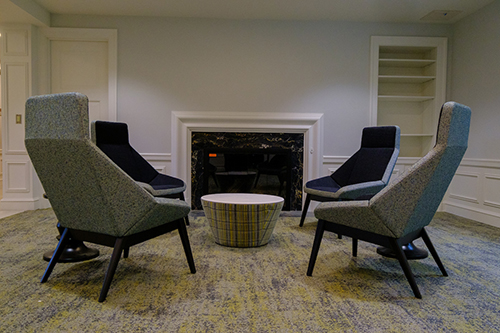 The three renovated residence halls include community and study areas. All photos by Scott Kissell.
By Kristal Humphrey, university news and communications
OXFORD, Ohio — Some Miami University students coming back to campus this month will be living in newly renovated residence halls.
The renovations are part of a campuswide plan to upgrade student housing. Miami is in the second of three phases. Renovations include improved accessibility and safety features, additional community and study areas, and upgrades to the grounds.
Central Quad
Richard Hall
Richard Hall, which has 213 beds and was built in 1940, was named for Frances Gibson Richard in 1952. She was an English professor at Miami from 1902-1936, and a member of the first faculty of the Normal College (now College of Education, Health and Society).
The hall has nine new sorority suites (five large and four small) and received a new tile roof. It also has various architectural features, such as arched openings.
MacCracken Hall
MacCracken Hall, dedicated in 1961, was named for Miami alumnus Henry Mitchell MacCracken. He was a minister and educator who became the chancellor of two universities. MacCracken has 175 beds and seven new sorority suites (six large and one small).
Market Street at MacCracken, the hall's market, was recently renovated with new fixtures and will have several new offerings. The market will continue to carry the various snacks, refrigerated items and supplies that customers rely on but now will also serve on-the-go, a la carte options. These include grill items, hot DELISH sandwiches, stir-fry, Rooted Grounds specialty coffees and smoothies.
A key part of the renovation of Richard and MacCracken halls was to make them more accessible. This included ramps, accessible student rooms, updated bathrooms and larger elevators.
South quad
Porter Hall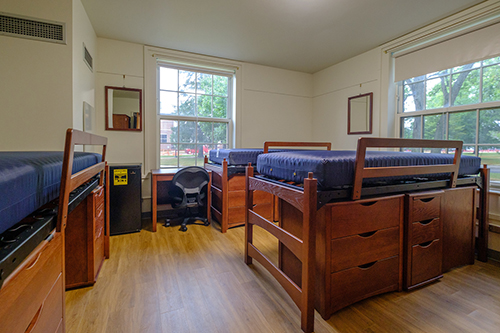 Resident rooms have wood floors and lofted beds.
Porter Hall, completed in 1956 and dedicated in 1957, was named for Elizabeth C. Porter, a native of Oxford and wife of alumnus David Swing. She was a graduate of the Oxford Female Institute, which was also known as Oxford College.
The hall, which has 183 beds, required less renovation than MacCracken and Richard since it had some revisions in 2013. There are no sorority suites in Porter.
Architectural features, open areas and upgrades to the grounds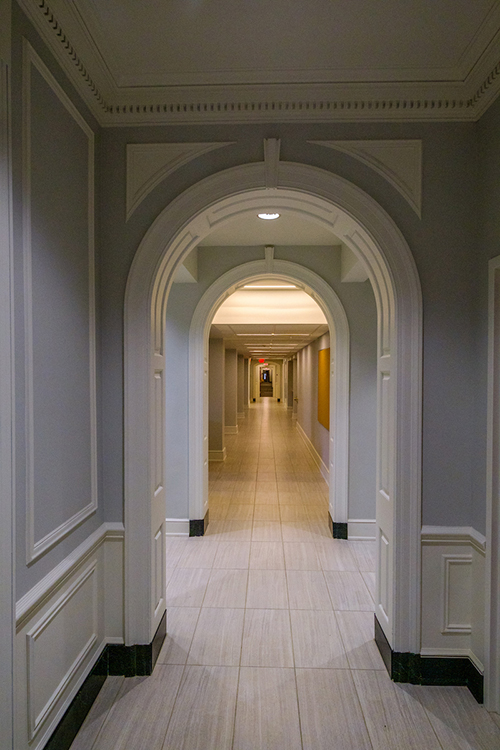 Many architectural features remain after the renovation.
All three buildings received upgrades to the grounds that included new plantings, lawns, new sidewalks, site lighting, storm drainage and irrigation. Each hall also has outdoor gathering spaces that were updated.
Students also have access to community spaces, study rooms and kitchenettes.
Although the renovations included many modern features, the crown molding, wainscoting, marble and terrazzo remain, as well as the original student mailboxes.
Upgrades in each residence hall include:
State-of-the-art electric, plumbing, mechanical/HVAC, fire alarm and fire suppression systems.
Fully accessible entrances.
Energy efficient windows with security stops in all first-floor rooms.
Community spaces that include a full-size kitchen and great room with a pool table, ping-pong table, piano and decorative fireplace.
Upper level community rooms, open and group study rooms with white boards and study nooks.
Dedicated all-gender and accessible bathrooms.
Laundry, mailroom, vending and indoor bike storage.
Each resident room features:
Energy efficient LED lighting.
Individually controllable thermostats with vacancy sensors.
Lofted beds providing maximum use of space.
All new furniture.