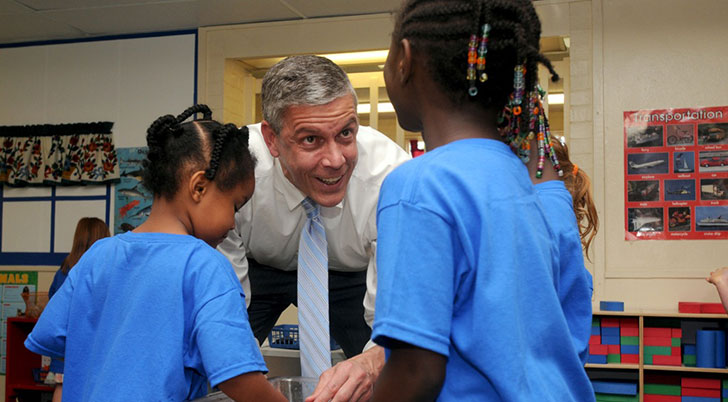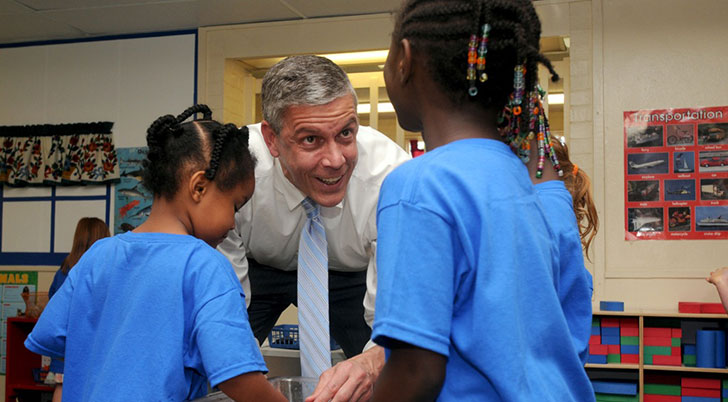 Secretary of Education Arne Duncan visits with children in the YMCA Children's Center on Miami Middletown's campus.
Photo: Samantha Grier for Miami University
Jun 20, 2013
Education Secretary Arne Duncan visits Miami Middletown
U.S. Secretary of Education Arne Duncan held a town hall meeting at Miami University Middletown Thursday, June 20. His visit focused on the importance of expanding early learning opportunities for all children, especially those from disadvantaged backgrounds.

Miami Provost Bobby Gempesaw opened the town hall. Richard Ross, state superintendent in the Ohio Department of Education, moderated the event, and John Pepper, former CEO, Procter & Gamble and Carine M. Feyten, dean of the School of Education, Health & Society, participated as panelists along with Duncan.

Duncan also visited the YMCA Children's Center, which is an accredited program by the National Association for the Education of Young Children. The center is located on Miami Middletown's campus.

"Two, three and four-year-olds don't vote or have lobby groups," said Duncan. "It's incumbent upon us to be their voice."

Miami Middletown was one of several stops Duncan made Thursday discussing President Barack Obama's plan to expand early learning opportunities to more children.

Earlier in the day, Duncan visited St. Benedict Center for Early Childhood Education in Louisville, Ky. Later that day he joined former Procter & Gamble CEO John Pepper, Col. Julie Blike and the Rev. Robert Harper from the First Baptist Church of Kennedy Heights for a press conference. Later that evening in Cincinnati he attended a town hall on bullying prevention and school safety co-hosted by the National PTA and Discovery Education.

"We get a 7-to 1 return on every dollar that we invest in quality early childhood education. It's the ultimate long-term investment and it's one we need to be making," Duncan said.

President Barack Obama, in an effort to help all children begin school on a level playing field, put forward in his 2014 budget request a new investment in early that would make preschool available to all 4-year-olds from low- to moderate-income families; expand evidence-based home-visiting services for vulnerable families and children; and support quality improvements through a new Early Head Start-Child Care partnership.