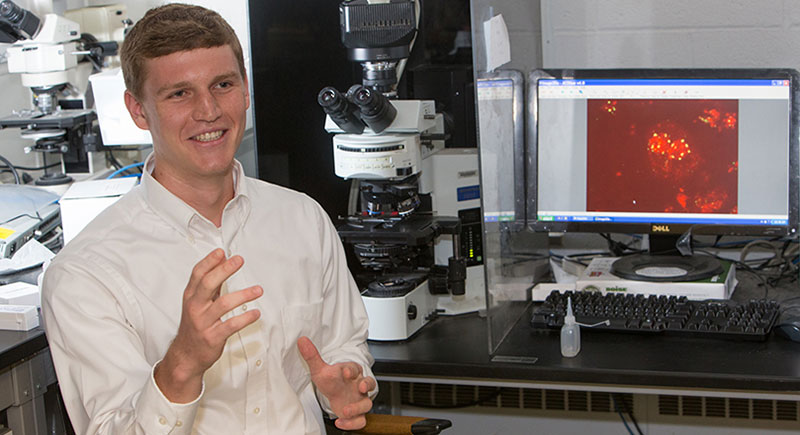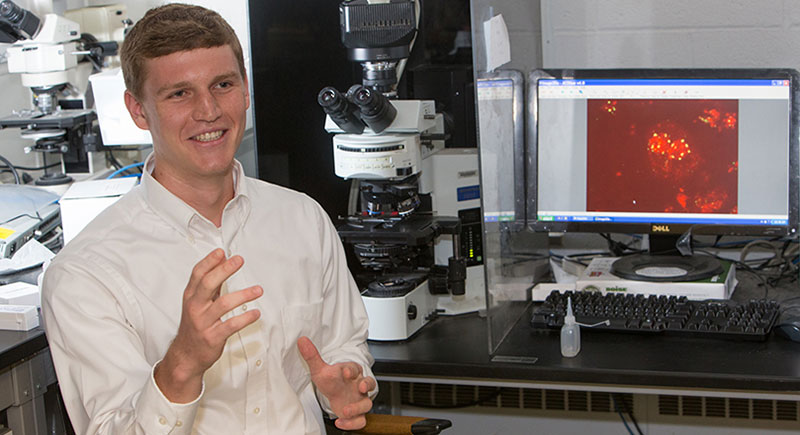 Dirk Auman in the lab; the image on the monitor shows an Arabidopsis plant cell undergoing meiosis, a specialized cell division that produces gamete (sperm and ovules).
Photo: Scott Kissell
Jul 17, 2013
Miami senior awarded $10,000 Astronaut Scholarship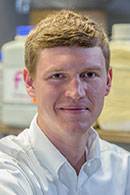 Dirk Auman
Miami University senior Dirk Auman, a biochemistry and engineering physics double major and computer science minor from Reynoldsburg, has been awarded an Astronaut Scholarship from the
Astronaut Scholarship Foundation
(ASF). He is one of 28 students nationwide to be selected for the $10,000 scholarship by ASF for the 2013-2014 academic year.
The scholarship is presented to top science and engineering students who have shown initiative, creativity and excellence in their chosen field, according to ASF. Astronaut Scholarship recipients are engineering, natural or applied science or mathematics students who have intentions to pursue research or advance their field upon completion of their final degrees.
Auman has been conducting independent study research since his first semester at Miami with
Chris Makaroff
, associate dean of the College of Arts and Science and professor of chemistry and biochemistry.
He is involved with Makaroff's research on the isolation and characterization of genes required for meiosis in the plant
Arabidopsis
(member of the mustard family).
"Dirk is the type of student that faculty love to have in lab," Makaroff said. "He is very bright, hard working, very independent and an excellent experimentalist."
The Astronaut Scholarship tops Auman's list of honors received while at Miami, which include being named a 2012 Goldwater Scholar Honorable Mention and a
2012-2013 Beckman Scholar
, with a scholarship valued at $19,300.
"At Miami, faculty members strive to be outstanding teacher-scholars. Dirk is an excellent example of a student-scholar," said Michael Crowder, chair and professor of chemistry and biochemistry. "He demonstrate(s) outstanding ownership of his project. He (understands) the rationale behind his experiments and can explain how his research fits with the "bigger picture."

"Dirk has plans to go to earn a Ph.D. in biochemistry and have a career in research. I have no doubt that he will be successful in this regard," Makaroff said. "He has the intelligence, skills and work ethic to be a successful independent scientist."

Auman is a member of the university honors program and is involved in the Miami athletic bands, the Miami Chemical Society and the Alpha Lambda Delta honor society.

Astronaut Scholars
Astronaut Scholars must be nominated by a faculty member, entering their junior or senior year at one of the 27 schools the foundation supports, and demonstrate excellence in research and academics. Miami is one of the 27 schools eligible to nominate a student for the Astronaut Scholarship.

ASF was founded in 1984 by the six surviving members of America's original Mercury astronauts. Since then, more than 80 other astronauts have lent their support to the program. Its mission is to aid the United States in retaining its world leadership in science and technology by providing scholarships for college students who exhibit motivation, imagination and exceptional performance in the science or engineering field of their major.

A member of the Astronaut Hall of Fame will visit campus in the fall semester to give a public lecture and present Auman with the scholarship check.
Written by Susan Miekle, University News and Communications, meiklesb@MiamiOh.edu