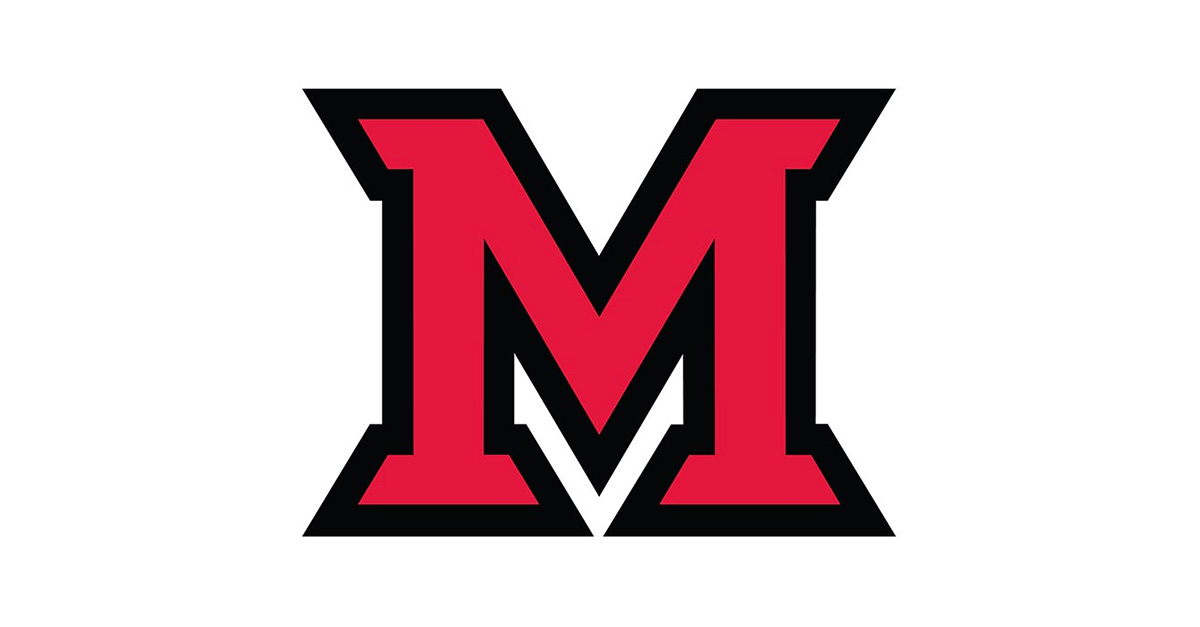 Jul 29, 2013
Youth camps add to campus buzz in the summer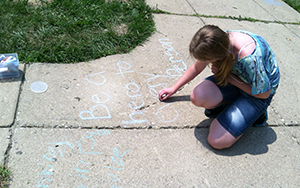 A young girl creates a word memoir out of chalk during Miami's Ohio Writing Project's summer camp. (Photo: Courtesy of Miami University's Ohio Writing Project)
It's summer, but there are no lazy days here at Miami University as more than 2,400 youths participate in a variety of camps.

From June through August, children exercise their minds and bodies in one or more specialty camps.  For instance, in one high school students are introduced to architecture and interior design, while in another camp, teens develop 3-D models of video game characters they create.

Programs also include a day camp at the Recreational Sports Center; the Miami Art Portfolio Summer Studio (MAPSS), which helps high school students build their portfolios; a Girls on the Go camp for high school students in August; a Youth Writing Camp for students in grades 5-8, which drew about 60 participants; even a Magic Camp.

In arts camps, the pre-college educational workshops are taught by the same professors who run the architecture, performing arts and art studio classes at Miami.

At Goggin Ice Center, the hockey school draws more than 900 youths and the figure skating and synchronized skating schools bring in nearly 350 others.

Ronda Strunk, assistant director of administrative services at Goggin, said the ice stays busy from June 16 through Aug. 9, with seven weeks of hockey school and four weeks of skating school.

"I think Miami varsity hockey has put us on the map, if you will, but our program brings them back," she said. "We have a lot of returns."

About 1,000 boys and girls are taking part in other sports camps, an increase from last year, said Chase Speaks, director of camps for athletics.
Those sports include baseball, basketball, field hockey, football, soccer, softball, track and field, and volleyball.
Meanwhile, the College of Creative Arts, drew 34 participants to MAPSS, the Intro to Character Development and Beginning Architecture and Interior Design camps.

'This year we maxed out the Intro to Character Development class," said Geoff Riggle, visiting assistant professor of jewelry design and metalsmithing.

Those participants worked directly with faculty from the Armstrong Institute for interactive Media Studies to develop concept sketches for their characters before creating the 3-D models.
Camps offer "unique view of life on campus"
At an open house July 19, high school students showed their parents what they learned during the two-week session in architecture and interior design.

Carl Drail Cannon, 17, a senior from Evanston, Ill., said he searched online for summer architecture camps because he's always enjoyed designing and constructing things.

He said he selected the Miami program because "it was affordable" and would give him the experience of living in a campus dormitory and eating in a dining hall.

"It was inspirational to see what the first-year undergraduate architecture students designed and built," he said.

Oonagh Davis, 16, a junior at the School for the Creative and Performing Arts in Cincinnati, commuted from home to attend the same camp.
Davis, who is considering attending Miami University, said she also took part in a summer skating camp at Goggin two years ago. She believes those kinds of experiences in a university setting offer youths an early, unique view of life on campus.

"When you go to college," she said, "it won't be as intimidating."
Patti Hannan Liberatore, executive director of the Performing Arts Series, said nearly 30 children, ages 8 to 16, participated in the Magic Camp, which culminated with a talent show. Magician Kevin Spencer taught them how to perform tricks with everyday objects.

Ruchelle Dunwoody, intermural director at the rec center, said they average 35 to 40 kids participating weekly in the day camp, which ends its nine-week run on Aug. 2.

"Some kids spend the entire summer with us," she said, adding there were 106 participants in the first seven weeks.

This was the first year the Outdoor Pursuit Center offered a one-week adventure camp for those ages 12 to 15. That session included canoeing, kayaking and rock climbing.

Dunwoody said summer camps generate revenue for the departments in the summer, but also help promote the university in a positive way to youths who are here to hone their own skills or have fun.

"Eventually they are going to have to pick a college," she said. "They'll remember 'I spent a week at Miami and did all these great things.' That will leave a lasting impression in their heads."
Written by Margo Kissell, University News and Communications, kisselm@MiamiOh.edu