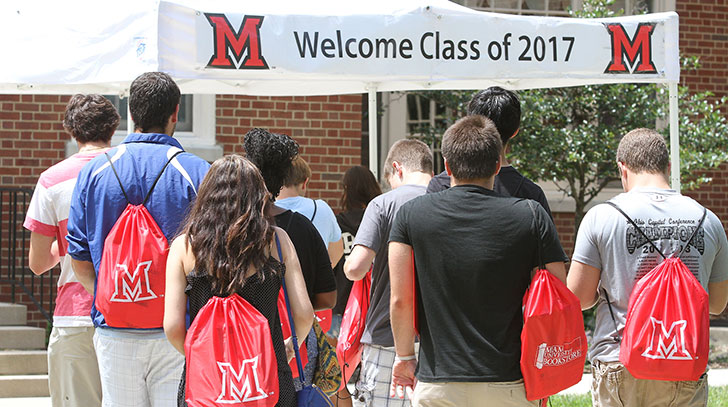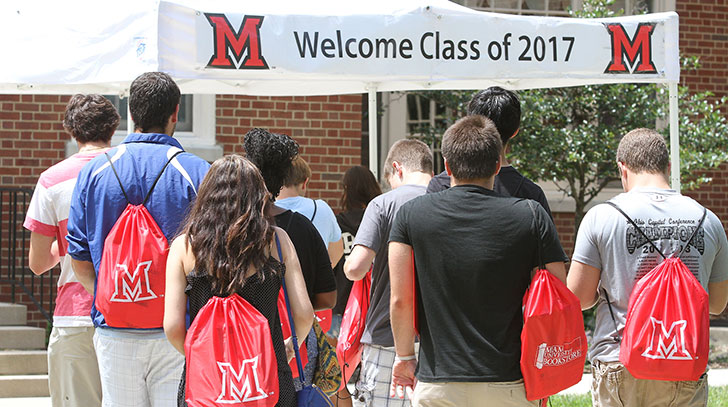 Miami welcomes class of 2017
Photo: Jeff Sabo
Aug 19, 2013
Smart and diverse, class of 2017 well equipped for Miami's nationally acclaimed academics
The most academically accomplished and diverse class in the history of Miami University describes this year's approximately 3,650 first-year students who move in Aug. 22 and attend Convocation Aug. 23. Fall classes for the university begin Aug. 26.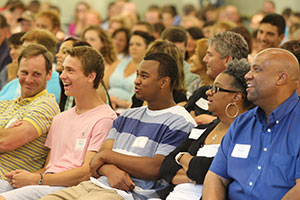 Students and parents enjoy an information session during Miami's summer orientation program for first-years.
From a pool of more than 22,500 applications — a Miami record — this year's class of 2017 brings with it impressive academic achievements. The average ACT score is one full point higher than last year, with an increase from 26.5 to 27.5. Of this year's class, 29 percent scored a 30 or higher on the ACT and 37 percent scored a 29 or higher.  The average GPA rose from 3.63 to 3.72, including a significant increase in the rigor of high school curriculum completed.
Just as impressively, 39 percent of the incoming first-year students graduated in the top 10 percent of their class. More than half, 59 percent, already received college credit from advanced placement, post-secondary education or other programs.
University officials also report that domestic diversity represents 13.3 percent of the enrolling class — a statistic that increases each year. Students hail from 45 states and 26 countries, with non Ohio students representing nearly 40 percent of the first-year class. Miami increased its on-campus international population one full percent to 5.1 percent.
Miami launches its new university academic scholars program this year with the inaugural class of 165 students selected from the top of the incoming class. The program includes seven distinct areas of study and an array of academic and co-curricular opportunities specifically designed for these academically talented students. This new program complements the long-standing honors program that is enrolling 341 students this year.
"I Am Miami"
To celebrate the entrance of Miami's newest scholars, a new tradition begins during Convocation 2013. Each student will receive an "I Am Miami" pin and also recite together the Code of Love and Honor that is an extended and personalized version of Miami's values statement.
"This statement articulates the behavioral expectations for members of the university community," said Miami President David Hodge. "'I Am Miami' and the Code of Love and Honor emphasize that individuals also have an obligation to the greater good."
This year's Convocation features Jane McGonigal, author of Reality is Broken, this year's Summer Reading Program book selection. More than 100 Welcome Week activities highlight the opening of the 2013-2014 academic year.
Major construction projects greet students as the new Armstrong Student Center nears completion. The center will open phase one in October with complete occupancy in February 2014. Miami debuts two new residence halls and one new dining hall fall semester. Etheridge Hall will house 232 students and Maplestreet Station will house 90, plus offer seven restaurants with distinct international cuisine.
New this year is the addition of a winter term from January 2-25, 2014. This short period between fall and spring semesters offers a variety of additional learning opportunities to all students.
Recently, Miami ranked among the top 50 public colleges in the nation, according to Forbes magazine. Miami is also listed in Princeton Review's 2014 best colleges guide.
"These remarkable students coming from across the United States and the globe are continuing to realize the superb value of a Miami education," said Michael Kabbaz, associate vice president of enrollment management. "I'm confident these students will have tremendous success during their time at Miami and will continue to make an impact on the world after graduation."
Written by Carole Johnson, university news and communications, Carole.Johnson@MiamiOh.edu