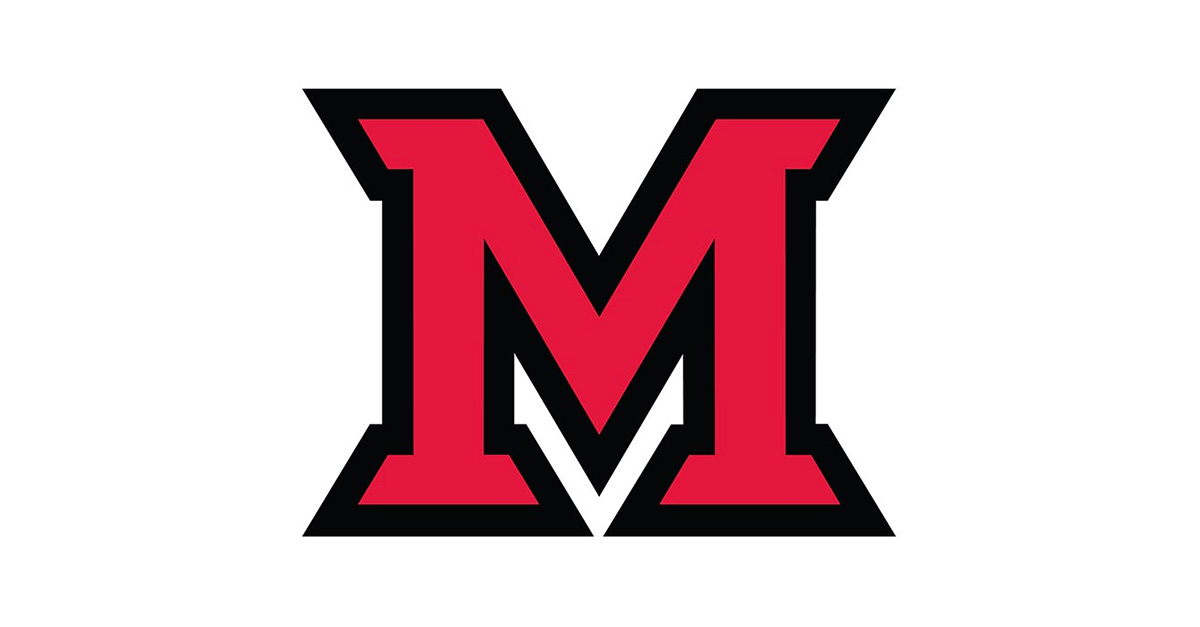 Aug 30, 2013
Miami Tribe reclaims historic land grants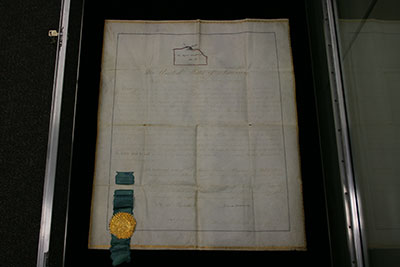 The 1823 land grant is the most elaborate, with a gilt edging and an attached ribbon and gold paper seal.
Eight early 19th-century land grants and a map of an Indiana town on historic Miami lands have been returned to the Miami Tribe of Oklahoma, and Miami University staff members are assisting with their assessment and preservation.
The land grants were promised to various members of the Miami Nation in the course of treaty negotiations. Most of the grants were issued in 1843 over the signature of John Tyler, as a result of the 1838 Treaty at the Forks of the Wabash.
President James Madison signed the earliest of the grants, issued in 1823 as a result of the Treaty of St. Marys in 1818. Originally it was thought to be a copy of the 1838 treaty itself, but tribal scholars identified it as a land grant after further review. A hand-drawn map of "Lafontaine's addition to the Town of Huntington (Ind.)" was also present.
The documents resurfaced recently in a storage area in the Fort Wayne Catholic Diocese. Church officials turned them over to the Historic Forks of the Wabash Museum in Huntington. Museum officials contacted local Miami tribal members who, in turn, contacted Daryl Baldwin, director of the Myaamia Center at Miami University and a member of the Miami Tribe of Oklahoma. He accepted the documents on behalf of the tribe.
"The displacement of the Miami Tribe from their homelands in 1846 resulted in several government documents becoming alienated from the tribe's possession," Baldwin said. "It's for that reason that the Miami Tribe of Oklahoma continues to actively search for original documents so they may be properly placed back in the nation's archives."
Staff members at the Miami University Libraries are assisting the tribe with assessment and recommendations.
"The 1823 land grant is the most elaborate, with a gilt edging and an attached ribbon and gold paper seal. The ink on this grant is faded and the map bears some old tape repairs, but the documents in general are in good condition," said Elizabeth Brice, assistant dean for Special Collections. "I've asked our preservation librarian, Ashley Jones, to make a detailed assessment, and we'll then provide the tribe with recommendations for any further needed treatments."
The Center for Digital Scholarship in King Library will be creating high-resolution, digital versions of the land grants to enable public access and enhance the faded ink to render it more legible. "
We feel honored and privileged to assist the tribe with the preservation of these documents, and we are grateful that the tribe is willing to share them with the public online," Brice said.
Brice said she hopes the documents will be accessible online before the end of the year. They will be added to the collection of historical documents being built in the Myaamia Collection Online.
Submitted by Miami University Libraries