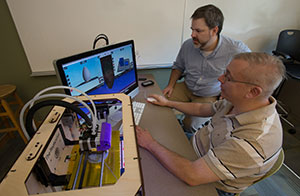 John Williams, senior library technician at BEST Library, and Jeb Card, visiting assistant professor of anthropology, use a 3-D printer to make three-dimensional replicas of artifacts. Card's goal is to supplement normal study by making some objects more accessible to his students and, in some cases, showing them how they were originally used.
Peek inside Jeb Card's teaching lab and catch a glimpse of ancient history colliding with futuristic technology in a way that could transform how students learn.
The visiting assistant professor of anthropology at Miami University is creating replicas of some artifacts using the latest in 3-D digital scanning and printing. His goal is to supplement normal study by making objects more accessible to his students and, in some cases, showing them how they were originally used.

Card illustrated his point by picking up a new, plastic version of a "chunkey" stone, which looks like a gray hockey puck. The game stones were used in North America after 1,000 A.D. They rolled a stone across the ground and then threw their spears at it to see who could come closest to the stopped stone.

"I don't roll the real ones around," Card said, before tumbling the copied chunkey across the lab's floor. "We can show people how it works. That's $1.50 in plastic; if it breaks, I can get another one."

Other 3-D renditions include a cylinder stamp used hundreds of years ago in South America to imprint a design on a body or another object. The real one, safely tucked away in a locked drawer, looks like a wine bottle cork covered in patterns. Although he wouldn't want to put ink on it, there would be no problem doing so with the bright blue plastic copy he created. He scanned the original in his lab and printed it on a 3-D printer at BEST (Business, Engineering, Science and Technology) Library in Laws Hall.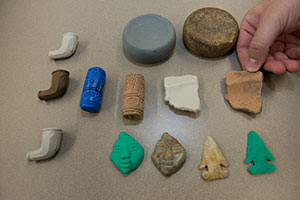 A sampling of some of the artifacts and 3-D replicas that have been produced.
"I like to see people's ideas come to fruition"
There is another 3-D printer in King Library's CIM (Center for Information Management) lab that, like the one in BEST, is accessible to Miami students regardless of their field of study.

"We sit down with them and just make sure their object is printable, make sure there aren't going to be any issues and then we print it for them," said John Williams, senior library technician at BEST Library.

For 20 cents a gram for the materials, students can pick up their objects crafted from the same resilient plastic as Legos. The plastic is fed from spools of thin plastic line — black, white, blue, green or gray — that Williams likens to "the line you stick inside a weed wacker." The plastic melts in the printer at 230 degrees Celsius.

Williams hopes to be able to offer a new color 3-D printer this semester that would enhance the color of printed objects by injecting ink into the process. He has been working with the current 3-D printer since last August and has enjoyed helping to print an array of objects.

"I like to see people's ideas come to fruition from a digital, three-dimensional object in digital space to a physical object I can pick up and hold," he said.

Williams said he works with a lot of engineering students, particularly on senior design projects. He helps print prototypes, including one for a student who needed something to present to the U.S. Air Force.

He also enjoys learning about the various ancient artifacts Card scans from his lab next door in Upham Hall.  "I learn something every time he comes over, about the artifacts themselves or something about history," Williams said.
"A big deal"
Card has been busy scanning and printing copies of 81 ceramic artifacts on loan from El Salvador. "I can do two a day," he said, hoping to get them all done before he must return them in January.

Card purchased 3-D scanning equipment and laptop computer with about $7,000 that was part of a larger Student Technology Fee grant. To him, the coolest thing is being able to share the 3-D files electronically.

"I can email a virtual form of an object to somebody. They can either examine it on a computer or they can print one out if they have a printer," he said. "That starts to become a big deal."

Card envisions building an online museum at Miami that might feature embedded 3-D PDFs of scanned objects that someone could read with Adobe software or print using a 3-D printer.

For instance, he was able to download an image that had been scanned by Cornell University staff of a clay Cuneiform tablet from Iraq, which features some of the oldest writing in the world. He held up the replica, which looks like a small, charcoal briquette for grilling but with writing all over it.

 "I can show this to my students," he said, considering the possibilities that this new technology might offer students. "Imagine if you could print off King Tut's funerary mask."
written by Margo Kissell, university news and communications, kisselm@MiamiOH.edu