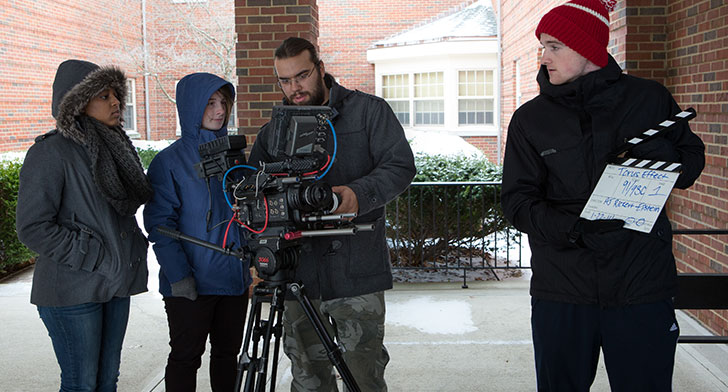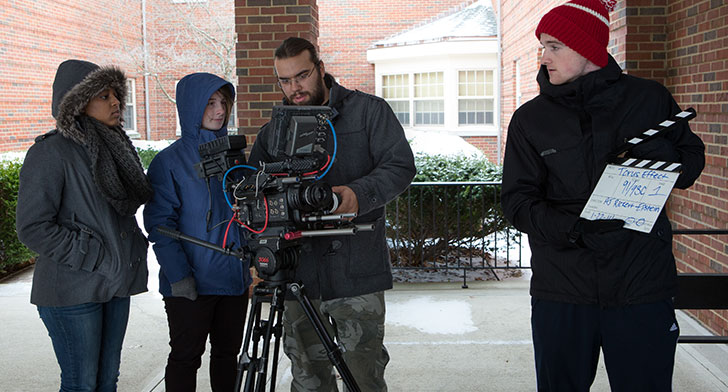 Students participate in making a film during winter term on Miami's Oxford campus.
Photo: Scott Kissell
Jan 23, 2014
Students experience winter term from A-Z
On campus, across the U.S. and abroad, students find much to tweet about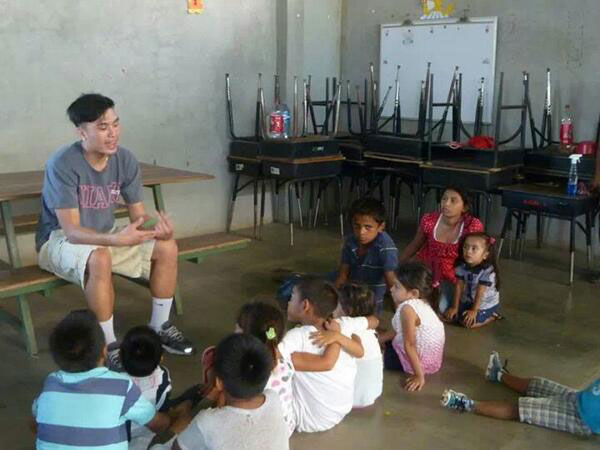 Miami students traveled the world, taught dental hygiene to children (pictured above), and found new places to learn. View more photos of winter term tagged #MiamiOh in a Storify collection.
When Miami University students look back on their 2014 winter term experiences, they'll have stories to share from Australia to Zambia — and dozens of places in between.

Miami is the first public university in Ohio to offer a winter term, running Jan. 2-25. Held for the first time this year, the three-week term gives students a chance to enrich their academic experiences through study abroad, completing a workshop or internship, conducting research or taking additional on-campus or online courses.

The Farmer School of Business (FSB) offered seven winter term programs that sent 162 students on faculty-led trips, said Kim Suellau, director of the school's international programs.

Some business students went to Australia to work with Suncorp on a project, while others traveled to Singapore, Hong Kong, Shanghai and Beijing to learn about the Asian financial markets. Business students also went to London to study law; compared emerging economies in Vietnam and Cambodia with Hong Kong's thriving economy; and worked with entrepreneurs in Guatemala and Jamaica.

"We hope that students will gain an understanding of how business is conducted in the part of the world where they studied, that they will gain some level of cultural competency in understanding and appreciating the local culture, and move forward in meeting Miami and FSB course requirements," Suellau said.

Miami students majoring in other fields of study also had memorable learning experiences here in Oxford, across the United States and around the globe.
Coast to coast and beyond
Students from the College of Arts and Science (CAS) took study trips to various places, including Cuba, Colombia, Nicaragua and Ghana.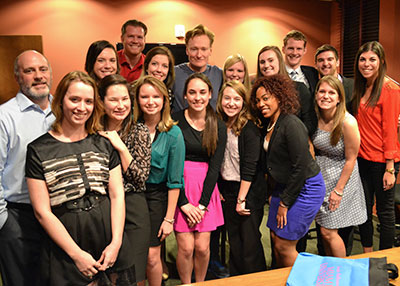 Miami students visit Conan O'Brien.
Media, journalism and film faculty led students to the "Inside Hollywood" workshop in California and the first "NYC Media" workshop in the Big Apple.

The "Inside Hollywood" workshop, first held last spring, again offered students exposure to the TV and film industry through dozens of Miami alumni who are contacts for the program.  

The students were photographed with talk show host Conan O'Brien and NCIS star Mark Harmon.

Richard Campbell, chair of media, journalism and film, called "NYC Media" another workshop "aided and abetted by the commitment of Miami-CAS alumni … and some 'old friends' we have had to campus in the past."

"Good Morning America" co-anchor Robin Roberts, who delivered Miami's commencement address in 2008, gave a shout-out on Twitter last week after crossing paths with Miami students.

"Just ran into a group of journalism majors from Miami University (Ohio). Wonderful students! Reminded me why I wanted to do this," Roberts tweeted.

The students also met with columnists, writers and editors at The New York Times as well as several Miami alumni, including Andrew Martin, an investigative reporter at Bloomberg News; Bill Hemmer, co-anchor of Fox News' "America's Newsroom" morning show; Candace Kuo, a producer for NBC's "Today Show"; Lisa Bannon, editor of the Wall Street Journal's weekly A&E section; and David Marino-Nachison, a WSJ web strategist.
"Action!"
Students who opted to stay on Miami's Oxford campus during the winter term have their own news to share.

Sarah Brumett, a junior majoring in mass communications, was among 18 students who discovered what it's like to work on a film set — while still earning credit hours.

"I thought it was a really wonderful opportunity," said Brumett, who was a digital imaging technician for director Anthony J. "A.J." Rickert-Epstein's psychological thriller, "The Torus Effect." The film was shot in and around Williams Hall.

Rickert-Epstein (Miami '05) views it as a way to mentor students the way other directors mentored him as a Miami student.

"It's really great to learn from someone who is doing this as a profession, in addition to the assistance from professors," he said.

David Sholle, associate professor of media, journalism and film, said that with Rickert-Epstein's return to campus again this term, along with the creation of the new "Inside Hollywood" learning workshop, "It's creating this back and forth between Oxford and Hollywood."

Miami students research groundwater in Zambia.
Robots in Canada, theatre in the Czech Republic, and groundwater in Zambia
Six engineering students — led by Peter Jamieson, assistant professor of electrical and computer engineering — worked together to build a robot with the ability to ski and navigate a slalom course during their study abroad experience in Canada that took them to Montreal, Toronto, and other destinations.

Jacob Havens, a freshman majoring in mechanical engineering and engineering management, said their robot resembles more of a snowmobile than a ski.

"The hardest part has been keeping the electronics dry and for the most part out of the elements," he said.

Havens said he really enjoyed winter term, including the six credits he earned.

"The experience alone has been enough for me, but the credit is helping me get a jump on my classes," he said.

Ciera Gooden, a freshman majoring in electrical engineering and engineering management, said she is a "big supporter" of winter term.

"Having a shorter period of study abroad made this trip affordable for me, and I can see myself coming back next year for research," she said. "Plus in a few years I could be getting a jump on a spring co-op as an upperclassman."

Howard Blanning, assistant professor of theatre, led students on the department of theatre's Czech Republic Children's Theatre Tour.

"With the very generous support of the Parents Council, the Western College Alumni Association, The Thrall Endowment, the Yeck Endowment and the department of theatre, the Thrall Children's Theatre toured to Olomouc, Hradec Králové and Prague," he said.
The students performed at elementary and secondary schools in Olomouc and Hradec Králové and spent the nights with host families.
In Prague they performed at the National Theatre Academy, where they earned standing ovations and multiple curtain calls, Blanning said. The sponsored support also allowed them to visit a ballet and opera and visit medieval and modern museums.
Jonathan Levy, associate professor of geology and environmental earth science, took eight students (seven undergraduates and one graduate student) with him to Lusaka, Zambia, to do research in partnership with the University of Lusaka.

Levy said there were two thrusts to the research: Developing groundwater dye tracing as a tool for understanding and managing groundwater resources in the aquifer system and studying water quality in low-income, densely populated, unplanned communities in Lusaka.

The workshop brought together students, professors and scientists from the United States and the East African country "working with the common goal of broadening the hydrogeological tool kit for sustainable groundwater development and management."
The students worked closely with Zambian students in the field and at their university and spoke with Zambians from many different tribes.

"Our fieldwork also involved visits to lower-income, unplanned communities with community leaders and government officials, exposing my students to a very different cross section of people and living/environmental conditions that are not seen in the U.S.," Levy said. "Through all these interactions, I hope my students gained deepened global perspectives on life, humanity and diversity as well as poverty and environmental issues like water scarcity and pollution."
Written by Margo Kissell, university news and communications, kisselm@miamioh.edu