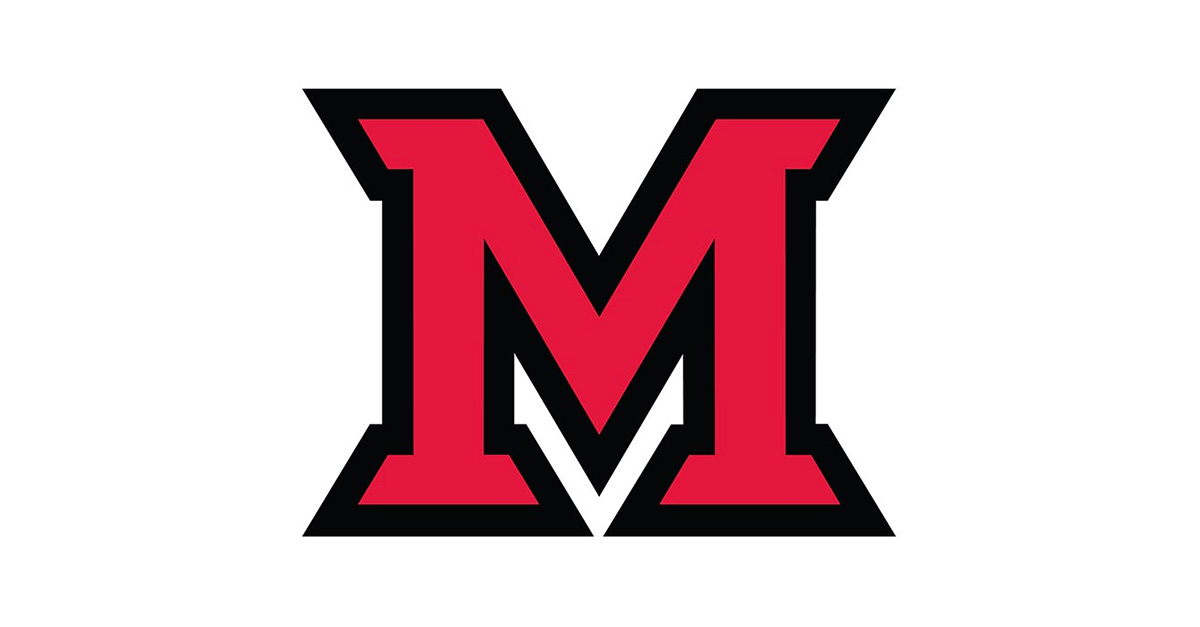 Apr 07, 2014
Miami student hits high note with choir for adults with developmental disabilities
Written by Margo Kissell, university news and communications, kisselm@miamioh.edu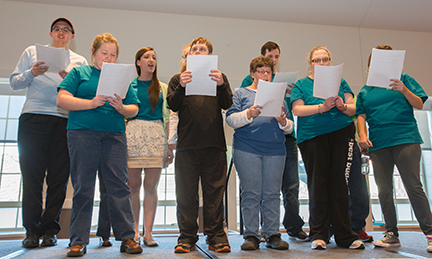 Tanner McClellan and the Best Buddies Friends Choir perform at the MU Thon (all photos by Scott Kissell).
Before the singing starts, there is hugging — lots of it.
That's Miami University sophomore Tanner McClellan's first order of business whenever she gets together with the Best Buddies Friends Choir.
McClellan — a member of Miami's Collegiate Chorale and a cappella group Just Duet — created the choir for adults with developmental disabilities last spring out of a desire to share her passion: music.
She looks forward to their Saturday morning rehearsals at Miami's Hamilton campus.
"I get to spend an hour with 15 of my favorite people," said McClellan of Upper Arlington, who is majoring in kinesiology with a minor in special education. She wants to become an occupational therapist working with children with special needs.
The choir — which has tripled in size from the original five who joined last March — is affiliated with the Miami chapter of Best Buddies, an international nonprofit dedicated to creating opportunities for college students to have one-to-one friendships with people who have intellectual and developmental disabilities.  
To the choir members, she is just Tanner.
On a recent Saturday morning, she spent a few minutes catching up with the members in a third-floor classroom at Rentschler Hall before rehearsing parts of six songs.
Before the rehearsal was over, she and Tommy Klee — her one-on-one buddy who has Down syndrome — were dancing and playing air guitar to Elvis Presley's "Jailhouse Rock" as the choir sang.
McClellan selects the songs to fit the interests and personalities of the choir members, who range in age from 21 to over 50. "Jailhouse Rock" is Tommy's song.
"He doesn't talk a lot, but he loves music," she said. "He loves Elvis more than anybody I know."

McClellan and friends relax before their performance.
Making a difference
Laura Schmidt of Fairfield, who has worked in the laundry at a local nursing home for more than a decade, was one of the first to arrive. She had been in a chorus in high school and loved it, said her mother, Peggy Schmidt.
"It gives them not only an outlet to sing and be happy, it also gives them an outlet to express themselves and feel confident in themselves," she said. "They're not the best singers in the world, but that doesn't really matter."
In this choir, it's more about having fun and getting to sing side-by-side with their friends. Some of the members have difficulty reading or speaking because of their disabilities so McClellan gives them large-print song sheets they can hold while performing.
Family members say McClellan is making a difference in their lives.
"She's a godsend to us," said Laura's father, Harry Schmidt, choking back emotion after the choir performed in front of more than 100 people at the MU Thon fundraising dance event in the Armstrong Student Center in March.
"When I was growing up — I'm pushing my mid 60s — we didn't have anybody like a Tanner," Schmidt said. "People with disabilities were pushed under the carpet and forgotten."
Now, they are in the spotlight on stage singing their hearts out to appreciative audiences across campus.

The Best Buddies Friends Choir and appreciative audience at the MU Thon.
In the spotlight
Another choir favorite is ABBA's 1970s pop hit, "Dancing Queen." The group belts it out for Jody Mann and Amy Thompson, best friends for 20 years.
"They know every word," McClellan said of the two women.
Laura Schmidt said she most enjoys singing the Disney songs: "Just Can't Wait to be King" and "Hakuna Matata" from "The Lion King."
Journey's 1981 rock ballad, "Don't Stop Believin' " also is part of the choir's repertoire.
 When they reach the line — the smell of wine and cheap perfume —  McClellan and the members take great joy fanning the air near their noses as if they just caught a whiff of strong perfume.
 Holly Oehler of Ross Township said she loves being part of the choir.  "It's pretty fun because I have lots of friends here," she said.
Her mother, Patty Oehler, said Holly was diagnosed with Landau-Kleffner syndrome, a rare, childhood neurological disorder that affects part of the brain that controls comprehension and speech.
She is thrilled to see her daughter, now 27, singing on stage.
"I like the friendships Holly makes and how much they all love each other and accept each other," she said. "They just have so much fun."
 And they are becoming a more familiar sight around campus.
The Best Buddies Friends Choir, whose members also have performed at athletic events and the Relay for Life, will perform during the Collegiate Chorale's spring concert at 7:30 p.m. April 26 in Kumler Chapel. 
Choir becomes registered student organization
Jeremy Jones, assistant professor of music who directs the Collegiate Chorale and the Men's Glee Club, called the collaboration between McClellan and the Best Buddies choir heartwarming.
"It's just really special and selfless, the way she is giving back and getting other students involved with this really unique project," he said.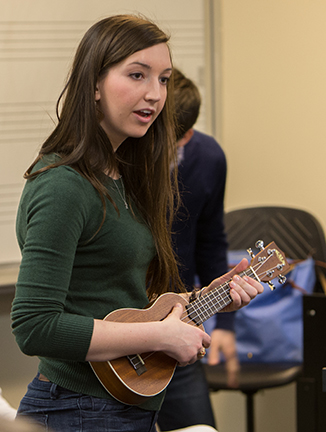 Tanner McClellan during a Best Buddies Friends Choir rehearsal at Miami University Hamilton.
These days, other Miami students frequently join McClellan on her drive to Hamilton for weekend rehearsals. Many are members of the Collegiate Chorale or Miami chapter of Sigma Alpha Iota music fraternity interested in meeting the choir members and joining them in song.
McClellan said the Miami chapter of the American Choral Directors Association and Sigma Alpha Iota helped sponsor her independent efforts for nearly a year, raising funds to help buy the T-shirts and cover other expenses.
Jones had encouraged McClellan to form a governing board and submit an application to become a registered Miami student organization to qualify for Associated Student Government funding. Final approval came on Valentine's Day.
"Hopefully that's going to help give the Best Buddies Friends Choir kind of long-term sustainability so, when Tanner graduates, there's already a core group of other students involved," Jones said.
Jones continued: "One of the things I'm interested in doing as well is providing some of our music education students with this opportunity. It's just a great enrichment exercise for them so if they're teaching in the schools later they have some experience teaching and working with people with exceptionalities."
Best Buddies
After arriving at Miami last year, McClellan joined Best Buddies. She soon discovered how much she missed working with a choir of individuals with special needs like she did in high school. A friend encouraged her to follow her heart and start one here.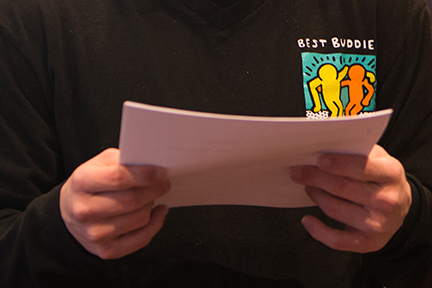 "She's really taken the bull by the horns," said Connie Mehlman, advocacy coordinator for the Butler County Board of Developmental Disabilities who is the host site coordinator for the Best Buddies chapter at Miami.
This is the 10th anniversary for the organization, which has been recognized five times as outstanding chapter out of 450 nationwide.
Mehlman had a chance to watch the choir perform "The Star Spangled Banner" at a women's volleyball game in November. It was senior day and one of the parents told Mehlman how much she was touched by the choir's rendition of the national anthem.
The choir usually saves the first song it ever learned — "Life's a Happy Song" from "The Muppets" movie — for its concert finale. McClellan told the audience at MU Thon that the song symbolizes what the choir is all about. The chorus is "Life's a happy song when there's someone by your side to sing along."
Afterward, as the audience gave a rousing round of applause, the smiling choir members bowed and quietly left the stage, but their excitement lingered.
"I'm so happy," Cassie Sullivan said. "We practiced a lot."
Watch and listen to the choir sing "Life's a Happy Song" here.