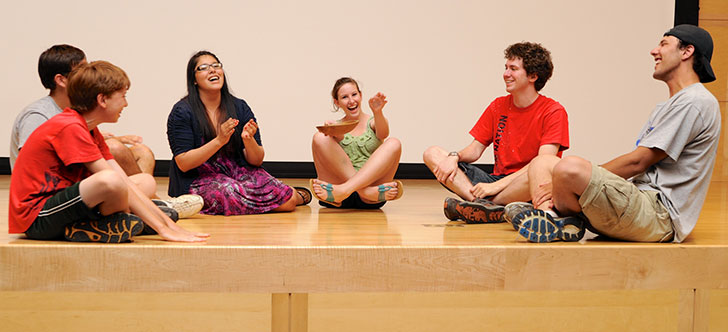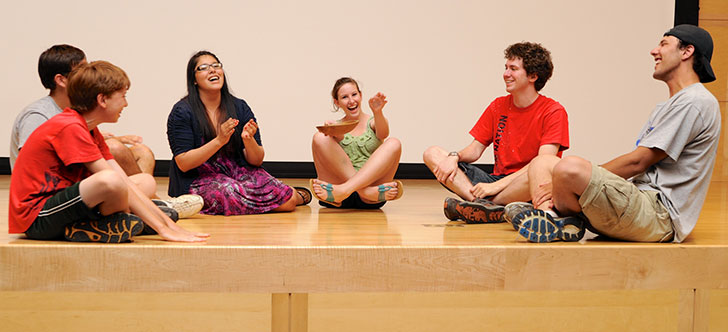 Miami Tribe youth and Miami University tribe students demonstrate traditional games at the Breath of Life program at the Sam Noble Museum in Norman, Oklahoma, in 2012.
Photo: (Photo by Andrew Strack)
Aug 26, 2014
Miami's Myaamia Center awarded NSF grant for "Breath of Life" project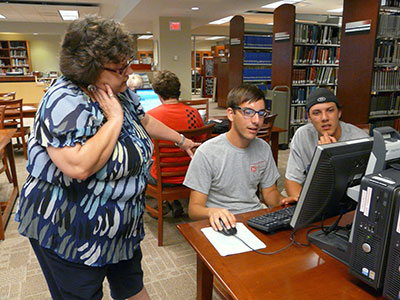 Miami University tribe students conduct research in the Breath of Life program at the Sam Noble Museum in Norman, Oklahoma, in 2012. (Photo by Mary Linn, Sam Noble Museum)
written by Margo Kissell, university news and communications, kisselm@miamioh.edu
The Myaamia Center at Miami University has received a $167,650 grant awarded by the National Science Foundation (NSF) for a project titled "Breath of Life Archival Institute for Indigenous Languages."

Daryl Baldwin, director of the Myaamia Center, is principal investigator.

The funding is part of the Documenting Endangered Languages program, a joint effort between the NSF and the National Endowment for the Humanities (NEH), which recently announced 27 awards totaling more than $4 million to document languages that are losing speakers.

"American Indians throughout the nation are losing their languages in this modern era of English dominance," said Leanne Hinton, professor emerita of linguistics at the University of California at Berkeley and co-principal investigator. "As these languages disappear, with them disappear important indigenous knowledge, history, ways of life and worldviews. Archives are full of written and recorded documentation of languages that no longer have speakers, and the grants provide for continued documentation before the last languages disappear," she said.
Also lost with language death is a sense of indigenous identity yearned for by those who never had a chance to learn their heritage tongue, Hinton said. There is a large and growing movement by indigenous peoples to maintain or regain their languages."
Breath of Life, as the program is more widely known, is designed to help American Indian communities meet that need. The program began at the University of California in the 1990s, organized by the Advocates for Indigenous California Language Survival.

Since then, the program has spread to Oklahoma and Washington, D.C. In 2013 the Myaamia Center was asked to provide organizational support for the D.C.-based program.

The Myaamia Center will be working closely with the Smithsonian Institution's Recovering Voices Program, which is providing important organizational and curatorial support for the program.

Breath of Life is unique in providing archival access for native language activists and scholars. Over the course of two weeks in June of 2015, approximately 40 native community members from across the country will gather to analyze documentation on their languages and cultures in the nation's capital. They will work in the National Anthropological Archives, the collections of the National Museum of Natural History and the National Museum of the American Indian, as well as in the Library of Congress.

"Easy access to archives is one of the most important issues for native communities engaged in revitalizing their languages from documentation," Baldwin said.

Participants or teams of community members, representing a variety of different language groups, are paired with linguists serving as mentors and collectively learn about sounds, word structure and other grammatical features of their individual languages. At the end of the two weeks, participants will complete a project of their own design and present to the group before departing.

Past programs have been met with great success and stimulated much needed language activity back in the tribal communities.

"We feel honored to be able to support the Breath of Life program so participants can begin utilizing these important historical resources for community benefit," Baldwin said.

The new awards, part of the NSF-NEH Documenting Endangered Languages program, support digital documentation work on nearly 40 endangered languages.