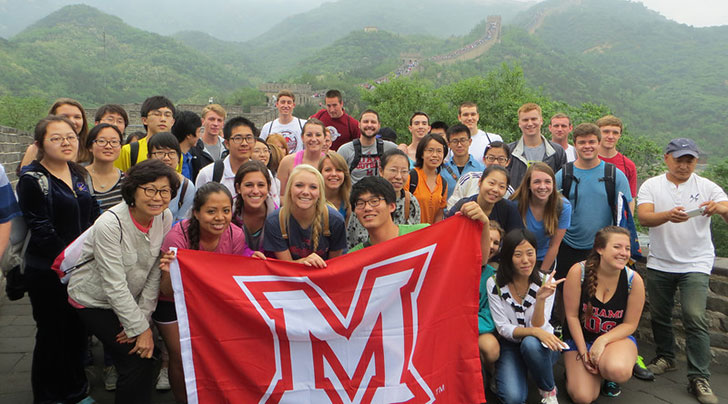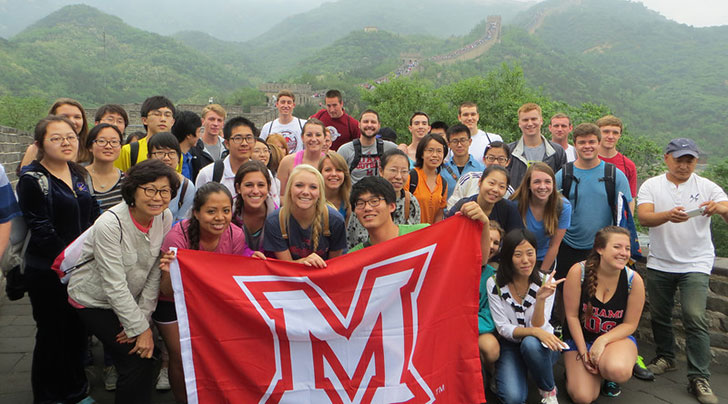 Anna Pozuelo and friends visiting the Great Wall of China.
Photo: (Photo submitted by Anna Pozuelo)
Aug 11, 2014
A summer abroad brings students unique perspectives to learning
Study Abroad Fairs
For more information about study abroad programs, students may attend the "Study Abroad and Away Fair" from 4-7 p.m. Monday, Sept. 29, at the Armstrong Student Center Pavillion or the winter term faculty-led mini fair from 4-6 p.m. Wednesday, Aug. 27, in the MacMillan Hall Great Room.
In hot climates or cold, students study foreign cultures and much more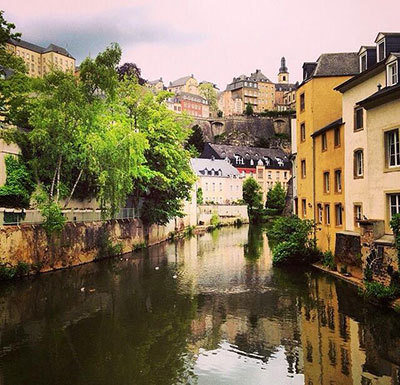 Which study abroad program are you? Take a quiz to find out which destination fits you. Click the online quiz. (Photo submitted by Deepika Hebbalalu. View of Luxembourg City.)
written by Trevor Jordan, university news and communications intern
From the Korean Demilitarized Zone to the city streets of Paris, more than 1,000 Miami students took part in a variety of summer abroad programs.

Students participated in field study, academic study and independent travel programs.

This year, Miami offered 58 faculty-led summer study programs in more than 30 countries. Of those programs, 49 were international, said Erin Brandyberry, coordinator of global programs.

Learning the business styles of different cultures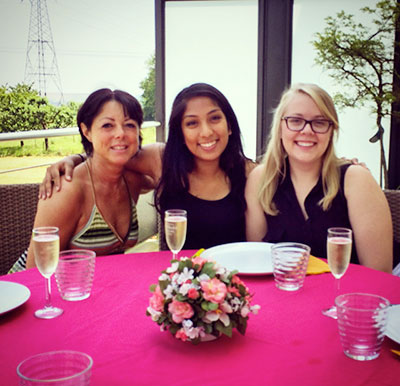 Deepika Hebbalalu with her host mother. (Photo submitted by Hebbalalu.)
Students who participated in the Farmer School of Business' six-week "Lux Plus Program" studied management and leadership while exploring several countries throughout Europe.

Students took three courses Monday through Thursday, transitioning from Miami's sister campus in Differdange, Luxembourg, to the Università Cattolica del Sacro Cuore in Milan, Italy.

Students received credit for each course based on their attentiveness during field trips, cultural reflection papers and completion of a scavenger hunt, said Deepika Hebbalalu, junior psychology major and management and leadership minor.

In between the transition from Luxembourg to Italy, students traveled to Switzerland to take part in a leadership retreat. Those students spoke with several guest speakers and learned how leadership could be applied in several different fields.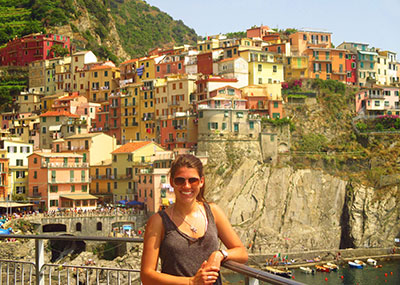 Francesca Veluscek in Cinque Terre, Italy (Photo submitted by Veluseck.)
Francesca Veluscek, a junior majoring in supply chain and operations management, said this gave students a shared appreciation of self-awareness and a unique global perspective on the business styles of different cultures.

In their free time, students toured various European destinations including the original Hofbräuhaus in Munich, Germany; the Von Trapp house in Salzburg, Austria; and the Swiss Alps.

"When we took a train up to Jungfraujoch – 'The Top of Europe' – and looked down into the Alps, the view was breathtaking," Hebbalalu said. "We were getting snowed on, and it was one of the most surreal moments of my life."

Building relationships along the Pacific Rim

Students in the "Pacific Rim" program made stops in six cities throughout China, South Korea and Japan, said Anna Pozuelo, junior supply chain and operations management major and double minor in Spanish and business analytics.  

Students toured well-known international businesses such as Procter & Gamble, General Electric, Deloitte and Coca-Cola; visited the DMZ line between North and South Korea; spoke with several alumni in Shanghai and Seoul; and explored each of the six major cities.

"Some of my most memorable moments come from simply walking the streets of Beijing, Shanghai, Seoul, Busan, Tokyo and Kyoto, and seeing the buildings, tasting the food and attempting to talk to the locals despite the language barrier," Pozuelo said.

In each country, students were also given the chance to interact with other students at Peking University in Beijing, China; the University of Seoul in Seoul, Korea; and Doshisha University in Kyoto, Japan.

"It was awesome getting to build relationships with these students and compare college in the states to college in each of these countries," Pozuelo said.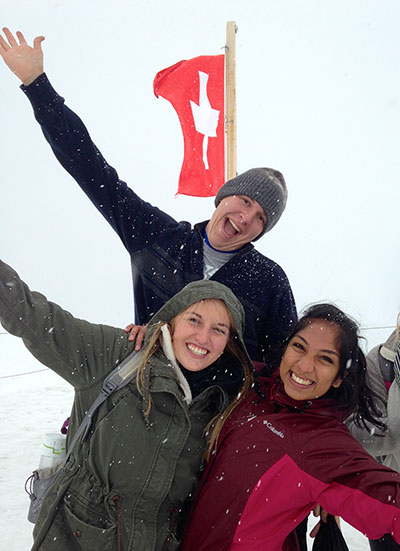 Miami students studying abroad love to share their photos. View more photos in this Storify. (Photo submitted by Deepika Hebbalalu. On top of the Alps.)
Benefiting from a new experience every day

Michael Coutre, junior marketing major and double minor in French and entrepreneurship, flew to France in the spring to begin an internship as part of a Miami Independent Travel Program. His internship started May 26 and ends Aug. 15.

Coutre lives just outside Paris and interns with Martin Brower France, the leading logistics service provider for restaurant chains around the world.

"At work I am constantly challenged," he said. "My French has significantly improved, and I have been able to gain invaluable professional experience. That in itself is enough to make me want to come back."

Coutre said he chose this internship and program because it was a once-in-a-lifetime opportunity. He was not only able to gain useful professional experience, but enjoyed exploring Europe — Paris and beyond — as well.

"Seeing the Eiffel Tower light up the first time was awesome," Coutre said. "Some other memorable moments include riding a bike down a mountain in southern Switzerland and traveling to London to visit other Miami students. Every day is a new experience."