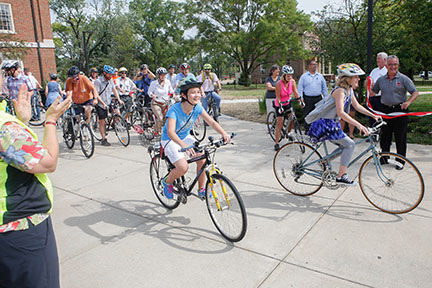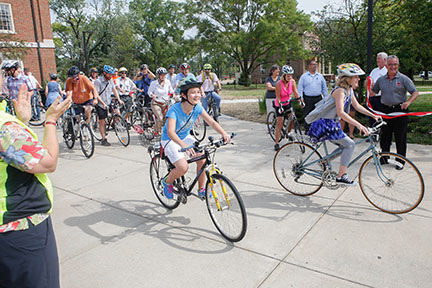 Miami and Oxford community members prepare for the first community bike ride at the Bike Lane Inauguration Aug. 22 (photo by Scott Kissell)
Sep 04, 2014
Get acquainted with new bike lane, multiuse trails
Written by Susan Meikle, university news and communications, meiklesb@MiamiOH.edu. Slideshow photos by David Prytherch, associate professor of geography.
A Campus Circulation Master Plan was completed in 2011 that focused on pedestrian and bicycle safety on and off campus. Now, results of that plan are in use by Miami and Oxford community members, with the completion of bike and pedestrian improvements on Spring Street and around campus.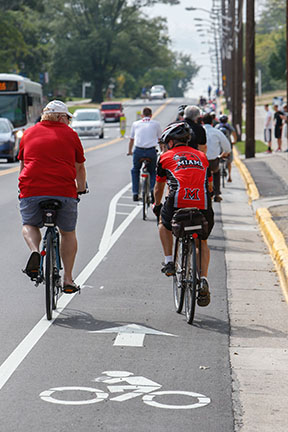 Spring Street bikeway (photo by Scott Kissell)
The new Spring Street bikeway is only part of a growing network of paths for getting around town car-free. New multiuse trails on campus and BCRTA bus routes will make getting around without a car even easier.
The Spring Street bikeway offers dedicated bike lanes from Patterson Avenue to Beech Street. Spring Street narrows after Beech Street, allowing for sharrows (share + arrow, bikes share the lane with other vehicles) only from Beech Street to College Avenue.
With the new bike lanes, be aware that on Spring Street BCRTA buses stop to discharge passengers in the vehicle lane. Passengers cross the bike lane to the curb.
It is illegal for cars to drive or stop/stand in bike lanes, and pedestrians should yield to bikes within the lanes.
View the slideshow at right for Bike Lane "Do's and Don'ts."
"The combination of these bike lanes with other improvements, including multiuse trails and paths along Patterson Avenue from Chestnut to Shadowy Hills; a new "Western Walk" path; and the redesign of the Spring Street/Route 27/Route 73 intersection will make Oxford much more bike- and pedestrian-friendly," said David Prytherch, associate professor of geography who commutes to campus by bike. 
Multiuse Trails and Paths
The multiuse trail on Patterson Avenue runs from Chestnut Street to High Street. The wide trail (12-14 feet) is signed and textured for bikes on the roadway side and pedestrians on the building side.
Look for bicycle stencils on this trail in the coming week or two, said Vincent Cirrito, Miami's landscape architect.
Remember: Bicycles keep to the roadway side, pedestrians keep to the building side of the trail.
The multiuse path is where sidewalks have been widened but not separated for use, for instance the widened sidewalk north of High Street on Patterson Avenue to the Miami Inn. When the North quad renovation is complete the path will include signage and extend to Sycamore Street. 
Crosswalk Patterns
With new buildings in use this fall — Kreger, Armstrong Student Center and new Western residence halls — and others offline (Shideler Hall) be aware that new pedestrian crosswalk patterns are in place. Several crosswalks have been removed since last semester and several new ones are in use. 
Approaching pedestrians have the right of way in the crosswalk and cars must yield.