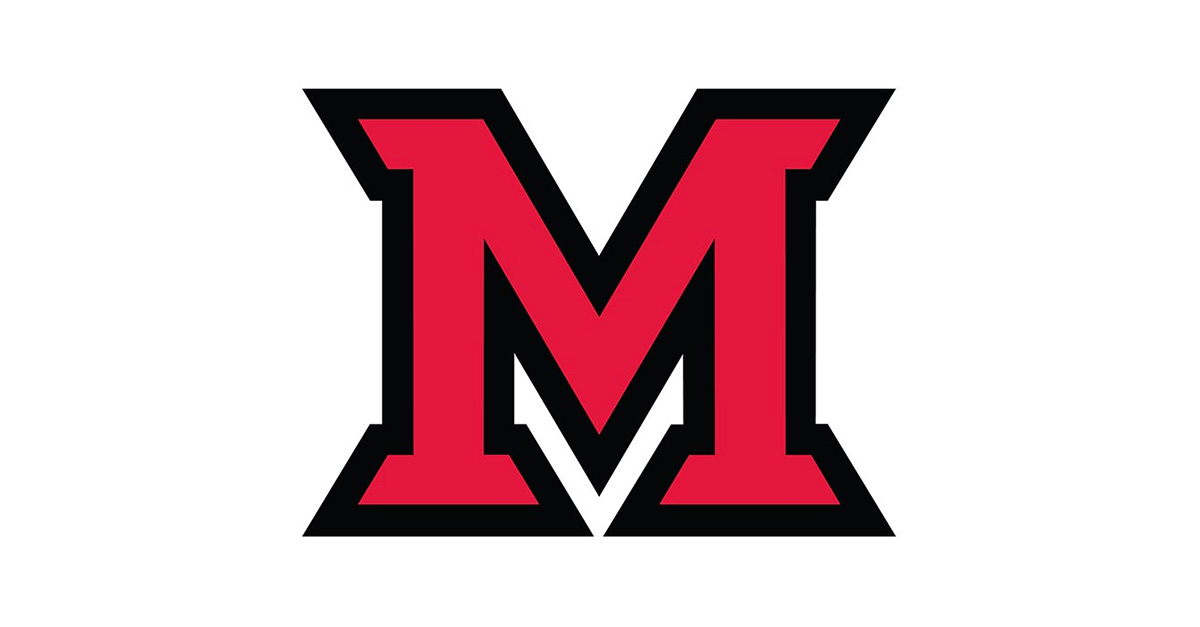 Sep 03, 2014
Kip Alishio and Becky Dysart receive Miami University's Distinguished Service Award
written by Margo Kissell, university news and communications, kisselm@miamioh.edu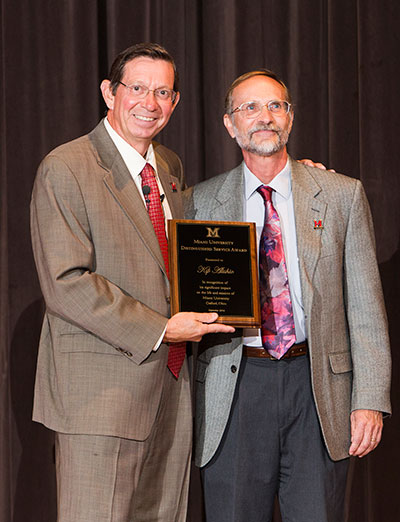 Kip Alishio with President David Hodge.
Kip Alishio and Becky Dysart have each received Miami University's 2014 Distinguished Service Award.

President Hodge announced the awards at his annual address Sept. 3. The award is given to at most two recipients every other year, alternating years with the Distinguished Professor Award. The awards and recognition committee reviews nominations and makes recommendations to the president, who makes the final selection.

Kip Alishio, director of Miami's Student Counseling Service (SCS) for 22 years, has been a tireless advocate for the mental health needs of students and his leadership has significantly enhanced the office's ability to serve students effectively, according to his nominators.

"Certainly within the Division of Student Affairs, his footprint is ubiquitous … Our Miami families have come to know and trust him in their most challenging hours, as a voice of calm empathy in times of student death and emotional disintegration, when walls appear to crumble. Kip is so often their Superglue," one nominator wrote.

He was behind the Kognito and Just in Case programs — electronic tools to help identify students in emotional distress — that were instituted with grant money a year ago.

Alishio designated SCS staff to serve as specialists for several student subpopulations; shepherded the formation and early development of the Men Against Rape and Sexual Assault group; extended the reach of the office via SCS-provided consulting hours at the women's center and office of diversity affairs; trained faculty and staff on how to recognize and assist at-risk students; and established the popular therapy dog program.

A licensed psychologist, Alishio received his doctoral degree in clinical psychology from Miami in 1985, the same year he was hired as a counseling psychologist in SCS.

He has been a strong contributor to Miami's efforts to recruit and retain diverse staff and to serve diverse students and played a large role in the development and implementation of the "I Am Miami" campaign.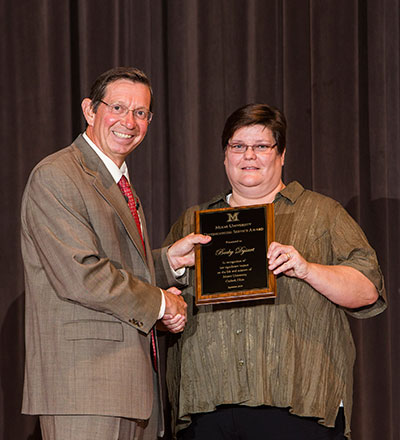 Becky Dysart with President David Hodge.
Becky Dysart, director of staff development in human resources since 2008, has led efforts to provide more and varied opportunities to all staff.

"Miami often talks about itself as a learning community," a nominator wrote. "For staff, no one has done more to make this a reality than Becky Dysart."

She led the development and implementation of Lean training. That included introducing new employees to the concept, leadership training and a certification program that takes two to three years to complete.

The Lean Initiative is a process Miami uses to improve quality, responsiveness and productivity, and reduce costs by analyzing the work and finding ways to improve it.

"Becky's contribution to the success of Lean has been incredible and demonstrated how to break down departmental barriers and create a true Miami community where people from various departments come together to address issues, improve processes and achieve one of our breakthrough objectives," a nominator wrote.

For the past five years, Dysart has served on a steering committee of the Institute for Miami Leadership Development, which provided leadership development opportunities for senior leaders at Miami.

Because of her leadership of the job enrichment program that exists for classified staff, that program now provides a common curriculum based on job duties and responsibilities and prepares employees to have the necessary skills to be promoted to the next level. She also developed a program for new supervisor training.

Dysart, who began her career at Miami in 2000 as a program assistant in university communications, also is credited with bringing organizational development consulting services to many departments.