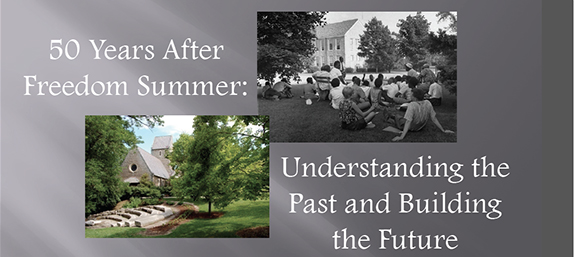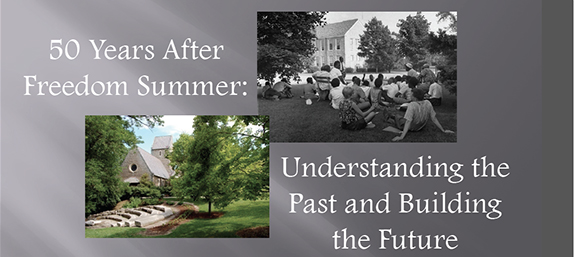 Oct 01, 2014
48 Freedom Summer volunteers to reunite in Oxford 50 years later
More Freedom Summer Anniversary Events
Oct. 10, 6-9 p.m., Oxford Community Arts Center: Artists reception for exhibition openings, Elise McWilliams and the Talawanda High School student group exhibit "Freedom Summer" and Larry Winston Collins' "Sculptures Past & Present" 
Oct. 13, 7:30 p.m., Hall Auditorium: "People Get Ready - Meditations on Freedom Summer," directed by musicologist Tammy Kernodle and theatre professor Paul Jackson; with the Jazz and Wind Ensembles and others (free but tickets required, available at box office) 
Oct. 23, 4:30-6 p.m., Armstrong Student Center, Pavilion C: "Telling Stories," lecture with Alex Blumberg, producer of NPR's "This American Life"  
Written by Margo Kissell, university news and communications, kisselm@miamioh.edu
Forty-eight Freedom Summer volunteers will reunite in Oxford next week, 50 years after they went through training to register black voters in Mississippi and set up Freedom Schools and community centers.
Miami University will host the reunion and national conference, "50 Years After Freedom Summer: Understanding the Past, Building the Future," Oct. 11-14.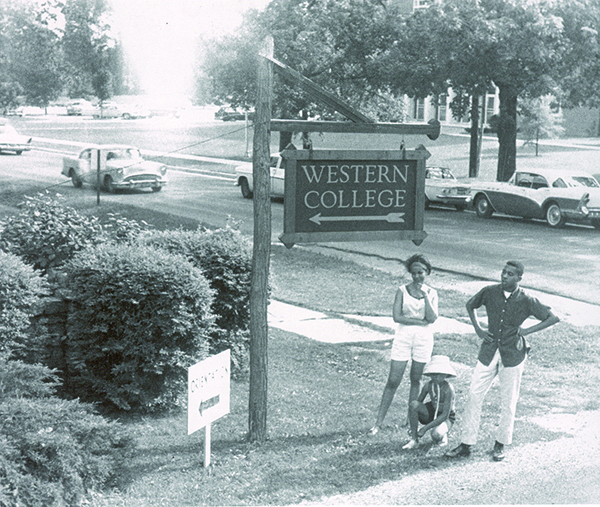 Herbert Randall's photograph, "Entrance of Western College for Women, Oxford, Ohio, June 21-27, 1964," from his art museum exhibition.
This year marks the 50th anniversary of the Mississippi Summer Project, which later became known as Freedom Summer. An estimated 800 volunteers, many of them college students, went through training at the Western College for Women, which is now part of Miami's Western campus.
Three civil rights activists — Michael Schwerner, 24, James Chaney, 21, and Andrew Goodman, 20 — were murdered in Mississippi after leaving Oxford.
The reunion and conference also will feature scholars, activists, students and others exploring the continued significance of Freedom Summer.
On Saturday, Oct. 11, the returning Freedom Summer volunteers will visit the National Underground Railroad Freedom Center in Cincinnati, where they will see a short play created by Miami theatre students. Cincinnati high school students who are docents at the Freedom Center will perform the play depicting the 1964 Freedom Summer training in Oxford.
At 1 p.m. Sunday, Oct. 12, Miami President David Hodge will help unveil the Freedom Summer Chimes at the Freedom Summer Memorial on Western campus. The chimes and three dogwood trees honor the memory of Chaney, Goodman and Schwerner, and others who have devoted their lives to civil rights and social justice.
Other Sunday highlights:
10:30 a.m., Peabody Hall front porch: A prototype for a location-based game allows players to use an iOS device and free "app" to experience the training for Freedom Summer. Creator Ann Elizabeth Armstrong, associate professor of theatre, and student facilitators will have devices available for use and will serve as guides in testing the prototype. (Another public playtest takes place from 3-5 p.m. Tuesday, Oct. 14.) 

Creating the Freedom Summer Chimes sculpture (photo by Scott Kissell).

2 p.m., Miami University Art Museum: A gallery talk with photographer Herbert Randall, who photographed 1964 Freedom Summer training in Oxford. The talk will be followed by a free reception from 3-4 p.m. The exhibition features more than 100 photographs printed from Randall's original negatives.  
7:30 p.m., Oxford Community Arts Center: A screening of selected scenes from the documentary, "Training for Freedom: How Ordinary People in an Unusual Time and Place Made Extraordinary History." The work-in-progress is a collaborative project of Kathy Conkwright, a clinical professor in Miami's media, journalism and film department, and Jacqueline Johnson, interim university archivist. 
The conference will continue on Monday and Tuesday at the Marcum Conference Center with a range of presentations and 16 panel discussions.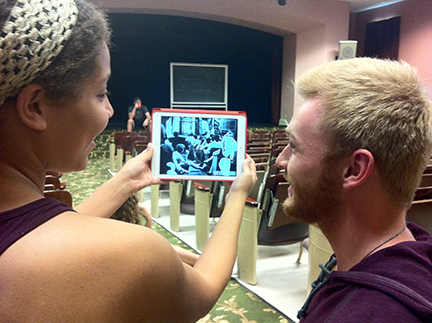 Senior Kayla Orta tries the new, interactive Freedom Summer app with junior Michael Taggart at Leonard Theatre in Peabody Hall, where Freedom Summer volunteers did some of their training in 1964 (photo by Ann Elizabeth Armstrong).
In two Monday sessions, longtime Oxford residents and their families will discuss the nature and rising power of activism in the Oxford community from the 1930s to the late 1950s and the run-up to the 1960s and Freedom Summer. 
In another Monday program, civil rights activists Staughton Lynd and Mark Levy will explore the impact of Freedom Schools, which were alternative schools founded in the South during the civil rights movement to educate black students as agents of change.
View the complete events schedule.
All of the events with meals are now closed, but registration is still being accepted for other events.
To register, complete the process online, download the registration form or call (513) 529-8309 for more information.
Faculty, staff and students who will be attending one to three sessions will have to sign in at the registration desk but do not have to complete a registration form in advance.