Oct 24, 2014
Homecoming's grand marshal a devout Miami football fan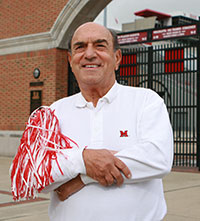 Andy Stefanopoulos
written by Donna Boen, editor, Miamian
This year's Homecoming grand marshal has attended every Miami home football game since 1954. That's 282 games. And counting.

His first look at MU football goes back even further to 1945. Andy Stefanopoulos (history '59) loves to tell about his introduction to Miami on that post-World War II Thanksgiving Day.

A first generation American, he grew up near the University of Cincinnati with his older brother and sister and their parents, who emigrated from Greece. Living so close to the stadium, he and his friends went to a lot of UC games.

On the morning that Miami came to town, he sold papers on the street corner to cover the cost of the 15-cent ticket. By halftime, his buddies had abandoned him to the bitter cold. A loyal fan even then, he walked around the horseshoe area at Nippert Stadium to try to regain feeling in his toes.

Then two Miami coeds jumped out of the stands and led him back to their seats, throwing a blanket over the kid to warm him up.

"They're cheering for Miami, and I'm not stupid, so I cheered for Miami."

No fair-weather fan

He's been cheering ever since, and neither rain nor his daughter's wedding have deterred him from the 40-minute drive between his Cincinnati home and Oxford.

When his daughter, Anna (education '01), chose his birthday as her wedding date, he noted that it was also a home game against Central Michigan. Although Greek weddings typically start at 4:30 in the afternoon, the priest was willing to move the time to 6:30.

When the game ended, the father of the bride drove home, cleaned up, put on his tux, and went to the church. Everyone understood. After all, Anna and her older brother, Tom (art  '90), have attended many Miami games with their father.

As children, it was a natural part of their fall Saturdays. Stefanopoulos recalls one particular game at Miami Field against Western Michigan. It was a warm day in September but pouring rain. Anna and Tom were 2 and 4.

Dick Shrider, Miami's athletic director at the time, saw the group and ran down from the press box.

"He grabbed the kids, gave me a dirty look, put the kids in the press box, and fed them hot chocolate. He's like, 'What are you doing, you idiot, putting these kids in the rain?' There was a great guy, Dick Shrider. He was a fine, fine man."

An emotional game

In 61 years, Stefanopoulos has experienced lots of highs and lows throughout the game's four quarters. He recalls nearly everyone crying during the last game at Miami Field in 1982. Afterward, he went down to the field, tore up little pieces of grass, and planted them in his backyard.

For the first game in Yager the following fall, he and his friends showed up in white tuxes with red cummerbunds.

He's also met all of the coaches and liked most of them. Years from becoming Notre Dame's legendary coach, Ara Parseghian ('49) was a young head coach in Stefanopoulos' freshman and sophomore years. Then there were head coaches Johnny Pont ('52), who later took Indiana to the Rose Bowl; Bo Schembechler ('51), who became an icon at Michigan; Bill Mallory ('57), who went on to become Indiana's winningest coach; and so on.

"Football, to me, is an emotional game. For that reason, I believe that a good coach can inspire kids to go beyond their physical capabilities. Terry Hoeppner and Randy Walker ('76), they were very good at that.

"I remember we were playing Northwestern and Randy was coaching. We were down 28 to 7 going into the fourth quarter, and we won that game 30-28. Randy said, 'When that fourth quarter started, I knew we were going to win because our kids were just so emotionally charged, and Northwestern kids thought this game's in the bag.' "

Exciting turnaround at UMass game

In his seat on the 50-yard line, row 43, Stefanopoulos witnessed that same kind of turnaround earlier this season when Miami beat UMass.

"That was unbelievable. To be down 27 points and win that game. That's why I like Chuck Martin. I think he's got that emotional, mean aspect, which Bo certainly had. I remember reffing some spring football games when I was officiating. Bo was a wild man and Mallory … Mallory hit guys in the head with his head. He'd be all bloody."

To Stefanopoulos, there's no sport more exciting than football. During one streak in the 1980s, he went to 120 games in a row, home and away.

He didn't start out to set any records. It just became a ritual. The history major who worked in computers his entire career is now retired at age 77. That allows him to play golf three times a week. And go to Miami football games, of course.

Miami celebrates its 100th Homecoming Weekend Oct. 27-Nov. 2. For a list of events, go to miamioh.edu/homecoming.