Nov 18, 2014
New Mallory-Wilson Center for Healthcare Education finds home in Pearson Hall
Written by Margo Kissell, university news and communications, kisselm@miamioh.edu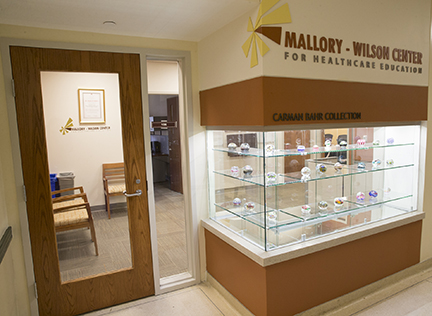 Current and prospective students can learn more about Miami University's pre-health programs at the new Mallory-Wilson Center for Healthcare Education, which opened in Pearson Hall this fall.
"It gave us a presence we didn't have before," said David Pennock, a professor of biology and the program's director. "Students know where to go. It's great for recruiting. We meet with a lot of prospective students and their parents."
The first-floor center also spotlights in a unique way some of the alumni whose generosity helped make it happen.
They include retired medical doctor Thomas H. Mallory (Miami '61), who co-designed the Mallory-Head Total Hip System, which is used internationally. Mallory recently donated a model of the prosthesis, which will be displayed at the center named for him and retired zoology professor David Wilson.
Mallory and his wife, Kelly, endowed the Thomas H. Mallory Center for Pre-Medical Education in 1994.
The center, which has since been renamed, also features an eye-catching display case containing 28 glass paperweights with intricate designs that had been owned by the late physician Carman Bahr (Miami '52).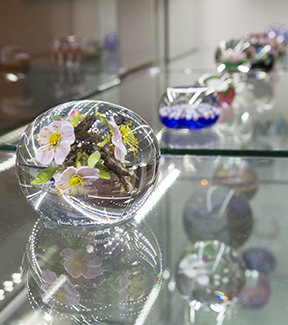 A selection of glass paperweights from the Carman Bahr collection on display at the entrance to the Mallory-Wilson Center in Pearson Hall (above two photos by Jeff Sabo).
Bahr, who died in 2008, helped invent the first device that allowed diabetics to dispense insulin without medical assistance. Her $1.1 million bequest made possible an annual scholarship given to one or more undergraduates who plan to attend medical school. It is the largest of seven scholarship funds connected with the center.
"She left her entire estate to Miami, with the provision that we accept her paperweights and display them in perpetuity. They're beautiful," Pennock said.
The Miami University Art Museum is safely storing several hundred more paperweights, which may eventually be rotated into the display at the Mallory-Wilson Center.
Rob Balfour, pre-health adviser and assistant director who advises students at the center, believes the dedicated space has raised the profile of Miami's pre-health programs.
"I think it will really help us to make connections with students," he said. "It's very visible in a building that has a lot of pre-health students, so I'm excited about what that's going to offer us."
There are more than 700 premedical studies co-majors at Miami, which began offering this particular co-major in the fall of 2013 to give students a broad-based science background and prepare them to pursue advanced degrees in medicine and other healthcare fields.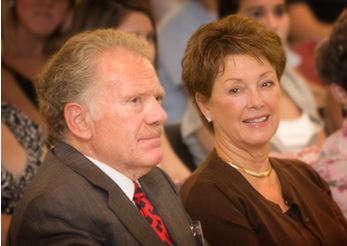 Thomas and Kelly Mallory (photo courtesy Mallory-Wilson Center).
At the center, students can pick up and submit applications for premedical scholarships, which totaled more than $100,000 last year. The center also awards an outstanding premedical student award annually.
Dating back to 1994, the center's initial purpose was to offer ways for students to learn  more about the field of medicine, to bring in speakers and to offer a shadowing program with physicians. The scope of the center expanded greatly with the involvement of Wilson, former director of the center.
The center has two other operating endowments: the David F. and Susan B. Wilson Fund for Healthcare Education and the Curtin G. and Deborah M. Kelley Fund.
The Mallory-Wilson Center's website lists several ways alumni can support the center — financially, by hosting students for shadowing experiences or speaking to classes.