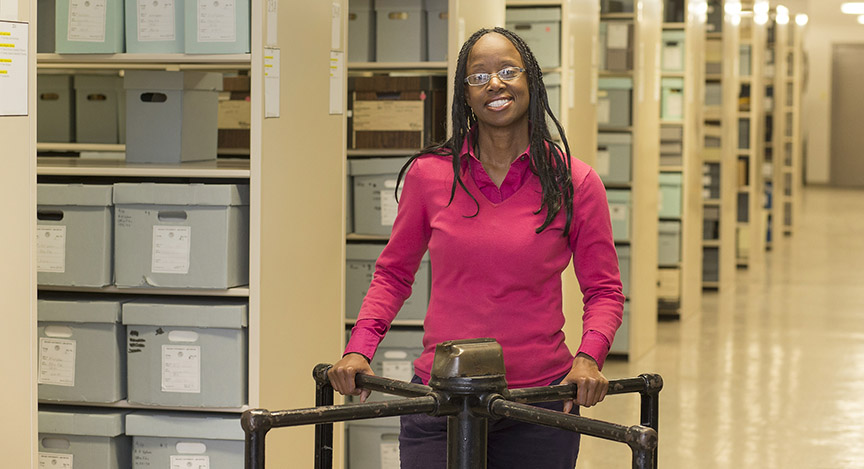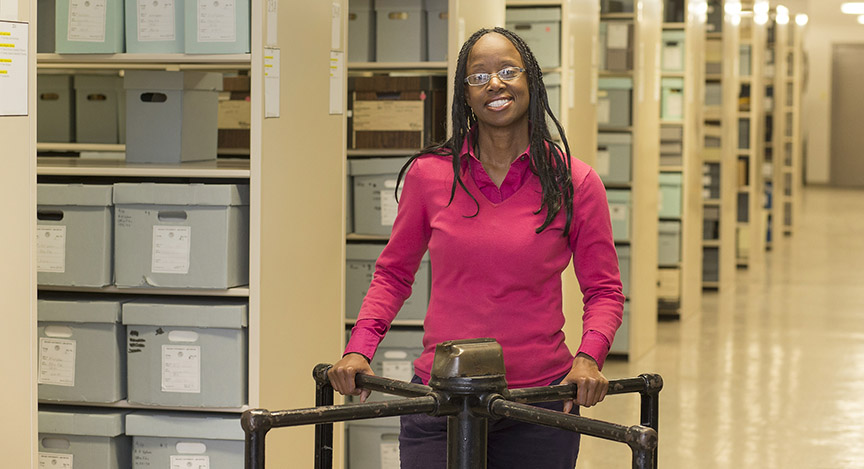 Jacky Johnson, interim university archivist, stands with a turnstile from the old football stadium in the archives space behind Withrow Court (photos by Jeff Sabo).
Feb 19, 2015
Step back in time with Miami memorabilia now archived in one place
Plans call for moving all three archives to King Library next year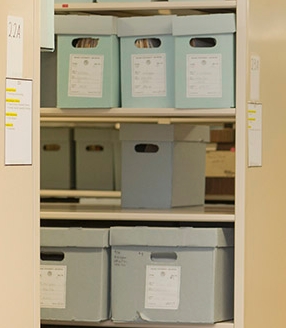 Written by Margo Kissell, university news and communications, kissel@miamioh.edu
The archives for Miami University, Western College for Women and the Oxford College for Women are now housed under one roof on north campus.
The Western College Memorial Archives recently joined the other archives in an annex behind Withrow Court, an intramural sports gymnasium on Tallawanda Road.
"It made sense on a lot of fronts to combine the archives in the same space," said Elizabeth Brice, assistant dean for technical services and special collections at Miami University Libraries.
But this won't be their final destination
Withrow Court will be torn down in the summer of 2016. 
"We don't have any plans set in place today but it will be reserved for a future building site," said Cody Powell, associate vice president for facility planning and operations.
Plans call for moving the archives across campus to King Library, Brice said. They are beginning to plan the redesign of the north end of the third floor, currently occupied by offices and storage space, to accommodate the publications, photographs, other historic documents and artifacts that now occupy the Withrow annex.
That move will create a combined special collections and archives space at King, Brice said. Staff will report to William Modrow, the new head of special collections and archives who started in January.
"We think it's going to be much better for access to the collections, much better for instructional purposes," she said.
Three different archives tie together Miami's past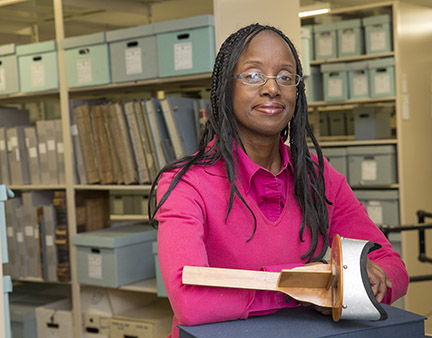 This stereoscope, used for viewing photographic stereoviews, is from the Western College Memorial Archives.
The Miami University Archives, which is part of the University Libraries special collections department, also houses many of the surviving records and publications of Oxford College for Women, formerly known as the Oxford Female Institute.
That college, at the corner of College Avenue and High Street, was one of the first U.S. Protestant schools to confer bachelor's degrees upon women. Miami took over ownership of the school in 1928 and used the building as a women's residence hall for more than 60 years. The building is now home to the Oxford Community Arts Center.
The Western College Memorial Archives, previously housed in Peabody Hall on Miami's Western campus, contains materials and photographs dating back to 1853. Miami acquired Western College in 1974.
The Miami University Archives has begun transferring their online records to ArchivesSpace, a new searchable database.
"We have been transitioning to it along with most other archives in the country," Brice said. "We have a ways to go, but we think it will be an asset."
Although some people prefer the convenience of having their fingers do the searching online, Jacky Johnson, interim university archivist over the three collections, said others enjoy the process of flipping through old yearbooks and holding photographs and historical records.
Interest in history spans generations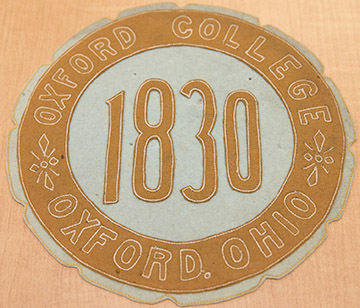 Banner from Oxford College for Women
The three collections are indexed separately.
Johnson — who works with library technician Elizabeth Maurer and three students — said they plan to incorporate items from the archives of Western College and "Ox College" as it's commonly referred to, into the Withrow annex's front reading room next week.
"We have all the yearbooks for all three institutions dating back to when they started," she said.
Visitors also can review old school catalogs, which contain such details as the names of students and their hometowns and the cost of tuition.
Also tucked away in the archives are some college degrees dating back to the 1800s, as well as letters and diaries of women who attended the Western College for Women.
Johnson hasn't observed a generational gap between those who enjoy coming to the archives to see what the 20 rows of stacks hold.
"Students love it. They come in and they're always amazed at the pictures," she said. "I think it just takes a person who has an interest in history."
The archives contain the papers of the various presidents and numerous boxes of board of trustee minutes through the decades.
There's an old turnstile that sports fans passed through and different kinds of scrapbooks, including one from the first production of "The Defeat of MacBeth" in 1882.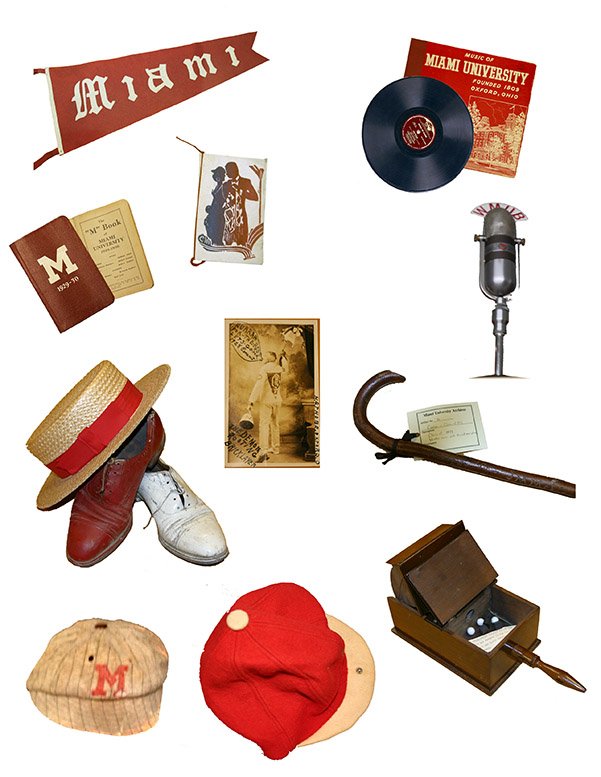 A sampling of some of the artifacts in the archives (image courtesy Miamian magazine).
Johnson said some visitors are digging into their genealogy. Others may be trying to gather information for a family member's upcoming milestone birthday by trying to find a photo from their time at Miami 50 years ago.
"Some people get real emotional when you send them a picture," she said. "You never know what kind of question you are going to answer or what it's going to lead to."
Memorabilia includes sports programs, box scores
Acclaimed journalist and author Wil Haygood (Miami '76), who has joined Miami's faculty this semester as the Karl and Helen Wiepking Visiting Distinguished Professor, had played point guard on the junior varsity basketball team in 1973-1974.
Haygood, whose 2008 Washington Post article was the basis for the 2013 movie "The Butler," said he never kept his basketball memorabilia while on campus.
And although he had memories of playing in Rupp Arena and "coming down the court in Millett and going up for a jump shot and the fans going wild," he wanted to fill in some of the blanks.
"I just don't know why but it means something to me, so I said to myself when I get back on campus I'm going to find the schedule of the teams that we played and the dates we played those teams and the away arenas," he said.
Visiting assistant librarian John Cooper, with Johnson's assistance, tracked down box scores for five games from that season. Haygood saw that he scored in two of those games.
"It just means a lot to me to be able to recover that history that was a bit lost to me," he said. "I needed that proof. I needed that piece of paper from the archives. In case one of my nephews challenges me, I'll pull it out of my wallet."