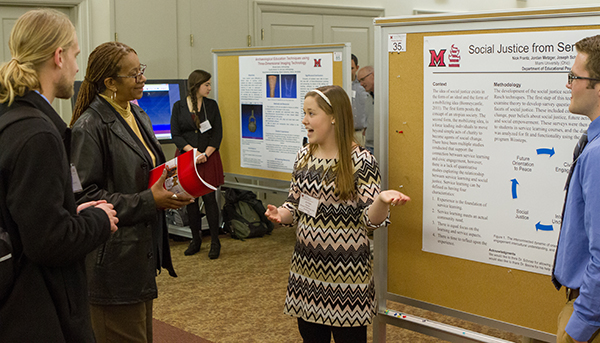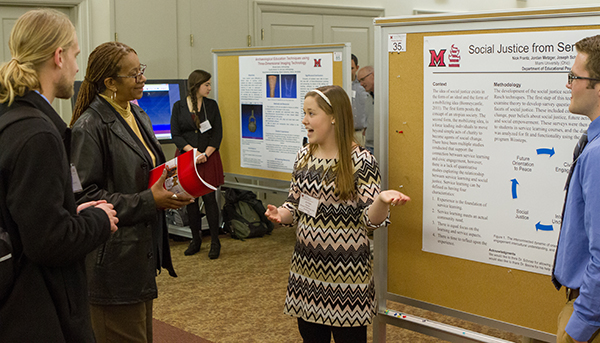 Jordan Metzger, speech pathology and audiology major (center), and Nick Frantz, biochemistry major, presented their poster Social Justice from Service Learning at last year's URF (photo by Ben Taylor).
Apr 09, 2015
Undergraduate Research Forum April 15
By Susan Meikle, university news and communications, meiklesb@MiamiOH.edu.
The 21st annual Miami University Undergraduate Research Forum will be held Wednesday, April 15, in the Shriver Center. All are welcome to visit the forum, which showcases the creative and scholarly activities of undergraduates who engaged in research over the course of the academic year.
Oral presentations will be held throughout the day: Refer to the oral presentation schedule for times and locations of individual presentations.

Three poster sessions will be held in the John E. Dolibois Room (formerly the multipurpose room):
Session A: 10–11:30 a.m.
Session B: 1:30–2:45 p.m.
Session C: 3–4:30 p.m.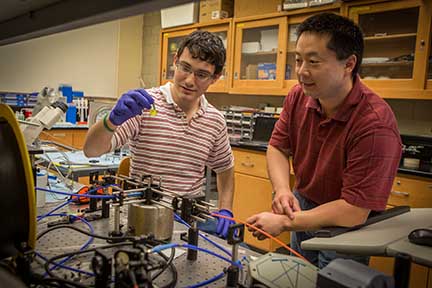 Arthur Oliva (left), senior microbiology major, was a 2014 Undergraduate Summer Scholar working with mentor Paul Urayama, associate professor of physics. He will present a research poster (C12) during the third poster session (photo by Scott Kissell).
Refer to the poster presentation list for individual student presentations.
All Miami students are invited to present at the annual forum. This year more than 300 research projects will be presented by more than 550 students. Presentations range from faculty-mentored independent study research to large group community projects and course-related projects.
More than 2,000 undergraduates work with professors on funded research each year, according to the office for the advancement of research and scholarship (OARS).
Support for undergraduate research was enhanced this year with the opening of the new office of research for undergraduates (ORU) in the fall.
Located in King Library, it is directed by Joseph Johnson, professor of psychology. Martha Weber is coordinator of undergraduate research.
The forum is sponsored by the Graduate School, OARS, ORU and the offices of the president and the provost.