View of DJ Rao's computer screen as he works on computer model forecasting of the spread of the Chikungunya virus. Rao won the Best Applicability Methodology award in the DARPA CHIKV Challenge.
Jun 11, 2015
Where is CHIKV virus headed? Miami prof proposes model
By Margo Kissell, university news and communications, kisselm@miamioh.edu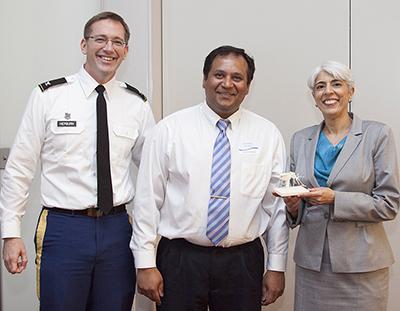 Rao pictured at the DARPA award ceremony with Col. Matthew Hepburn and DARPA Director Arati Prabhakar (photo courtesy of Rao).
An assistant professor in Miami University's department of computer science and software engineering has won $10,000 for a computer model forecasting where the Chikungunya (CHIKV) mosquito-borne virus is likely to spread next.
Dhananjai "DJ" Rao was among 11 teams or individuals recognized recently in a competition organized by the U.S. Department of Defense's Defense Advanced Research Projects Agency (DARPA). The agency launched the CHIKV Challenge last year to accelerate the development of new infectious disease forecasting methods. The aim is to help governments and health organizations around the world take proactive steps against Chikungunya (pronounced chik-en-gun-ye).
The disease is rarely fatal but can cause debilitating joint and muscle pain, fever, nausea, fatigue and rash. DARPA said it poses a growing public health and national security risk.
The Centers for Disease Control and Prevention (CDC) reported that as of June 2, 2015, there were no locally transmitted cases reported from U.S. states. Local transmission means mosquitos in the area have been infected with the virus and are spreading it to people.
However, 157 Chikungunya virus cases have been reported from 30 states, including Ohio, with all of those cases occurring in travelers returning from affected areas, according to the CDC.
Rao has been forecasting emergent diseases for about seven years, with a focus on influenza-like diseases such as flu, avian flu and swine flu.
"I have worked on forecasting the global spread of avian strains with migratory waterfowl being the transcontinental vector," Rao said. "Consequently, forecasting Chikungunya that is spread by mosquitoes was a natural transition."
Chikungunya had an impact on India, Rao's native country, before it arrived in the Americas in 2013. Rao said the DARPA challenge gave him a chance to pursue his interest in understanding the disease and its impact and help design strategies to contain it.
Though the contest was open to teams, Rao said he entered on his own because he heard about it just a few weeks before the submission deadline "and I did not have much time to put together a team."
Thirty-eight teams from around the world vied to develop the most accurate predictions of cases for all Western Hemisphere countries and territories between September 2014 and March 2015.  DARPA announced the winners in May at the agency's Arlington, Va., offices, which included representation from the CDC, Department of Defense, U.S. Department of Health and Human Services and the White House Office of Science and Technology Policy.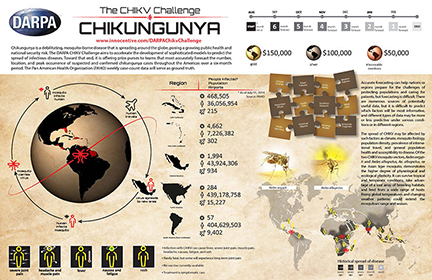 Six teams earned cash prizes for the most accurate results.  Five other teams earned $10,000 each for excelling in particular challenge areas.
Rao, who won for Best Applicability Methodology, said his method embodies important ecological temporo-geospatial characteristics of the disease such as weather, temperature dependent mosquito life cycle, mosquito-human cross infections and disease transmission, air traffic and socioeconomics to provide a comprehensive methodology for forecasting and analysis of containment strategies.
"Predicting the speed, severity and direction of infectious disease outbreaks is incredibly challenging, in part because it's difficult to determine the relative contributions of multiple factors — such as weather and climate, population density and travel patterns — under various conditions," said Col. Matt Hepburn, DARPA program manager for the CHIKV Challenge.
Yet in just six months' time, the participants made notable progress, Hepburn added. "The teams in the CHIKV Challenge identified gaps in current forecasting capabilities and created a set of tools that can immediately help improve forecasting and guide response decisions for the current Chikungunya outbreak. We are on the cusp of enabling a revolutionary improvement in disease forecasting, in much the way that weather reports transitioned from surveillance to forecasting."