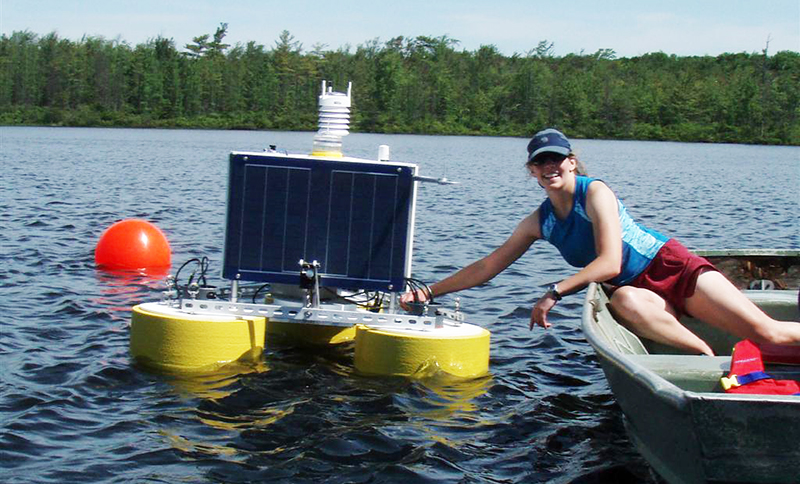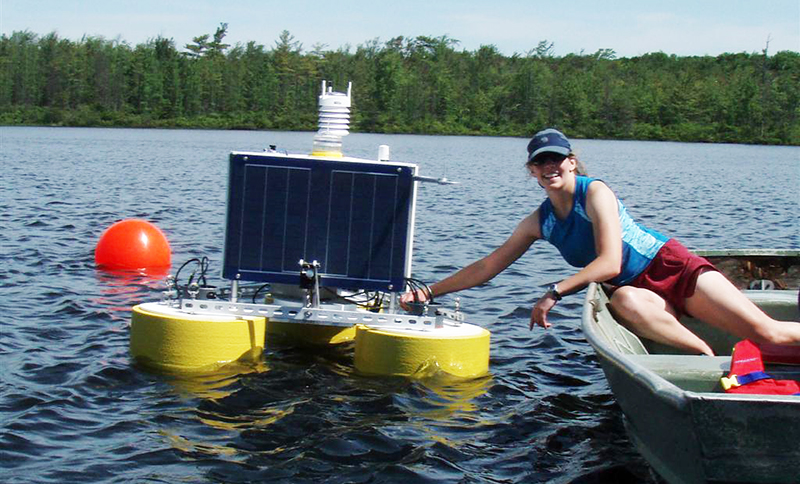 Jennie Brentrup, Miami doctoral student, with a buoy equipped with a suite of sensors to study the seasonal dynamics of dissolved organic carbon in Lake Lacawac. Brentrup is chair of the Global Lake Ecological Observatory Network (GLEON) Student Association.
Jul 16, 2015
New research laboratory at Lacawac Sanctuary enhances Miami's Center for Aquatic and Watershed Sciences
By Susan Meikle, university news and communications, meiklesb@MiamiOH.edu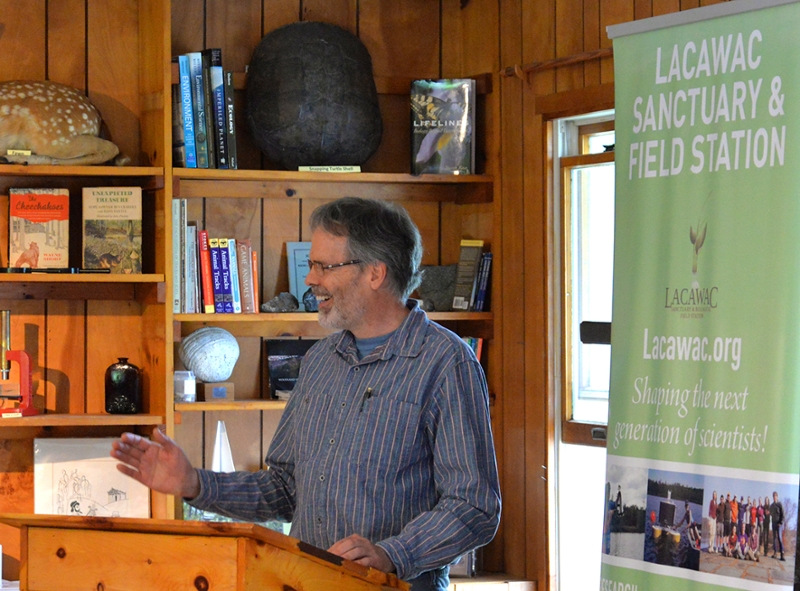 Craig Williamson, professor of biology, speaks at the dedication of the new research lab at Lacawac Sanctuary (photo by Jacob Setser Photography).
A new laboratory for research and environmental education was launched last month at Lacawac Sanctuary and Biological Field Station in Pennsylvania — one of the field sites of Miami University's Center for Aquatic and Watershed Sciences (CAWS).
The lab, funded by a $329,094 grant to Miami from the National Science Foundation, is located in a 20-by-30 foot addition to the sanctuary's offices and visitor center.
It will contribute to the innovative optical sensor research at Lake Lacawac conducted by Craig Williamson, Ohio Eminent Scholar of Ecosystem Ecology and professor of biology at Miami, and other researchers from Miami and from more than 30 other institutions around the country.
The new lab will provide exceptional opportunities for Miami students through CAWS and the Institute for the Environment and Sustainability (IES), Lesley Knoll (Miami Ph.D. '11) said. Knoll, principal investigator of the NSF grant, is director of research and education at Lacawac Sanctuary and a staff member of the department of biology at Miami.
Ecological Observatory Networks (EONs)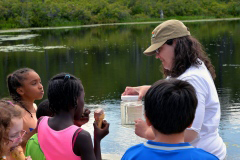 Lesley Knoll, director of research and education at Lacawac Sanctuary, with 2014 Family Day participants. The new lab will allow Knoll to partner with regional K-12 schools for outreach and STEM educational opportunities (photo courtesy Valley Child).
Lake Lacawac, a pristine, 52-acre glacial lake within the Sanctuary's confines, became a site member of the Global Lake Ecological Observatory Network (GLEON) in 2012, joining a network of more than 60 GLEON research sites in 40 countries around the world. Data collected here is compared with lakes around the world to study ecological trends. 
Acton Lake, near Miami's Oxford campus, is also a site member of GLEON.
The new laboratory facility will be another resource for GLEON members seeking research and training opportunities related to advanced aquatic sensors and ecological observatory network science.
Lacawac has a long history of supporting research on ultraviolet radiation impacts to lake communities and ecosystems and on the development of novel aquatic optical metrics.  It's also a site for testing emerging sensors, sensor platforms and sensor techniques, according to Williamson.
In addition to Williamson, Miami researchers at Lacawac this summer include doctoral students Taylor Leach and Jennie Brentrup; master's student Rachel Pilla; and 2015 graduate Amelia Fleitz, a zoology and environmental science co-major.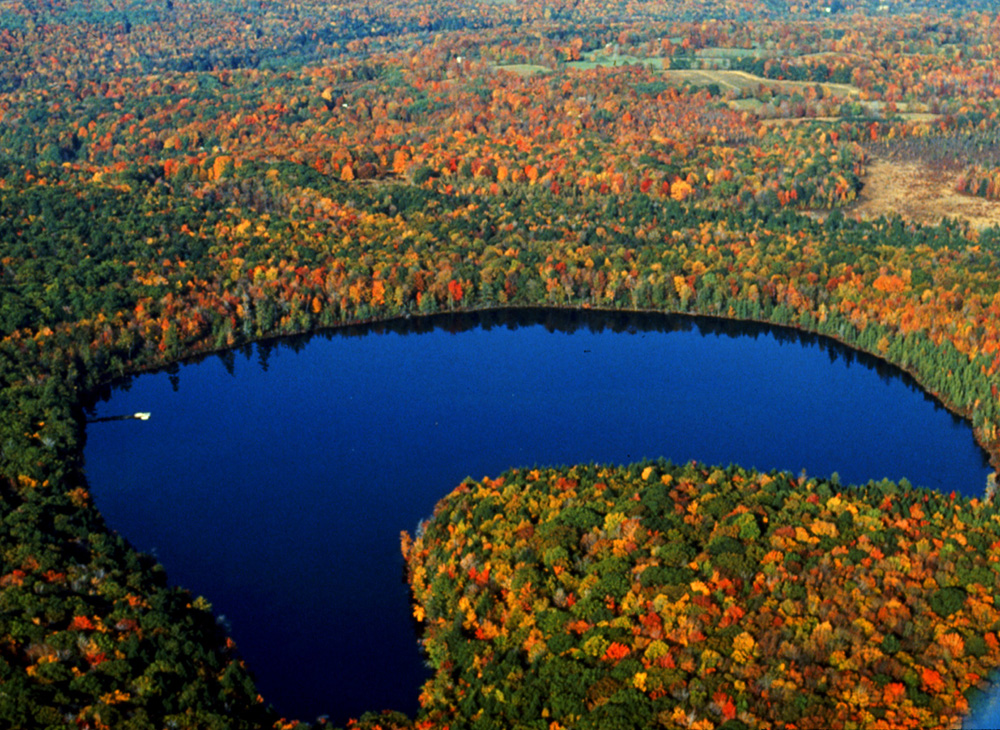 Lake Lacawac, a 52-acre glacial lake, is part of the Lacawac Sanctuary, 550 acres of practically undisturbed second growth forest in the Pocono Mountains of Pennsylvania. Lacawac Sanctuary is a National Natural Landmark (photo by Craig Williamson).