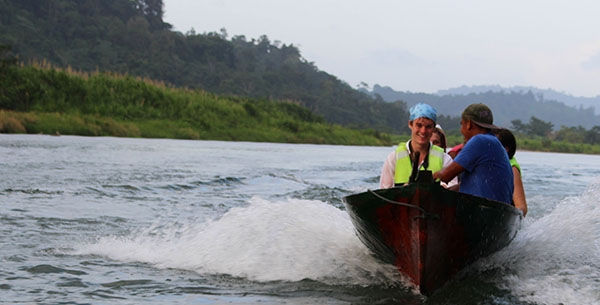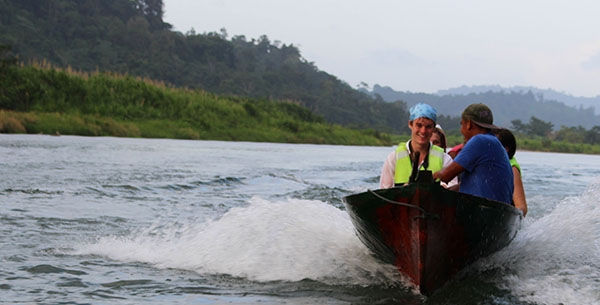 Journalism major James Steinbauer (above) and others in the sustainability and tropical ecosystems program took a river trip to the Costa Rican Bribri tribe's indigenous village of Yorkin. Students worked on field science or multimedia journalism projects during the winter term workshop.
Jan 21, 2016
Winter term takes students to Costa Rica, the computer screen and everywhere in between
By Margo Kissell, university news and communications, kisselm@miamioh.edu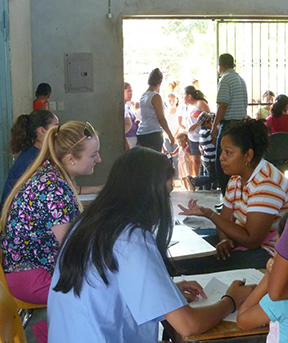 Miami students interview patients in Granada, Nicaragua. View more photos of winter term tagged #MiamiOHabroad in a Storify collection.
Some Miami University students traveled by boat in Costa Rica to learn about the ecological farming and cultural practices of the Bribri indigenous people.
Other students — serving in medical brigades in Nicaragua during winter term —conducted patient interviews in Spanish at clinics that drew hundreds.
And in San Francisco, they learned from innovators, including those at Disney.
In all, 4,916 Miami students registered for credited winter term courses this year compared to 4,449 students last year, according to statistics provided by Tim Kuykendoll, senior assistant registrar for technology.
Nearly half of those students — 2,425 — studied online and 1,829 registered for one or more classes on campus during the three-week term, which this academic year is Jan. 2-23. Some students did both.
More than 500 students enriched their academic experiences by studying abroad in places like Oman, Greece, Hong Kong, Italy and Puerto Rico, while 150 others studied away in cities like Chicago and New York.
Students exploring the Big Apple through faculty member Patti Newberry's NYC Media program watched Fox News report on the 10 American sailors who had been detained in Iran.
"What a day," Anna Zoldesy, a junior with a double major in media and culture and sport leadership and management, tweeted on Jan. 13. "Getting to see the ins and outs of a live broadcast is an opportunity I wouldn't have without #nycmedia16."
More business students study abroad
The Farmer School of Business offered seven faculty-led programs that sent 196 students abroad, 24 more than last year.
Kim Suellau, director of the school's international programs, said they added a new program this year — in Cuba — so students could study the business implications after U.S. relations improved with the island nation. Other students studied business-related topics in various locations ranging from Argentina to Hong Kong.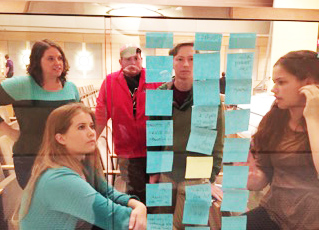 Miami alumna Tracy DeLuca (Miami '96), an innovator at international design and consulting firm IDEO, looks on during an innovation session with Miami students.
Jim Friedman, the White Family Clinical Professor of Creativity, led 25 students on a study away course of Entrepreneurial Consulting in San Francisco.
As part of that course, three student groups did consulting with Cincinnati-based apparel company Oros on new branding, products and marketing opportunities. Three other groups worked with the Los Angeles production arm of Cincinnati media giant, Scripps. Those students consulted on innovative ways for the company to monetize its digital assets, he said.
Aidan Leahy, a junior supply chain major, called the fast pace of the class "strenuous but addicting," and he already sees the benefits long term.
"The emphasis on creativity in a professional setting is something that I will look for as I search for a job next year," he said.
Costa Rica pilot program unites field science and media students
Four instructors brought 32 undergraduate students to Costa Rica for a sustainability and tropical ecosystems program that Hays Cummins, professor, Western program and geography, has led for 25 years.
Donna McCollum, a retired Miami stream ecologist, co-led the program that this year united students studying field science with media students.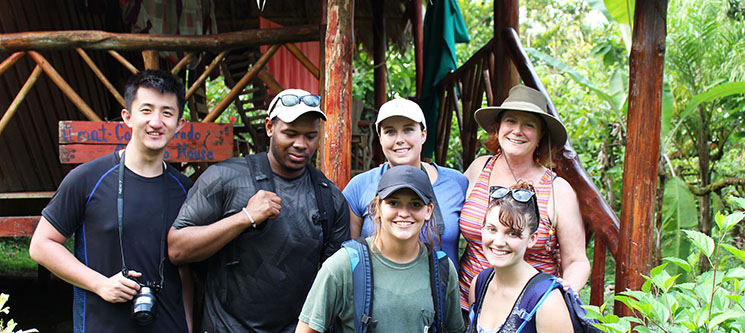 The Sustainability and Tropical Ecosystems media group included, from left, Wenhao Li, Ryan Thomas, Hannah Surwillo and Annie-Laurie Blair. Front row, Elizabeth Mechley and Emily Bovenzi.
Annie-Laurie Blair, senior clinical professor of journalism, said Cummins invited her and a team of five media students along "to immerse budding science storytellers in the real work — real field science" like his students were doing.
"This pilot is part of a three-year initiative at Miami to find innovative ways for undergraduates, grad students and science experts to communicate scientific research, issues and trends to the public," Blair said.
That initiative is led by Michelle Boone, associate professor of biology, and has involved faculty and students from biology, architecture, health and kinesiology, art, the Institute for the Environment and Sustainability, and media, journalism and film.
Field science students collected data. For instance, Blair said, a group studying primates timed and analyzed the behavior of monkey troops they found in the wild: foraging, grooming, locomotion and communication.
Media students produced journalistic videos as well as a science podcast about noteworthy ecological issues in Costa Rica like the lack of genetic diversity in banana production and the role of U.S. companies in the country's agricultural economy, she said.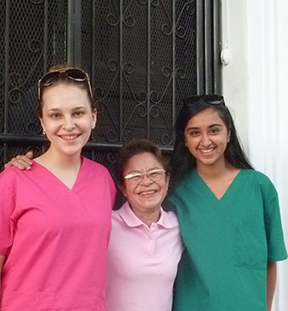 Tiffany Campbell and Chandni Chandiramani stand with their winter term host mom, Amandita Lacayo, in Granada, Nicaragua.
Hannah Surwillo, a health promotions major in the College of Education, Health and Society who went to Costa Rica, was working on a journalistic multimedia story on pollution and sanitation problems that have plagued the Tarcoles region on the Pacific coast.
"I chose to come on this study abroad trip because I wanted to fulfill my science requirements outdoors instead of in a classroom," she said. "Each day has brought new experiences and additional knowledge about the ecosystem and environment here in Costa Rica."
The students worked in southeast Costa Rica, where they traveled 45 minutes by boat up river to learn the ecological farming and cultural practices of the Bribri indigenous people.
They went to the La Selva Research Station to learn about international research in growing key food staples to fight poverty in Central America, and they traveled along the Pacific coast to the Osa Peninsula and Drake Bay, a legendary pirate's cove.
Their journey also took them to the mountains to Monteverde, which Blair called "one of the most ecologically diverse cloud forests on earth."
Students touch lives in Nicaragua through medical brigades
Eleven Miami students used their Spanish speaking skills in Nicaragua, where they served in medical brigades. It was part of the Integrating Spanish and Health workshop led by Nohelia Rojas-Miesse, senior lecturer in Spanish and Portuguese.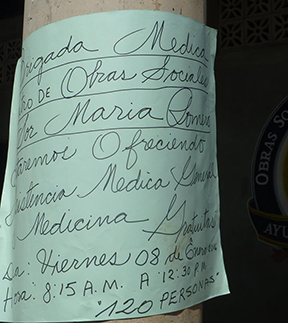 A simple sign — the only publicity for the medical brigade — helped bring in nearly 200 patients some days. 
Rojas-Miesse — who recently was awarded Global Initiative's first John E. Dolibois Faculty Award for Innovation in Global Programming — said that because the majority of students who participate plan to go into the medical field, "I want to expose them to a different type of health care and physicians. Although the health care system in Nicaragua lacks sophistication, students see how doctors rely on their expertise to diagnose by observing, listening and touching a patient."
Chandni Chandiramani, a junior biology major and Spanish minor, said she'd like to become a physician assistant someday. She enjoyed participating in the medical brigades, which allowed her to interview patients; take their temperature, blood pressure and weight; and also pull medicine at the pharmacy.
She and other students also handed out toothbrushes and other donated items they had brought with them from home.
"It was very easy to see the impact that our small effort would have on their lives," she said, "and that was extremely gratifying."