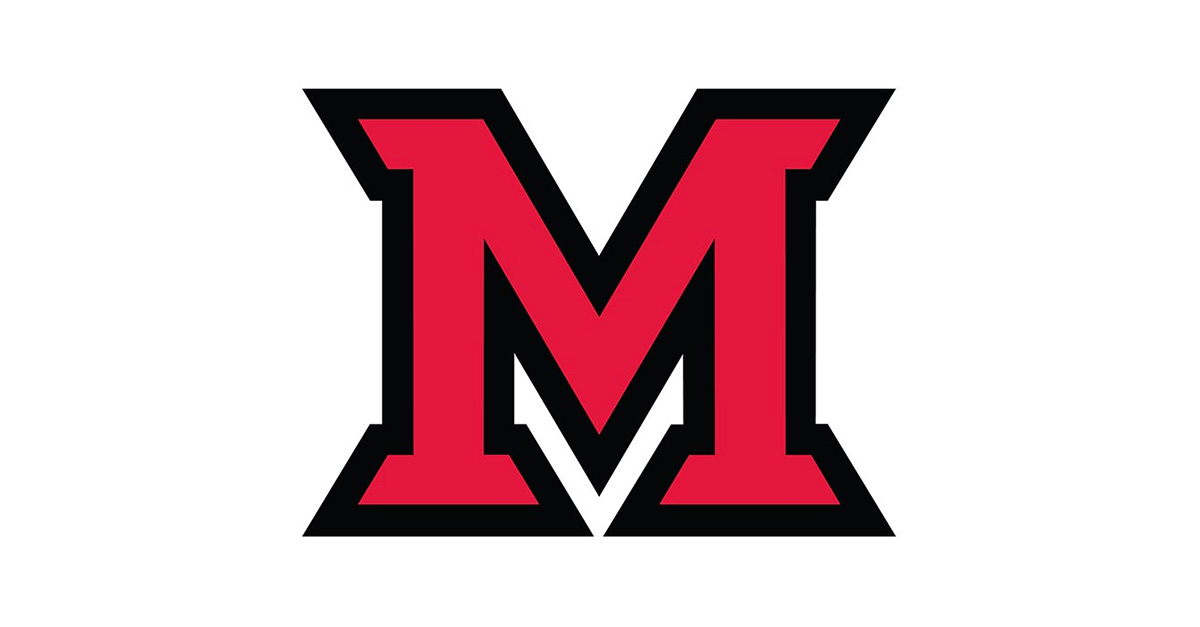 Feb 18, 2016
Two Goldman Prize winners named for the first time in 23-year history
By Margo Kissell, university news and communications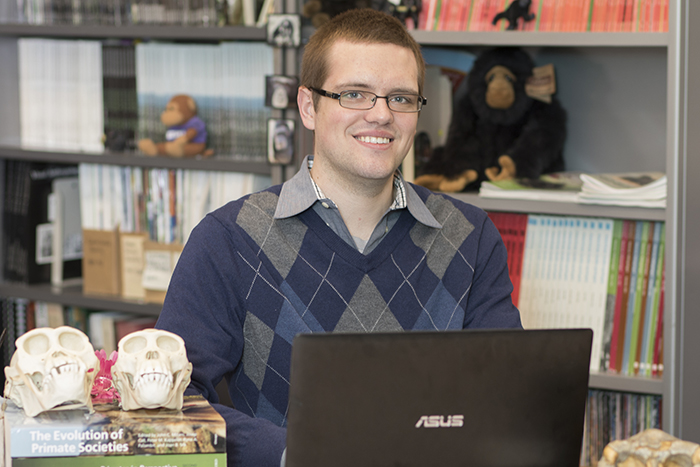 Jordan Martin, senior biology and psychology double major (photo by Jeff Sabo)
Two Miami University students — senior Jordan Martin and graduate student Abby Lyons (Miami '15) — have been named recipients of the 2016 Joanna Jackson Goldman Memorial Prize.
Each Goldman Prize winner will receive $30,000, which is believed to be among the largest undergraduate awards in the country. The annual award dating back to 1993 helps outstanding students realize a dream by spending a year pursuing independently designed projects in scholarship, journalism or the arts.
"This is the first time we have ever given out two Goldman Prizes," said Zeb Baker, the university honors program's associate director who oversees the selection process. "We felt these two students were just extraordinary, that their level of commitment to research and their level of curiosity about the projects they were pursuing really made them stand out."
Baker sits on the eight-member honors program advisory committee, composed of faculty and students, that selected the recipients. Funding was available for two scholars this year, he said, because the committee did not award a Goldman Prize recipient in 2010.
Martin is a biology and psychology double major with a minor in anthropology who plans to pursue graduate studies in primatology. For his Goldman Prize project, he will assess the presence of empathy, personality and prosociality in the common marmoset. He will study a socially-housed colony at the Biocenter of the University of Vienna in Austria.
"By conducting and publishing the results of my Goldman project, I hope to make substantial intellectual contributions to behavioral science and bring deep insight into the role empathy plays in motivating social behavior," Martin said after he was chosen to receive the award.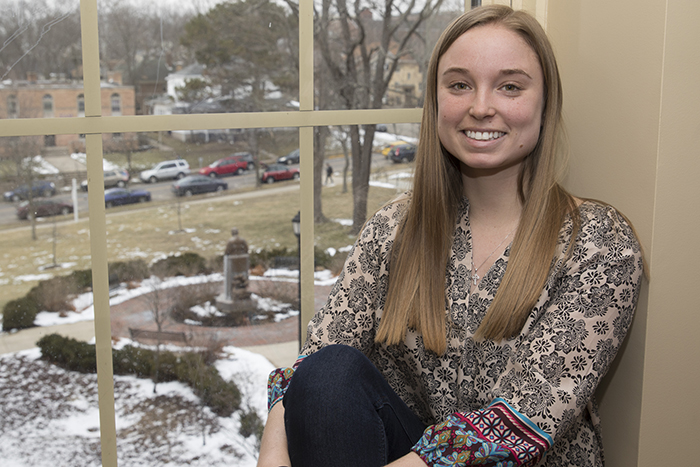 Abby Lyons (Miami '15), graduate student in transformative education (photo by Jeff Sabo)
"I also think that this experience will make me a better primatologist by giving me the opportunity to study (another) primate species, learn cutting-edge experimental techniques, and work closely with some of the leading scientists in my field."
Lyons, who graduated in December with a degree in early childhood education, is now enrolled in the transformative education master's program offered jointly by Miami's department of educational leadership and teacher education. Her graduate studies will focus on examining the effects of the yearlong, global-based curriculum in K-12 public education.
For her Goldman Prize project, she will focus on building a yearlong academic curriculum based on the goals of Miami University's 2020 Plan and promoting global perspectives of undergraduate students.
"The key thing I hope comes from this yearlong effort is an experience for undergraduates that causes them to question and critically think about their impact on the global community," Lyons said after she was notified about the award.
Martin: Researching common marmosets in Austria
Martin's proposal appealed to the committee because of "the degree of work he's already done and the depth of knowledge about his field," Baker said.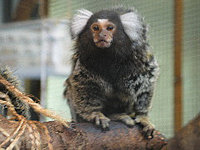 A common marmoset (photo from University of Vienna department of cognitive biology)
In his Goldman Prize application, Martin explained that the common marmoset (Callithrix jacchus) is a species of monkey that exhibits "an appreciable degree of cooperative breeding," which refers to situations where extensive childcare is given to nonparental group members.
"Empathy, which reflects a basic capacity to share and be affected by other's emotional states, is found in various forms throughout the animal kingdom and may provide an efficient means by which individuals can be attuned to one another's needs," he wrote. "This project will test (my) hypothesis by assessing whether common marmosets show various forms of empathy in response to the emotional states of their group members."
The data will be gathered using noninvasive behavioral experiments and observational methods.
The research will be conducted under the mentorship of Linda Marchant, professor of anthropology at Miami, and the supervision of Sonja Koski, a primatologist and research fellow at the University of Helsinki with expertise in empathy, personality and common marmoset behavior.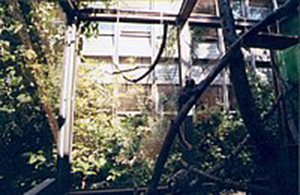 Marmoset facility, Biocenter, University of Vienna
Martin, of Lebanon, is a member of the university honors program.
"As a young scholar, the breadth of his undergraduate education and the interdisciplinary perspective that characterizes his thinking and writing give him a sophisticated and discerning viewpoint rarely encountered in undergraduates," Marchant said.
Marchant noted he has received awards to conduct research, including two Rebecca Jeanne Andrew Memorial Awards from the anthroplogy department and an Undergraduate Summer Scholars award.  Over the last two years, he pursued two research projects studying social behavior, with a focus on personality and individual differences, in captive bonobos (Pan paniscus) at the Cincinnati and Columbus zoos.
His Goldman Prize research will connect him with Koski, who also will provide access to resources at the University of Helsinki in Finland.
Lyons: Getting students to reflect more about impact on global community
Lyons, of Howard, also was a student in the honors program. She wrote in her proposal that her background "in education, study abroad, and research will enhance my work as I create a sound, yearlong study abroad program to address the needs of undergraduates at Miami."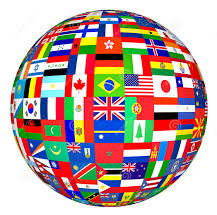 She said her own study abroad experiences in Belize frame how she will develop the curriculum, which would apply broadly to study abroad courses. The curriculum would include "both preceding and following Miami study abroad opportunities, which promotes dialogue and research" regarding global perspectives.
"To encourage the seamless transition of the curriculum across multiple study abroad programs, I will continue networking with faculty and administration in various departments across campus," she wrote. Lyons said she also hopes to develop a partnership with the Global Initiatives office to help align the curriculum with the goals of Miami as an institution.
Lyons and Frankie Roskam, the founder of Justification of Youth (JOY), a student-initiated nonprofit organization — with the help of Lyons' faculty mentor Andrew Saultz — proposed the Community Based Leadership course (CBL 399) last spring. It was accepted as a study abroad experience for winter term 2016 to the Dominican Republic.
Saultz, an assistant professor of educational leadership, said Lyons "demonstrates extraordinary potential and promise" and noted that as an undergraduate student she had "an advanced understanding of privilege and educational inequities globally."
He added that she "has a sense of purpose that this is the best way to use her skills to create better educational opportunities for others."
Baker said Lyons' project isn't a traditional research project, but "it really appealed to us because she's thinking about how students at Miami reflect on the kinds of learning they are receiving in study abroad."