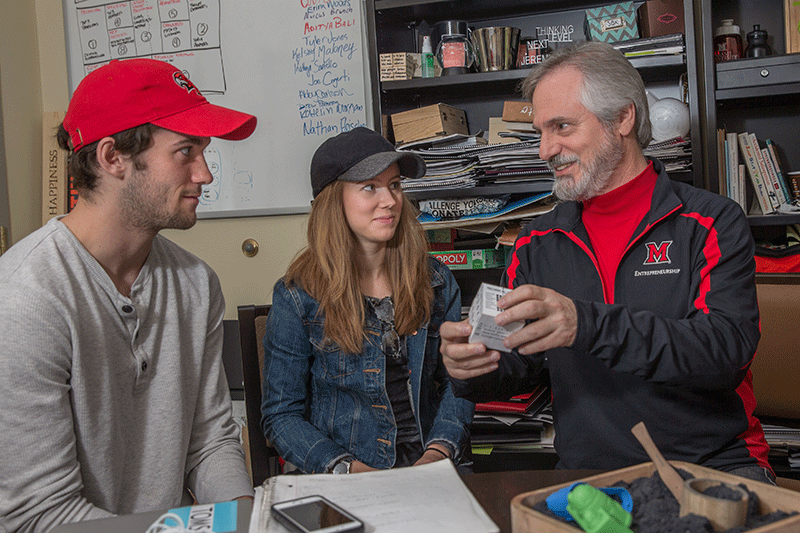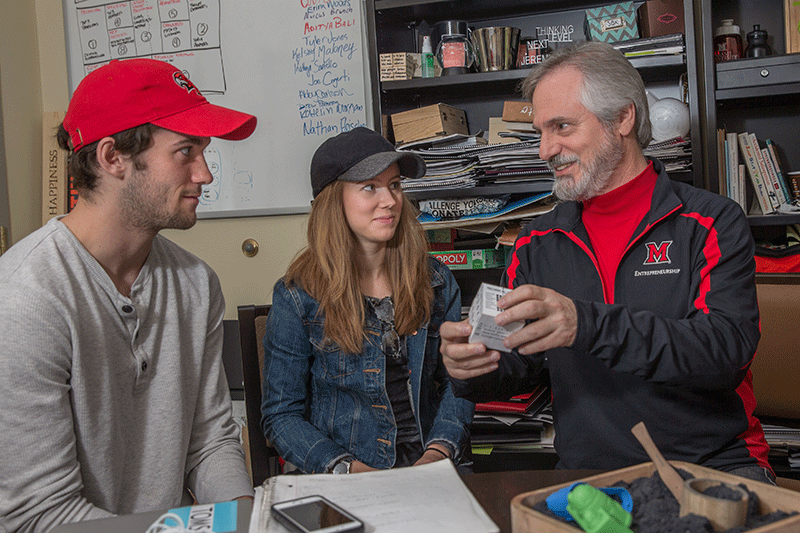 Jim Friedman, ASG Professor of the Year, shares creativity insight with students Nathan Fleischer and Kelsey Maloney.
Photo: Scott Kissell
May 05, 2016
ASG Professor of the Year lives "all in" with creativity in entrepreneurship
by Carole Johnson, university news and communications
Jim Friedman loves a good question. In fact, he likes them bold and in abundance.
Second-year marketing major Emily Evans recalls how Friedman encouraged her business fraternity to write down as many questions as they could without stopping during one of his lively and sought-after creativity speeches.
"That exercise changed the way we thought," she said. "It taught us to be open-minded and to clear all restraints so we could develop our unique thoughts."
Friedman is this year's Outstanding Professor, named by Miami's Associated Student Government for his "creativity, enthusiasm and dedication to students inside and outside of the classroom." Professors are nominated by graduating seniors for having a profound impact.
Friedman teaches creativity as the White Family Clinical Faculty in the Institute for Entrepreneurship at the Farmer School of Business. He joined Miami in 2008, bringing with him extensive and award-winning experience as a writer, producer and director as the founder, chief creative officer and vice president of marketing for Blind Squirrels Production Group (1999-2013).
He was involved in the production of more than 150 television specials for ESPN, PBS, WGN, USA Network and local stations. He also directed 11 national prime time television dramas. He won 1 national Emmy and 64 regional Emmys.
He also conducts workshops across the university on creativity and innovation and is known for his energetic, inspiring sessions. Friedman's been known to stand on tables, wear tuxedo socks and mix things up to make his point for students, faculty and staff who enjoy one of his talks.

Amber Hallmann explored creativity and innovation with 24 other students in an entrepreneur course in San Francisco led by Jim Friedman.
Jim Friedman is a teacher
"No matter what he's done, he's been a teacher all his life," said Addie Rosenthal, who worked with him in his production company and now works with him in the Farmer School.
Kelsey Maloney, a junior journalism major, wanted to work with Friedman as a student assistant because she knew that he would help her grow, not only as a creative entrepreneur, but as a person.
"It's why a lot of students respect him so much. Because he goes beyond worrying about schoolwork, and he cares about people," she said.
Amber Hallmann, a second-year student, was part of a study away course of Entrepreneurial Consulting in San Francisco led by Friedman last summer. Using the words 'horrible,' 'intense,' and 'great' to describe the experience, Hallmann said she learned many life lessons of how to work and talk to professionals that she won't forget.
"He has a way of getting up in our heads," she said.
The group learned how to represent their beliefs and goals while working in a professional setting as Friedman pushed the students out of their comfort zones.
"I annoy a lot of students," said Friedman, "But, I actually like these people, and I root for them."
"I'm all in"
In fact, Friedman's mantra is "all in" when it comes to his students, colleagues and the university. One of his favorite stories to tell is about farm animals who want to show their appreciation for the farmer who takes good care of them. The animals decide to surprise the farmer with a breakfast. For the chickens and the cows, it's easy to give up some of their eggs and their milk.
"But," Friedman said, "for the pig, it's a total commitment. It's the same attitude I bring. I'm all in."
Friedman makes it look easy, but he does a lot of prep work behind the scenes. He cites studies that show, for the most part, creativity is "educated out of us" as we grow older.
"We are looking in academia for people to have the focus and the dedication to do the impossible," he said, referring to challenging his students.
He stresses the need to ask questions. Deep ones. 
"We tend to stick to basic, simple questions," he warned. "We never get to a place where we can dig deeper, where we can explore in a way that we get into the soul of the person. There is nothing more important to creativity than questions."