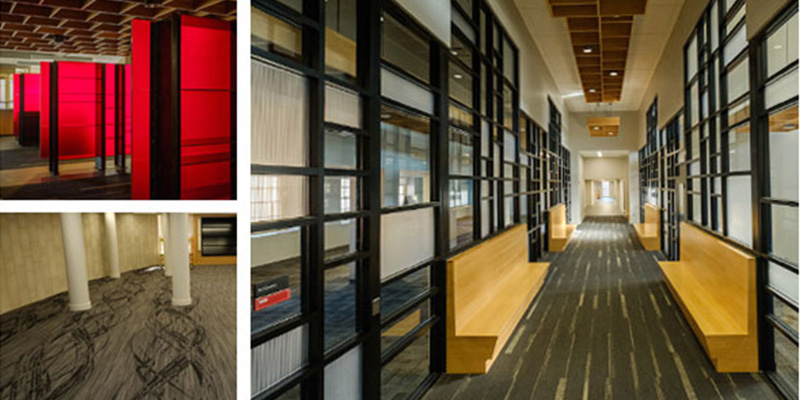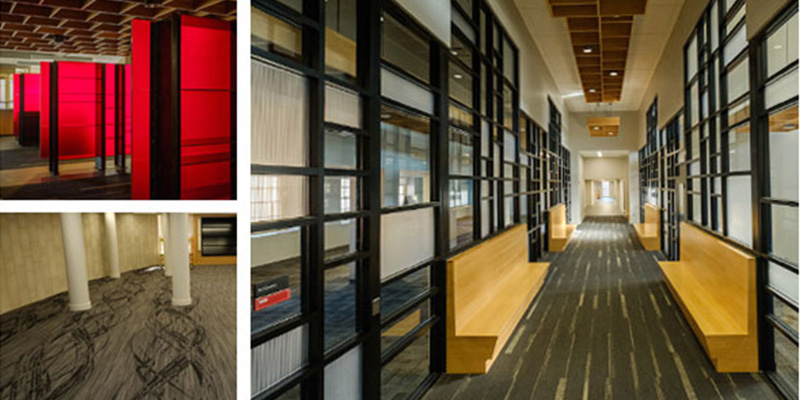 Shriver's new look incorporates open and welcoming spaces.
Photo: Scott Kissell
Jan 05, 2017
Shriver Center: Gateway to the heart of Miami once again
Phase I of renovation project complete
by Carole Johnson, university news and communications
With phase one of a two-phase renovation project complete, Shriver Center once again becomes a gateway to the heart of Miami University.
Formerly the center of student activity — home to student organizations, dining centers, meeting rooms and the Miami University Bookstore — Shriver Center became a construction zone in January 2016.
This month, Shriver opens its doors to students and visitors with about 60,000 square feet of its 120,000 square feet of space ready for use. Its focus: to serve as a place for current students to learn and grow and for prospective students and their families to experience the essence of Miami.
Underway is the relocation of the Admission Visit Center; already open to serve students are the office of student disability services and the Rinella Learning Center, having moved from the Campus Avenue Building.

Open house dates for Rinella Learning Center and student disability services will be announced soon as staff members settle into their new spaces.
Now open: student disability services and Rinella Learning Center
Among packing boxes, staff members of student disability services and the learning center are welcoming students to larger and more efficient spaces on the third floor in space that was once a ballroom.
"The new location expands our space and capacity for tutoring, testing services, workshops, academic coaching and course offerings," said Christina Carrubba-Whetstine, Rinella's director.
Student disability services provides support services, accommodations and resources to ensure equal access to education, employment and university life. Its mission is to advance and sustain an environment of internal equity, diversity and inclusiveness for all members of the Miami community.
"This move is monumental for SDS as it will bring services and resources to the heart of campus and allow for improved outreach to students, faculty and staff," said J. Andrew Zeisler, director of student disability services.
Admission Visit Center to showcase the Miami experience
The new Admission Visit Center plans to capitalize on the location — previously the Haines Food Court — by showcasing the Miami experience. The first campus tour in the new space is scheduled for Monday, Jan. 23.
"Data show a direct correlation between the campus visit and students' likelihood to apply for admission. The Shriver location places our prospective students and their families in the heart of Miami's campus," said Susan Schaurer, assistant vice president for enrollment management and director of admission.
"We are thrilled with this opportunity," Schaurer said. "Ted Christian, senior project manager, and his team created a visit center that not only meets our visit needs and demands, but a space that clearly conveys the Miami brand and experience and ensures guests the opportunity to fully maximize their time on campus with close proximity to the bookstore, Armstrong Student Center, MapleStreet Station and other parts of campus," she said.
A 260-seat auditorium and a large lobby area gives the admission team room to accommodate more guests annually. Last year, admission welcomed nearly 45,000 visitors to campus, sometimes having to offer four campus tours in a day to meet requests by prospective students— making for a tight squeeze in the Campus Avenue Building.
The story of Miami highlighted in special exhibits
Phase I of first-floor renovations includes a comfortable seating area with fireplaces, private counseling rooms, and a special area highlighting Miami's accomplishments, with artifacts and historical information.
Working with university archives and others, the admission team is collecting pieces from Miami's academic divisions, the Myaamia Center, athletics and more. For instance, the Farmer School of Business is loaning the visit center the Laws Gold Indicator. Samuel Spahr Laws, an 1848 graduate of Miami, invented the predecessor to the stock market ticker.
Technology and infrastructure done right
Renovations include relocating existing state-of-the-art video screens and touch-screen monitors, as well as upgrades to mechanical workings of the entire building. At about 80 percent complete, renovations to infrastructure included mechanical, electrical and plumbing upgrades. Phase I remained within its $20 million budget. Phase II is underway with a budget of $9.5 million.
Phase II is scheduled for completion in two stages. A package center, lower level retail space and Access MU Center will be complete in August 2017, while the bookstore, Dolibois rooms, and exterior accessibility upgrades will be complete in May 2018.
Editor's Note: Intern Tali Hunt contributed to this story.