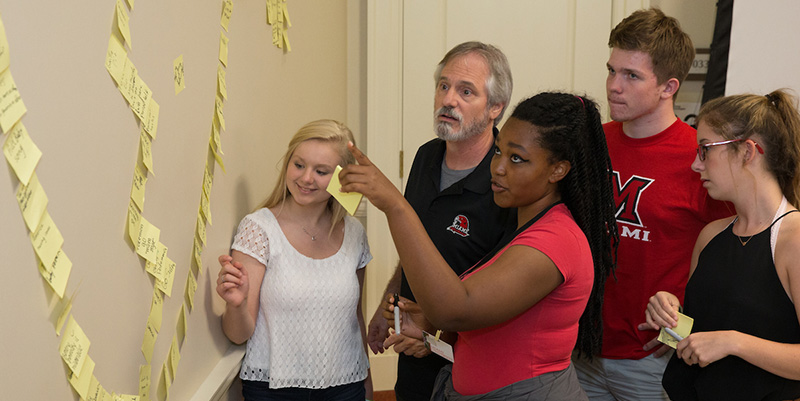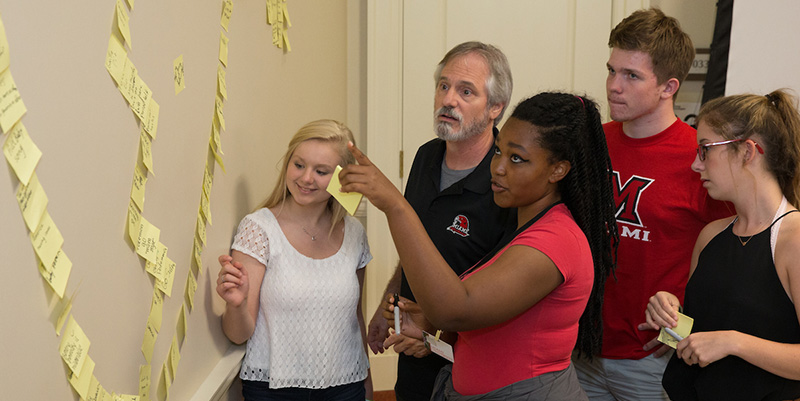 Jim Friedman works with students on developing their skills in creativity.
Photo: Scott Kissell
Nov 16, 2017
Miami again among top 10 U.S. publics for entrepreneurship
For the 10th year in a row, Miami University, with its Institute for Entrepreneurship, has been ranked by The Princeton Review as one of the Top Schools for Undergraduate Entrepreneurship for 2018. Miami is 9th among public universities and 18th overall.
The Princeton Review annually considers more than 300 schools to identify and rank the top 25 undergraduate and top 25 graduate programs for entrepreneurs. The survey weighs institutions' commitment to surrounding students with mentors, professors and alumni, as well as provide environments for budding entrepreneurs to thrive.

The Institute for Entrepreneurship is one of the fastest growing programs at Miami's Farmer School of Business and has nearly tripled in size over the last six years. More than half of the students studying entrepreneurship are nonbusiness majors, and more than 70 different majors are represented within their ranks.

The availability of entrepreneurship studies to students from any major is emblematic of the interdisciplinary nature of learning at Miami, said Greg Crawford, university president. "Creativity, imagination and innovation are critical in and out of the classroom. By encouraging entrepreneurialism across the university, we continue to be agents of change and to prepare our students to be designers of a bright future."

"While we are pleased to be recognized for our work, we are most pleased with the successes of our graduates like Michael Markesbery," said Brett Smith, director, Institute for Entrepreneurship, and founding director, Center for Social Entrepreneurship.

Markesbery, class of '15 and an entrepreneurship minor, was just named to Forbes' 30 Under 30 list for retail and e-commerce.

"He's among countless others who are changing the world," said Smith. "We will continue to grow and evolve our focal areas of corporate, social and startup entrepreneurship and creativity and innovation and seek even more opportunities for our students to practice what we teach."
 
"We highly recommend (these schools) to any applicant aspiring to launch a business," said Robert Franek, The Princeton Review's editor-in-chief.  "Their faculties are truly engaged in entrepreneurism. Their courses are rich with in-class and out-of-class experiential components, and the financial and networking support their students and programs receive via donors and alumni is extraordinary."

Entrepreneur magazine partners with The Princeton Review for the annual rankings.