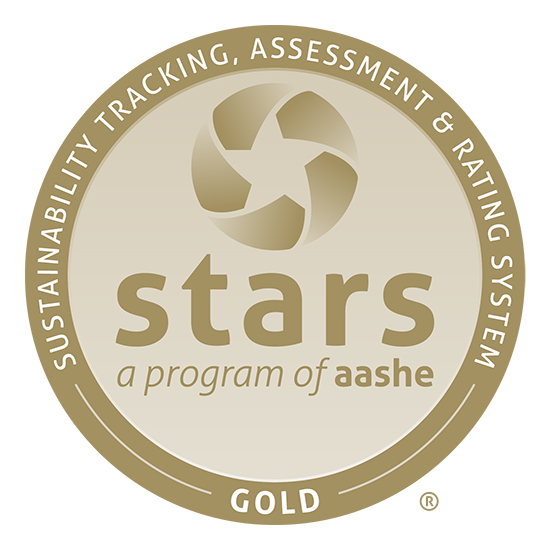 May 30, 2019
Miami earns gold in STARS sustainability rating system
By Susan Meikle, university news and communications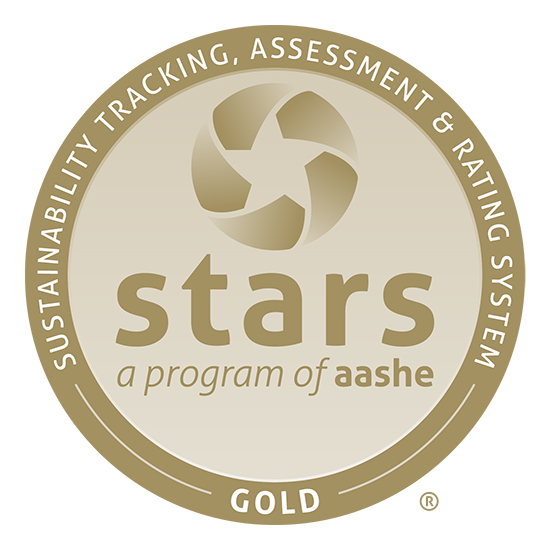 Miami University has achieved its first STARS Gold rating in recognition of its sustainability achievements from the Association for the Advancement of Sustainability in Higher Education (AASHE).
STARS, the Sustainability Tracking, Assessment & Rating System, measures and encourages sustainability in all aspects of higher education. 
Miami's Gold rating, announced earlier this month, is good for three years.
Miami achieved a silver rating in 2016 and in 2013.
Participants report achievements in five overall areas: academics; engagement; operations; planning and administration; and innovation and leadership.
"This great accomplishment publicly demonstrates Miami's continuous dedication to sustainability," said Adam Sizemore, director of sustainability at Miami.
"It also gives us the opportunity to identify ways to further advance environmental stewardship, social responsibility and economic viability."  
There are numerous credits possible within each category of STARS.  Miami earned near perfect marks for:
Academic research.
Diversity and affordability.
Water use and rainwater management.
Employee engagement- Lean program.
Innovation.
Miami received innovation credits for: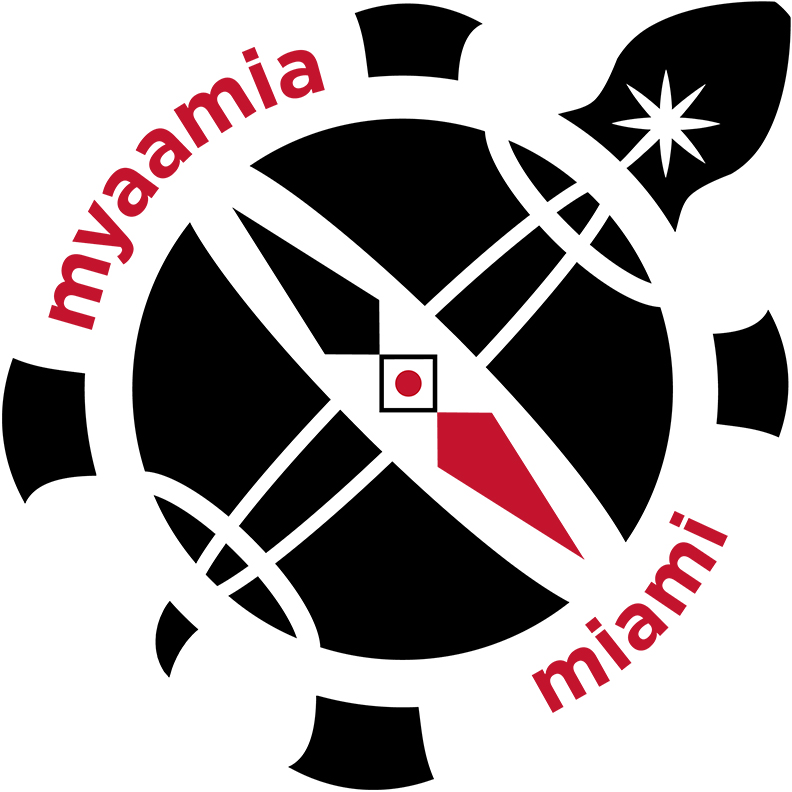 Myaamia Heritage Turtle, a secondary mark to the Myaamia Heritage Logo
View the entire STARS report online on the STARS website. 
Collecting information for the triennial STARS report is a major undertaking. The STARS reporting team, led by Sizemore, thanks the many people across campus who helped provide information for the 2019 report. "Everyone at Miami plays an important role in making Miami a sustainable campus, and this achievement would not be possible without concerted efforts," he said.
Cody Powell, associate vice president for facilities planning and operations, said "achieving a STARS Gold rating is a significant step in our efforts to be a more sustainable campus. Earning a Gold rating required contributions and collaboration from faculty, staff and students across the campus. This is a terrific outcome, and I am very appreciative for all the on-going efforts to improve sustainability at Miami."
10 years of sustainability successes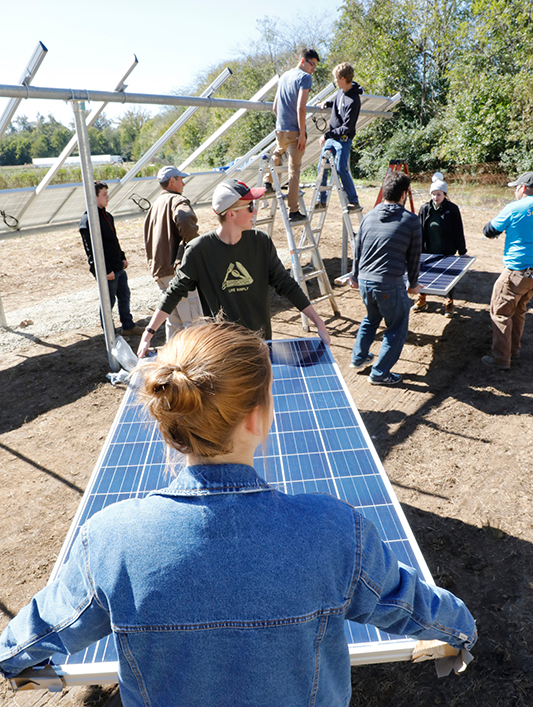 Installation of a solar array last fall at the Institute for Food farm. The 18-panel system produces enough power to run the irrigation system for the crops.
Carbon emissions reduction: 44%
Since 2008, Miami's Oxford campus has significantly reduced and exceeded its goals for energy consumption and carbon emissions.  A comprehensive energy master plan eliminated the use of coal before the target of 2025, and increased the use of natural gas. Miami's geothermal energy plant — the largest among Ohio colleges and universities — currently provides heating and cooling to 10 buildings, and will serve seven additional buildings by 2025, according to Doug Hammerle, director of energy systems. The geothermal plant also drastically reduces Miami's water consumption and chemical use. 
Miami's 2018 Carbon Footprint (Oxford campus): 108,724 MTCO2e. 
Relative to the baseline year FY 2008, carbon dioxide emissions from coal, natural gas and purchased electricity (including transmission and distribution losses):
Were reduced by 44%.
Total carbon emissions were reduced by 30%, and
Energy consumption was reduced by 36%, on a square foot basis. 
LEED-Certified Buildings: 29
Miami's first building to be LEED-Silver certified was the Farmer School of Business, in 2009. Since then, LEED-certified new or renovated building construction includes: 27 LEED-Silver buildings and 2 LEED-Gold buildings. 
New sustainability website
Learn more about sustainability at Miami through the new sustainability website. 
Next 10 years: Envisioning a new plan for sustainability at Miami
In February, Miami President Greg Crawford charged the sustainability committee with the task of preparing a new plan for sustainability. The plan will reinforce Miami's commitment to sustainability and leverage past successes while setting new aspirations.
Seven subcommittees have been working on the plan, which will be presented to Crawford in June. It will incorporate a "renewed vision to position Miami as a sustainability leader among higher education institutions, emphasizing an interdisciplinary and collaborative approach to sustainability," according to Suzanne Zazycki, co-chair of the committee and associate director of the Institute for the Environment and Sustainability.  
About STARS 
"STARS was developed by the campus sustainability community to provide high standards for recognizing campus sustainability efforts," said AASHE executive director Meghan Fay Zahniser. "Miami has demonstrated a substantial commitment to sustainability by achieving a STARS Gold rating and is to be congratulated for their efforts."
With more than 800 participants in 30 countries, AASHE's STARS program is the most widely recognized framework in the world for publicly reporting comprehensive information related to a college's or university's sustainability.