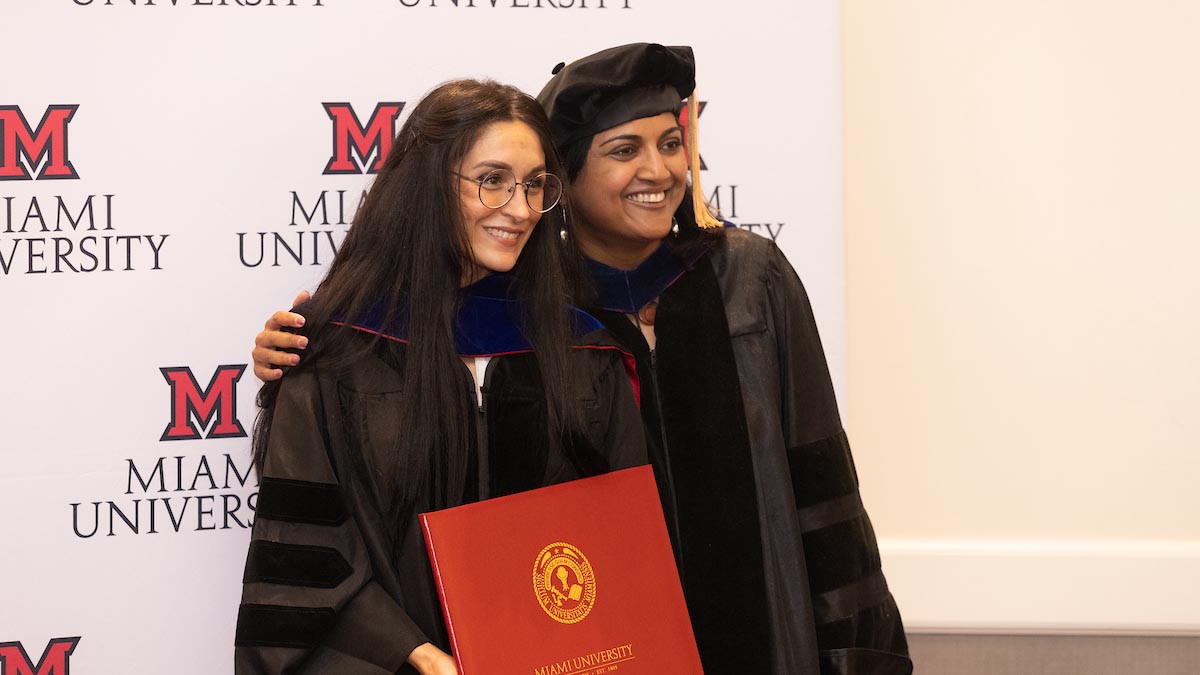 Welcome to the Graduate School
Take your next steps to join the Graduate School at Miami University! Use the information below and your Applicant Status Page to plan for your enrollment.
The Graduate School at Miami University serves a community of students immersed in the heart of the Miami experience: interdisciplinary research and collaborative inquiry. Representing a full selection of master's, doctoral, and certificate programs spanning a wide range of disciplines, the Graduate School serves as a platform for discovery, creativity, innovation, and collaboration.
Access Your Personalized Enrollment Checklist
Use your Applicant Status Page to access your personalized checklist, including documents you must provide before enrollment.
Establish Your myMiami Student Account
At Miami, you will use your Unique ID and password daily to access systems, resources, and personal information, including your @MiamiOH.edu email. It could take up to five business days after admission for your Unique ID to be established. Set up information is sent via email. Then use this website to find your Unique ID. If logging into a Miami system for the first time, your initial password will be the month and day of your birth (with leading zeros for single-digit months/days) and either the last four digits of your Social Security Number (if provided) or the last four digits of your Miami Banner ID. You can find your Banner ID at the top of your admission offer letter on your Applicant Status Page (a nine-digit number beginning with a + sign).
Set up DUO Two-Factor Authentication
Access to Miami systems requires two-factor authentication through DUO. When initially accessing many Miami resources, you will be prompted to enroll in DUO. For more information, visit miamioh.edu/DuoFAQ.
Log in to myMiami
myMiami is your personalized Miami student portal where you can access a broad range of resources, including your Miami course schedule and email. You will need your Unique ID and password to gain access.
Access BannerWeb
BannerWeb also is an online portal where you will view grades, check registration, and maintain your personal information. You will need your Unique ID and password to gain access.
Tuition and Billing
Tuition and billing information will be sent to your Miami email address. You will not receive a paper bill. More information is available on the One Stop Bill Pay Website. Notifications are sent on the following schedule:
Fall semester - early July.
Spring semester and Winter Term - early December.
Summer session - mid-April.
Immunizations
All Miami students who are enrolling for the first time or re-enrolling after an absence of two years must complete an immunization health form. Learn more about required immunizations and how to submit documentation.
Student Health Insurance
Each fall semester, all full-time students attending the Oxford campus will be billed for student health insurance. Students who are currently covered by health insurance must complete an insurance waiver request by Aug. 1 to remove the charge. Learn more about student insurance and the insurance waiver.
Read the Graduate Handbook
Use our Handbook for Graduate Students and Faculty for resources you can use today and throughout your Miami education. It is located on the Graduate School website under Governance and Guidelines.