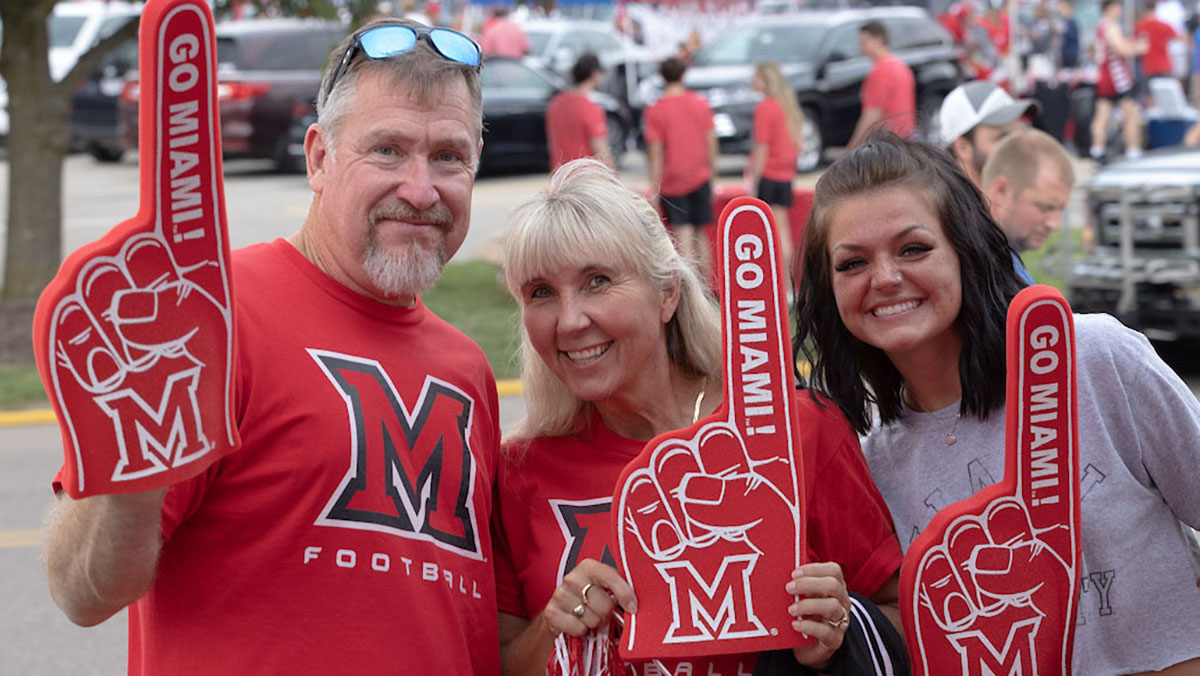 Welcome, Parents and Families
Whether your student's college search is just beginning or you're packing suitcases, your family is preparing for what will be one of the most important investments in your student's lifetime. Let us help. The resources on this page are hand-picked for the parents and family members who are supporting students on this journey.
Undergraduate Admission Requirements - Oxford
Help your student prepare for undergraduate admission to our main campus in Oxford, Ohio.
Dates and Deadlines
Mark your calendar with key dates and deadlines for admission, scholarships, and financial aid.
Undergraduate Admission Dates and Deadlines
Visit Miami
Discover one of the many reasons why Miami University attracts students from all over the world – our historic campus located in beautiful Oxford, Ohio. Schedule a campus tour or attend an event.
Start Connecting with Miami
If you want to connect with Miami directly, rather than waiting for your student to loop you in, you can. Contact your Miami Admission representative directly and/or submit our request information form to sign up for family-specific communication and event invitations.
Contact Your Admission Representative
Scholarships
Miami offers merit scholarships to qualified high school students who enroll full-time on Miami's Oxford campus beginning in the fall semester. Students will be considered based on scholarship availability at the time they apply. Dec. 1 is the priority application deadline to be considered for Miami's merit scholarships. Miami does not require the submission of ACT or SAT scores for first-year students applying for 2023 enrollment.
To be considered for a scholarship, students must complete their application (including transcript and recommendation) by the priority deadline and meet the minimum academic criteria. No separate scholarship application is necessary to be considered for most Miami merit scholarships. Scholarships are not guaranteed and are based on academic credentials provided at the time of application.
Costs and Financial Aid
Learn more about costs, scholarships, financial aid, and the return on your investment:
Honors College
The Miami Honors College allow students to access the immersive, transformational education they need to reach their full potential. Our Honors College programs are uniquely structured to keep students highly engaged with other high-performing students in a competitive yet intimate learning environment.
Miami's Tuition Promise
Choosing a college or university is one of the most important decisions students and families will ever make, and Miami is committed to providing the greatest return on your educational investment.
With Miami's Tuition Promise, we guarantee that most undergraduate student costs, including tuition, housing, meals, special purpose fees, and course fees will be frozen for up to four years, which means financial aid and scholarships retain their original value. Given Miami's ranking as the No. 15 public university in the U.S. for four-year graduation rate, you can have confidence in your investment.
Miami Made, Forever Prepared
As an original Public Ivy, Miami has provided a world-class education in one of America's most beautiful university settings for more than 200 years. Whether considering our national reputation for undergraduate education or our exceptional return on investment, the numbers speak for themselves.
15th
Among Public Universities in the United States for Four-Year Graduation Rate
Chronicle of Higher Education
Top 50
National Public University
U.S. News and World Report
98%
Graduate Success, Employed, or Continuing Education within Six Months
Miami University Data