Undergraduate Student Research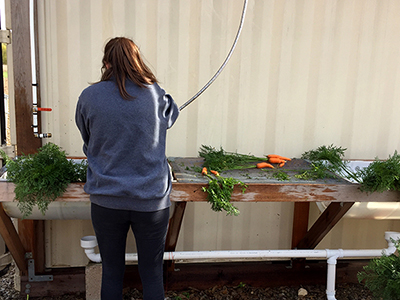 A student cleans freshly harvested carrots on a student-designed and -constructed wash station.
The Institute for Food provides many opportunities for students to incorporate what they've learned in the classroom into applied projects and independent research. These projects can take many forms including internships, construction projects, and academic research. Detailed below are some past and current projects.
Engineering Senior Design Project
"Vegetable Pack and Wash Project"
Brandon Mueller and Julio Alamanzo
Mechanics and Structural Design
This is a two-semester long project to build a produce a wash station that meets the Food Safety Modernization Act requirements. Mueller and Alamanzo finished the research and design component in the fall of 2016 and construction will be completed in the spring of 2017.
CAS Dean's Scholar Research Project
"Integrating Liberal Arts Education and Sustainable Agriculture Programs Looking at Model University Farm Programs"
Catherine Mazanek
American Studies
Mazanek is performing a 2016-2017 study of university farm and food studies programs at the University of Texas, University of Virginia, Yale University, Ohio University, and more with an emphasis on programs with similar demographics or focuses as Miami. She is researching the different frameworks that universities are using to study food and sustainable agriculture while elucidating best practices that can be applied to programs at Miami.
Engineers Without Borders Student Group Design Project
"Prototype for a Moveable Greenhouse"
Engineers Without Borders is partnering with the Institute of Food to build a movable greenhouse that can be pulled by a tractor at the farm.The greenhouse will extend the growing season and avoid the potential effects of insect or disease buildup. The greenhouse will be 60 feet by 12 feet and should be implemented by the end of the Fall 2016 semester.
Undergraduate Summer Scholars Project
Marla Guggenheimer
Guggenheimer spent the summer of 2016 working with Dr. Beth Miller in the Kinesiology and Nutrition Department to research food accessibility. She investigated a potential partnership between the Institute for Food and the Oxford Community Choice Pantry through a Community Supported Agriculture (CSA) program.
Greater Cincinnati Regional Food Policy Council Good Food Fellow Project
Olivia Richter
Richter chose to intern with Ohio Valley Food Connection, a business that works to connect small-scale sustainable farmers and restaurants with an interest in sourcing produce locally. She is studying ways to create a stable market for the Institute for Food through The Good Food Fellowship. The Good Food Fellowship is a year-long grant-funded program initiated by the Cincinnati Food Policy Council to engage college students in improving the food system in the Greater Cincinnati area. You can read more about Olivia Richter's work on our blog.