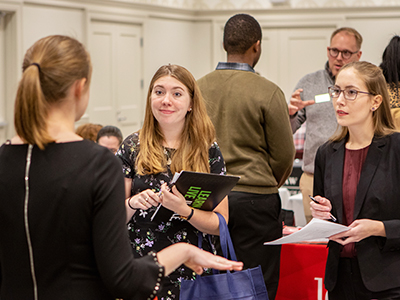 Students speak with a law school representative at Law Day (October 2019).


Our signature event, held in the autumn of each year, provides students with the opportunity to meet with law school representatives from around the country. This year's Law Day Fair was held on October 16, 2019:
"The Law Day Fair is one of the best things the Pre-Law program does. I'm really glad I came."
- Monika Mudd
Read more in this October 2014 press release: Miami Students Share Thoughts on 2014's Law Day Fair.
Miami University Law Day 2012 Video Transcript
Law school representatives from across the country will be on campus to provide students with information and answer questions about law school admissions. Law school representatives will conduct brief, informal interviews with competitive senior applicants.