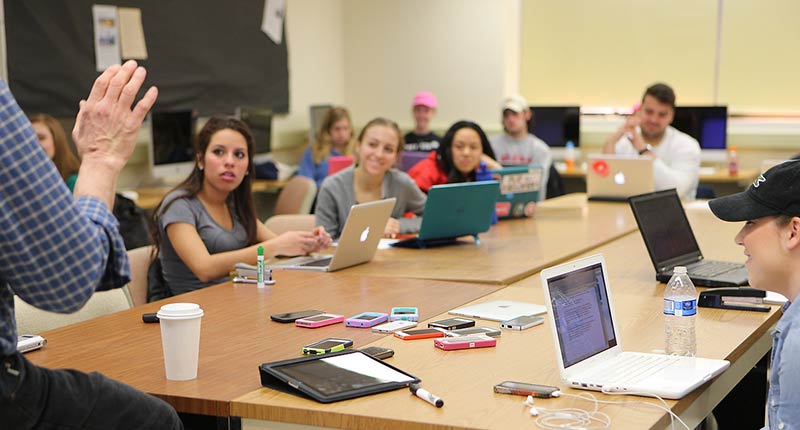 Broadening the traditional curriculum, Miami's Journalism major has evolved as an interdisciplinary program that includes the fields of Media & Communication, Interactive Media Studies and Political Science. In addition to courses teaching fundamental reporting, writing, and editing skills, the program's integrated media focus blends the art of communication with the science of digital technology to prepare Miami students for an increasingly diverse, yet converged environment for the practice of journalism.
Our Major
The Journalism major requires a double major, but virtually all students finish in four years. Our 200 current students are double-majoring in 15 different areas. Political science and English are the most popular double majors, but others include psychology, business, history, theater and even zoology.
Our faculty—many of whom have won national journalism awards—ground students in basic and advanced reporting, interviewing, storytelling and editing skills. That ably prepares them for careers in daily news (print and web), broadcast news, non-fiction writing and documentary film.
About half our majors want to become professional journalists, and half just want to be better writers and communicators.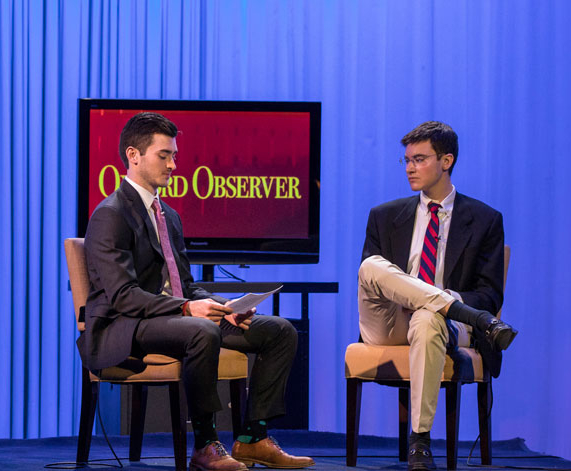 Miami journalism alums share value of a journalism major
Recognize and develop news stories, keying on the so-called Five Ws (who, what, where, when, why and how), and to gather information that is factual, relevant, timely, thorough and valuable to a broad audience;
Write news stories in the Inverted Pyramid style, crafting concise and compelling leads, constructing stories with facts ordered from most to least important, and incorporating transitional language between facts to provide a coherent whole;
Identify and write news stories about issues that require deeper reporting and more nuanced writing, incorporating such narrative non-fiction techniques as anecdotes, scenes, descriptive passages and dialogue;
Conduct quantitative research and analysis, and effectively incorporate the results of that work into stories about newsworthy topics of public importance
Frequently Asked Questions
Interdisciplinary approach
The program's interdepartmental framework brings together insights and applications from various disciplines while providing access to resources across several departments.
Double major
The program offers time to pursue interests in other areas by requiring a second major in a non-media-related field.
Small classes
Writing and editing classes are small—typically limited fewer than 25 students—to facilitate an effective learning environment.
Writing Scholars
The Writing Scholars in the Department of Media, Journalism & Film — part of the campus-wide University Academic Scholars program — comprise a small community of Miami students who share a devotion to the written word and an ambition to write for the media. They are invited to join the program on the basis of their record in high school, their entrance exams and their choice of writing-related majors. They take writing-intensive first-year courses as a group; meet with professional writers visiting the campus; and enjoy priority access to MJF writing courses. Many develop their writing skills through strong associations with Miami's student publications. (The English Department has a second cadre of Writing Scholars whose interests lie in fiction, poetry and creative nonfiction.)
Practical experience
Students can gain practical experience at both on- and off-campus news organizations. On campus choices include The Miami Student, RedHawk Radio, MQ and UP magazines, Miami Television News and more. Off campus, students regularly service as interns at The Columbus Dispatch, The Cincinnati Enquirer, Cincinnati magazine, The Dayton Daily News and TV stations and websites in Ohio and beyond.
During your first year of study, you'll begin taking the College of Arts & Science requirements, such as literature classes and foreign language courses, as well as the journalism pre-major requirements and Global Miami Plan courses. In your sophomore year, you'll begin taking courses in the journalism major along with courses related to your second major. In your junior and senior years, you'll concentrate on upper-level journalism courses, continue coursework in your second major, and participate in internships.
Journalism graduates seek careers in many areas. Our students are well-prepared, not only for any job requiring writing, editing, or publication design. Graduates may become magazine editors, newspaper or TV reporters, freelance writers, or copywriters. Typically, about 10 percent pursue graduate degrees in fields such as journalism, creative writing, literature, technical writing, history, or law.
Rosemary Pennington, JRN Area Coordinator
149 Williams Hall
Oxford, OH 45056
513-529-3460
penninrm@miamioh.edu
Department of Media, Journalism, and Film
120 Williams Hall
350 S. Oak Street
Oxford, OH 45056