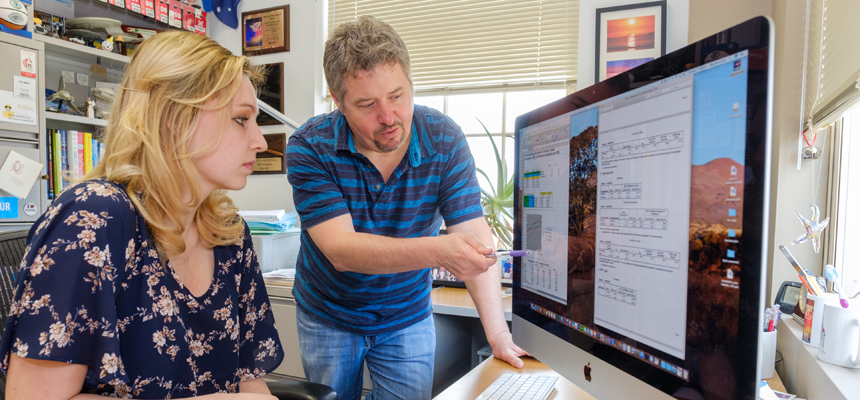 Undergraduate Studies
The department offers a BA in Psychology, a co-major and minor in Neuroscience, and a co-major and minor in art therapy.
Psychology Major
The Psychology undergraduate curriculum is structured to provide students with four key elements:
An overview of the range of topics that make up the discipline of psychology
Skills in constructing evidence-based arguments using critical and quantitative reasoning
Concentration in an area of focus within the discipline
A capstone experience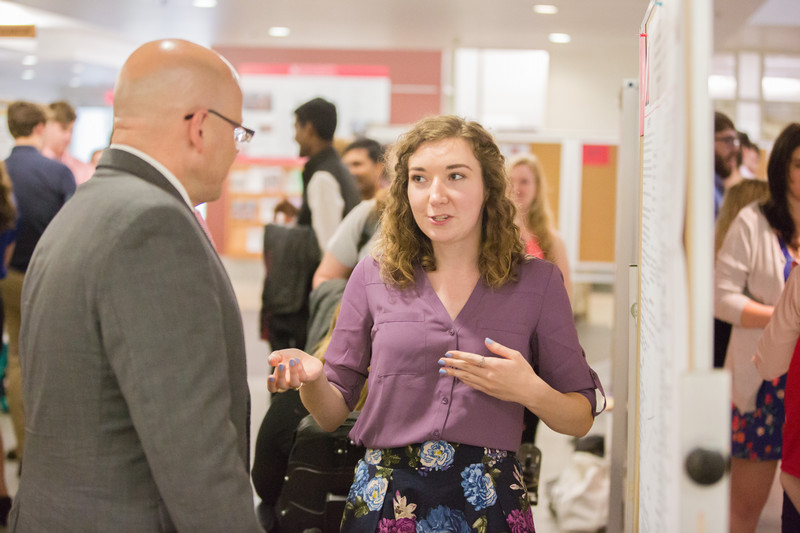 Psychology is a versatile major.
Our discipline encompasses all of the many different factors that affect human thoughts, feelings, behavior, and development. We study changes in the brain, how families affect children, how people form impressions of other people, how people make decisions, and how communities and cultures affect people's lives. The breadth of coverage in our discipline provides you with the background to face many different challenges in the world today that require an understanding of human behavior. It also gives you a perspective on why you are who you are and helps you discover who you want to become.
Introduction to the Psychology Major
What career options are available?
You will gain multiple skill sets that are valuable to employers through your training in psychology. For these reasons, psychology majors have many career options, including in public affairs, education, business, sales, service industries, health fields, biological sciences, computer programming, human resources, and writing.
Skill sets
writing and communication

problem-solving

data analysis

leadership and mentoring

teamwork
For More Information on Academic Programs
Learning Outcomes
The Psychology Department expects that graduating students in the major will reach the following 5 goals:
Describe key concepts, principles, and overarching themes in psychology
Develop a working knowledge of psychology's content domains
Describe applications of psychology
Use scientific reasoning to interpret psychological phenomena
Demonstrate psychology information literacy
Engage in innovative and integrative thinking  and problem solving
Interpret, design, and conduct basic psychological research
Incorporate sociocultural factors in scientific inquiry
Evaluate psychological science and practice based on ethical and multiculturally informed standards
Demonstrate understanding of the impact of culture on cognition, emotion, and behavior
Apply ethical and multiculturally informed standards in psychology coursework and interactions
Demonstrate effective writing for different purposes
Exhibit effective presentation skills for different purposes
Interact effectively with others
Apply psychological content and skills to career goals
Exhibit self-efficacy and self-regulation
Refine project-management skills
Enhance teamwork capacity
Develop meaningful professional direction for life after graduation
Roadmap to Psychology Major
The following are suggested course schedules that represent a common and recommended way to fulfill the Psychology Major requirements. You should consult with your advisor about your specific goals and plans. Using the Checklist for Majors, identify a primary and a backup topic sequence.
4-Year Plan
Year
Fall Semester
Spring Semester
1st Year
PSY 111
STA 261
PSY 2XX (Primary Topic Sequence)
2nd Year
PSY 293
PSY 2XX (Backup Topic Sequence)
PSY 294
PSY 2XX (Breadth)
3rd Year
PSY 3XX (Topic Sequence)
PSY 2XX (Breadth)
PSY 3XX or 4XX (Topic Sequence)
PSY 2XX (Breadth)
4th Year
PSY 410 (Capstone)
PSY 3XX or 4XX (to complete at least 2 courses at or above 300 and additional 2 at or above 400)
3-Year Plan
Year
Fall Semester
Spring Semester
1st Year
PSY 111
STA 261
PSY 293
PSY 2XX (Primary Topic Sequence)
2nd Year
PSY 294
PSY 2XX (Backup Topic Sequence)
PSY 3XX (Topic Sequence)
PSY 2XX (Breadth)
PSY 2XX (Breadth)
3rd Year
PSY 3XX or 4XX (Topic Sequence)
PSY 2XX (Breadth)
PSY 410 (Capstone)
PSY 3XX or 4XX (to complete at least 2 courses at or above 300 and additional 2 at or above 400)
Departmental Honors
The Department of Psychology encourages eligible students to engage first-hand in the research process by conducting an honors thesis in psychology. In the Departmental Honors Program, advanced students work closely with a faculty advisor to develop and conduct an original research project.
In classes, you might hear about ongoing research at Miami University, or if you participate in a lab, you might help with various aspects of the research process. The honors thesis provides an opportunity for you to take your engagement in research to the next level. Now, you will be joining the research community by contributing your own ideas and findings about psychological processes and phenomena.
Conducting an honors thesis is excellent preparation for graduate study, even in areas outside of psychology. Postgraduate programs value independent scholarship, ability to solve problems, cooperative work with other people, experience in statistical analyses, and original writing, all of which are frequently core aspects of an honors thesis experience.
To be eligible for departmental honors in Psychology, you should apply in the fall semester of your junior year. The requirements are as follows:
GPA of at least 3.25 in psychology and overall
Endorsement of faculty advisor
Brief description of thesis topic
The honors sequence in psychology consists of these components, to be completed during the junior and senior years:
Close work with faculty advisor on designing project, collecting and analyzing data, and writing APA-style paper.
Thesis evaluated by faculty advisor and two other readers; or evaluation by faculty advisor and submission to COMPASS (with thesis advisor permission).
Presentation of project results in a public forum (e.g., Hinkle Poster Session, Undergraduate Research Forum); or successful publication in COMPASS.
Enrollment in PSY 400 in Spring of junior year is encouraged (not required).
Miami University student Cynthia Wang presented her honors project, "Fine Print and the Law: Assessing the Comprehensibility of Online Legal Documents" at the Society for Computation in Psychology conference.
Department of Psychology
90 North Patterson Avenue
Oxford, OH 45056