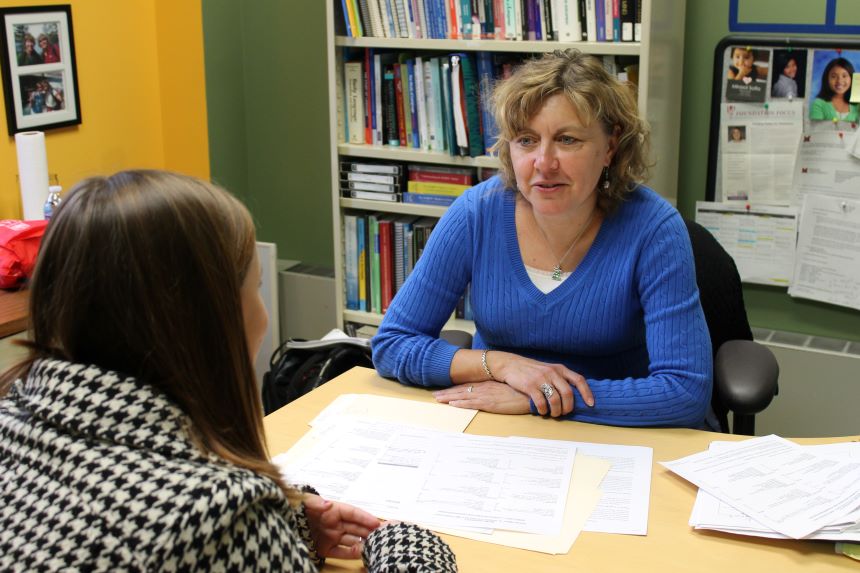 Research Opportunities
The field of Communication Sciences and Disorders is a rapidly growing area of basic and applied research combined with clinical development. The interdisciplinary nature of the field draws from such diverse disciplines as physics, biology, engineering, psychology, linguistics, medicine, and philosophy. Students can focus in one specific area or create an education plan and training that encompasses a range of communicative disorders.
The Children's Acquisition of Language and Literacy (CALL) Lab
The mission of the CALL Lab at Miami University is to identify barriers to young children's acquisition of language and emergent literacy skills and to develop interventions for these skills that can be implemented feasibly in real-world settings.
Specific Goals
Identify and understand underlying barriers faced by populations of children at risk for developing language and literacy disorders (e.g., children in poverty, children with health conditions, bilingual children, minority children).
Develop and test novel interventions to promote high-quality linguistic interactions among young children and their families, teachers, and speech-language pathologists.
Utilize principles of implementation science to evaluate and promote feasibility and sustainability of interventions in home, educational, and clinical settings.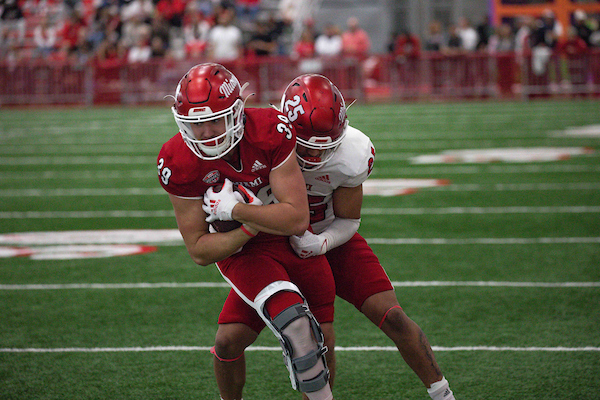 Concussion Management
The Miami University Concussion Management Program is a collaborative effort between the Department of Speech Pathology and Audiology and Intercollegiate Athletics.
All freshman and transfer students on specific varsity teams receive baseline neurocognitive testing in order to assess their non-injured level of cognitive functioning, prior to the onset of pre-season training. Specific neurocognitive skills are assessed that are vulnerable to sports-related concussions. If an athlete sustains a concussion, they are referred to the clinic, ideally within 48 hours for post-injury testing. These results are analyzed and compared to pre-injury baseline levels.
Our experience at Miami University and research in sport-related concussions suggest that athletes require several days to weeks to recover from the symptoms of concussion. Because of this, the interdisciplinary team works together with the athlete and the academic faculty to provide the resources and strategies needed so the athlete can return to athletic, academic, and social endeavors safely with success.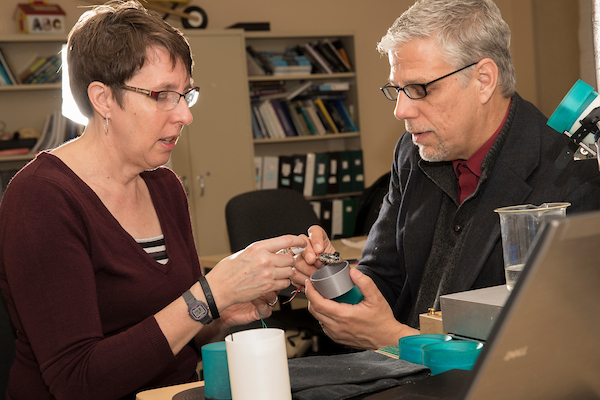 Dr. Donna Scarborough's current research includes collaboration with Dr. Michael Bailey Van Kuren of the Department of Mechanical and Manufacturing Engineering at Miami University. Together, they hold 2 patents.
One patent involves the development of a "smart" transitional or sippy cup. The other patent involves the development of a hand glove device that alters the afferent limb of the gag reflex. Research continues with the "smart" cup and the development of 3-D measurement tools to study open cup drinking development and perceptions of children regarding the flow and rate of different prototype cups. Research also continues with the hand glove device to determine FDA parameters and utilization within a variety of clinical settings.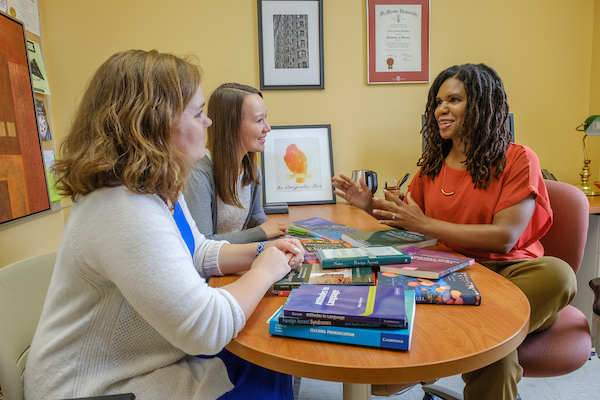 English Pronunciation and Accent Modification
Dr. Amber D. Franklin is the director of the English Language Learning Pronunciation Lab (ELLPL) at Miami University. The research conducted in this lab is aimed at developing effective clinical approaches to assess and train pronunciation skills in English language learners.
Previous and ongoing lab studies include:
Investigation of acoustic variables associated with listener judgments of foreign-accented speech.
Analysis of phonological processes in the speech of adult English language learners.
Examination of goodness and accentedness ratings in vowels produced by English language learners.
Investigation of the relationship between goodness ratings, functional load values, and the reciprocity of vowel errors.
The ELLPL provides mentored and collaborative research experiences to a select group of graduate and undergraduate students. Students learn a variety of research-based skills including acoustic analysis, experimental design, literature search and review, and data collection and analysis.  ELLPL research assistants also participate in a variety of mentored writing projects.
The Later Language Development Lab is directed by Gerard (Trace) Poll, Ph.D. Dr. Poll's research focuses on fostering evidence-based assessment practices for adolescents and young adults with developmental communication disorders.
The lab has worked to develop and refine a new assessment of social communication to support better interventions for adolescents as they transition from K-12 education to adult settings. Work in the lab has also identified cognitive and linguistic characteristics of adults with developmental language disorders. These findings contribute to the development of more diagnostically accurate screening tools. 
Neurogenic Communication Disorders
At Miami University we are able to offer academic, clinical, and research opportunities for students who are interested in the areas of adult language, speech, and cognitive disorders.
We have a two-course sequence (Aphasia and Neurogenic Cognitive Disorders) that provide theoretical, research, and clinical information regarding stroke, brain injury, dementia, and other etiologies resulting in neurogenic communication disorders.
Our clinical programs at the MU Speech and Hearing Clinic allow students to apply classroom information and treat patients with acquired language and cognitive disorders. Furthermore, our students gain experiences working with patients in acute, subacute and postacute hospitals/rehabilitation settings as part of their extern training.
Sign Language and Autism at Miami (SL@M) Lab
Under the direction of Dr. Aaron Shield, the SL@M Lab seeks to understand how various populations of children and adults acquire signed and spoken languages. Current projects include:
An investigation into how deaf and hearing parents of young autistic children manage their children's visual attention during play. This project aims to better understand how parents might use innovative and effective attention-getting techniques to increase opportunities for language learning.
How deaf autistic children acquire, produce, and understand American Sign Language (ASL).
An analysis of how graduate-level speech-language pathology textbooks may omit information about signed languages from their discussions of language acquisition.
The impact of the COVID-19 pandemic on deaf education programs
Voice and Respiratory Research
The Department of Speech Pathology and Audiology houses two laboratories for the purpose of voice and speech science research. Research is conducted in these laboratories by Dr. Susan Brehm and Dr. Renee Gottliebson.
The Clinical Voice Laboratory contains state-of-the-art instrumentation for the diagnosis and treatment of adults and children who exhibit the full range of voice disorders. Acoustic and aerodynamic analysis of voice, as well as laryngeal video stroboscopic assessment of vocal function, are available. This instrumentation is used to evaluate patients with voice disorders as well as in clinical research activities.
The Speech and Voice Science Laboratory contains instrumentation for the analysis of speech samples, aerodynamic data, and respiratory function. Previous research in this lab has been completed in collaboration with the Department of Kinesiology and Health to examine physiologic variables related to respiration when speech and exercise are performed simultaneously (e.g., aerobic instructors, singers who perform choreography). Research has also focused on respiratory training and examinations of the use of this training in patients with upper airway obstruction.
Undergraduate Research Forum
Students have the opportunity to participate in the undergraduate research forum throughout their studies.   Every Miami program has opportunities for students to excel through research experiences.
Student learn the research process involves systematic investigations to establish novel facts, solve new or existing problems, explore new creative ideas, or develop new theories.
By participating in undergraduate research, students gain experience and skills valued by employers, graduate schools and medical schools.
For More Information
Visit our Office of Research for Undergraduates. 
Department of Speech Pathology and Audiology
Clinical Health Sciences Building
421 S. Campus Avenue
Oxford, OH 45056