Miami University's Physician Associate Studies Program receives provisional accreditation status
Student interviews are already underway for classes to begin in May 2023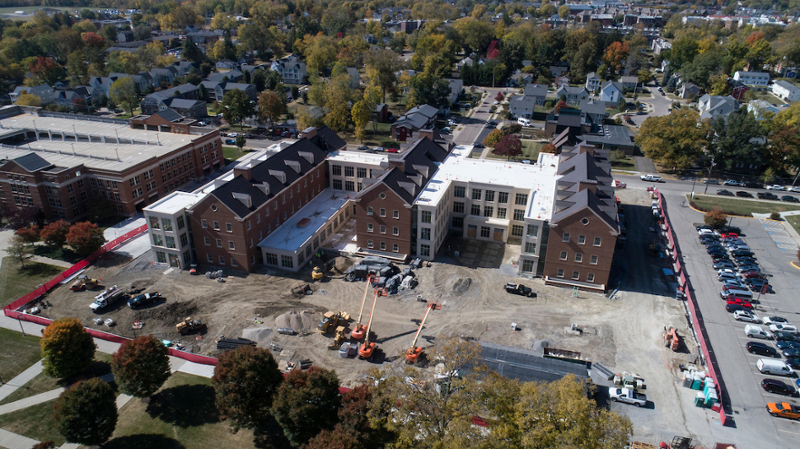 The new health sciences building under construction on Campus Avenue.
Miami University's Physician Associate Studies Program receives provisional accreditation status
The new health sciences building under construction on Campus Avenue.
Miami University's Master of Medical Science/Physician Associate Studies Program has received "accreditation-provisional status," meaning that it has been approved to accept students and begin the program in May.
The program's accrediting agency, the Accreditation Review Commission on Education for the Physician Assistant (ARC-PA), indicated in its official letter that accreditation-provisional status is granted for programs that have not yet enrolled students but "appear to demonstrate the program's ability to meet the ARC-PA standards."
"Provisional status is the only status that we can attain as a new or developing program, allowing a graduate to sit for the PANCE [Physician Assistant National Certifying Exam] and be licensed to practice medicine," said Anu Mathur, academic director of the PA program and admission chairperson.
The PA program's base of operations, within the north academic wing of the new Clinical Health Sciences and Wellness facility, is entering its final phase of construction and will open its doors next April.
"We will soon be joined by four full-time faculty members serving as assistant teaching professors," Christopher Howell, associate professor and PA program director, said. "These faculty will bring a wealth of talent and experience, working in several disciplines and serving diverse communities. We are thrilled about the future of the health sciences at Miami University."
Working with Howell are Mathur, Emily Brown (director of clinical education), and Dr. David DeLaet (medical director). DeLaet also serves as the chair of the Board of Directors for the Mallory-Wilson Center for Healthcare Education. 
"I am extremely proud of the dedication that our team, led by Dr. Howell and Professors Brown and Mathur, demonstrated in obtaining this accreditation-provisional status," said Dr. DeLaet. "With the addition of our four full-time faculty members and the support of Miami University as well as healthcare industry partners in the region, we are well positioned to establish a PA program that will educate and train highly competent and compassionate healthcare professionals prepared to practice in a diversity of settings."
The program plans to enroll 20 students in the first cohort by offering a Master of Medical Science (MMSc) degree. It is part of Miami's vision to serve all of Ohio's communities by expanding education opportunities for graduate education in health science and improving access to quality healthcare.
"We are hopeful that through our curriculum and clinical rotation experiences we will foster a passion for rural medicine and service to those in areas of greatest healthcare need,'' said Brown. "We are so grateful for our clinical partners, as their efforts in training clinical year students to fulfill our mission and vision are invaluable."
Read last year's announcement article to learn more about the program.