Nobel Peace Prize winning journalist Dmitry Muratov discusses free speech and Russia's war on Ukraine
A guided discussion hosted by the Havighurst Center for Russian & Post-Soviet Studies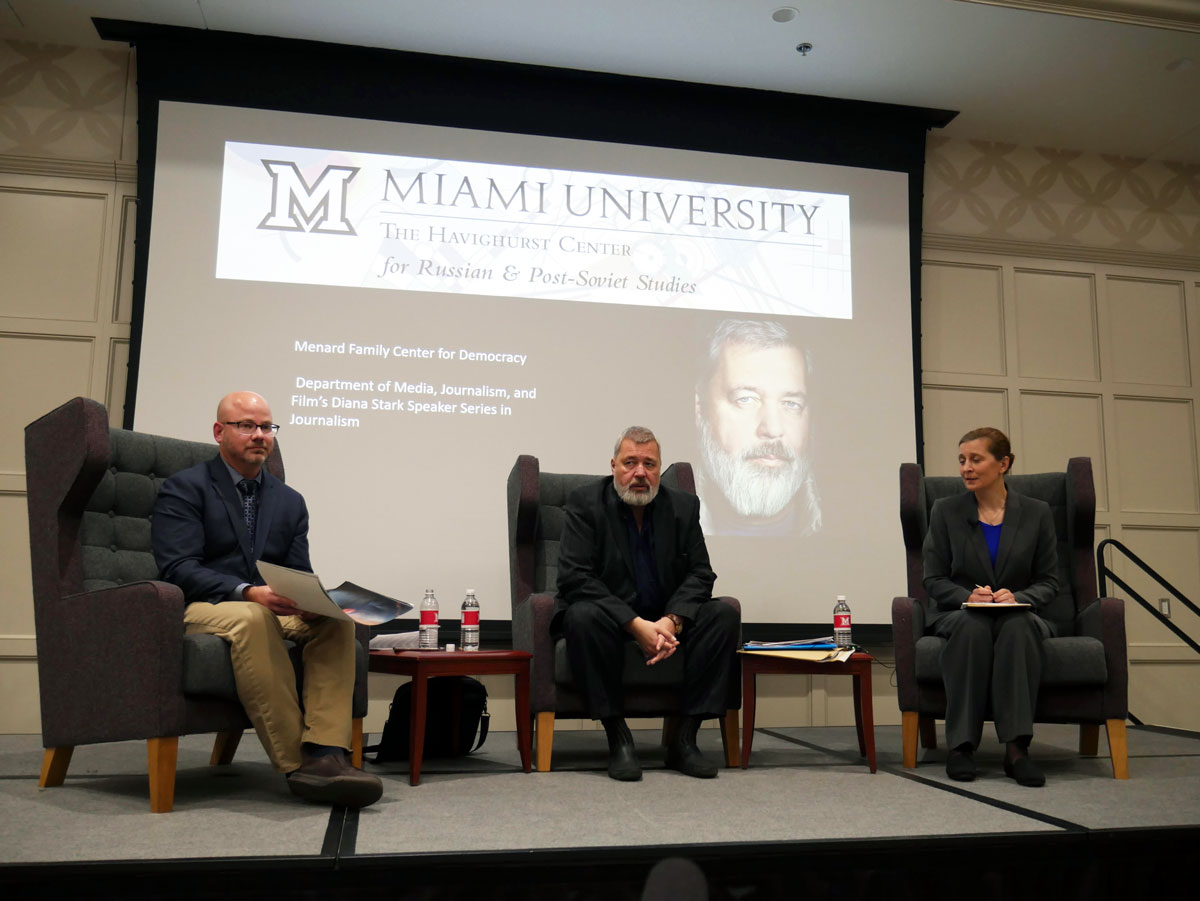 Havighurst Center director Stephen Norris, journalist Dmitry Muratov, and interpreter Anna Krushelnitskaya presented before a full audience of Miami community members.
Nobel Peace Prize winning journalist Dmitry Muratov discusses free speech and Russia's war on Ukraine
Havighurst Center director Stephen Norris, journalist Dmitry Muratov, and interpreter Anna Krushelnitskaya presented before a full audience of Miami community members.
On Monday, Oct 10, students, faculty, and members of the community gathered for a profound discussion with Russian journalist and Nobel Peace Prize Laureate Dmitry Muratov. 
The event was co-sponsored by the Havighurst Center for Russian and Post-Soviet Studies; the Menard Family Center for Democracy; and the Diana Stark Speaker Series in Journalism within the Department of Media, Journalism, and Film
Having worked for years as the editor-in-chief of Novaya Gazeta, an independent news outlet in Russia, Muratov's work was recently censored and shut down due to Russia's war on Ukraine and its subsequent effects on both freedom of the press and human rights.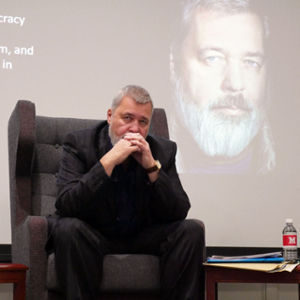 Dmitry Muratov
An eye-opening discussion
The conversation began with questions formulated by Miami Journalism students in classes taught by Rosemary Pennington, associate professor and area coordinator of journalism. This led into an open question and answer format with the audience moderated by Stephen Norris, Walter E. Havighurst Professor of Russian History and director of the Havighurst Center. Interpretation was provided by Anna Krushelnitskaya of Michigan State University.
"Journalism is under threat around the world," Pennington said. "In Russia, independent news media have all but vanished. Muratov's perspective on this is vital to understanding threats to free press everywhere."
Questions were primarily focused on Muratov's work as a journalist in Russia and his experiences speaking about injustices in the country. 
"Investigative journalism, the real journalism, has been banned, and its institutions destroyed," Muratov said. "I can only call it a holocaust of the media."
His insights focused on the importance of journalism and advocacy in times of crisis, and he emphasized warnings of the dangers of war, propaganda, and Putin's leadership.
"There is no nation that cannot be affected by propaganda," Muratov said as he explained the harmful effects of the war in Ukraine on both the Russian and Ukrainian people. "It is an illness."
A global connection
For the many Miami students attending the lecture, Muratov's words ignited a broader perspective and curiosity on the state of the world outside their own community.
"I think every university should hold events like this," said Sam Mumper, a sophomore Kinesiology and Nutrition major currently enrolled in the JRN 201 course, Reporting and News Writing, after the discussion. "Even though we do have freedom of the press and we can stay informed, it's so much more personal and impactful hearing it from someone whose life has been affected by these issues."
Wes Payne, a junior Journalism major, felt similarly about the poignant words of Muratov. 
"It's not every day that you get to hear a person that won the Nobel Peace Prize speak about anything," he said. "But I think that when we're in college and focused on our own little worlds, we can forget about what's going on in the rest of the world. And I think an event like this starts conversations that wouldn't otherwise happen."
"In his Nobel Prize speech, Dmitry Muratov described true journalism as 'the antidote against tyranny,'" said Norris. "This event powerfully demonstrated why that antidote is needed more than ever."
On November 3, the Havighurst Center will host
the Ukrainian poet, journalist, and screenwriter Lyuba Yakimchuk
.