Public health student investigates mental health support for resettled Bhutanese immigrants in Columbus
Bunsi Chapadia's Undergraduate Summer Scholars (USS) project gave her a new perspective on providing medical care to underserved populations.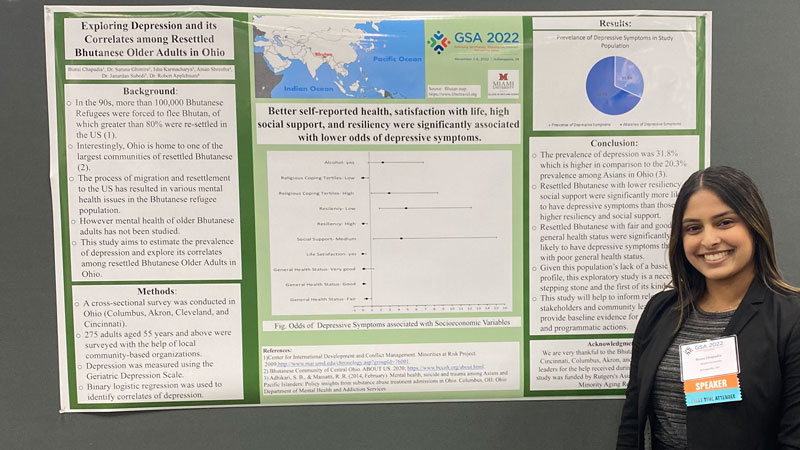 photo of Bunsi Chapadia, with poster demonstrating her research
Public health student investigates mental health support for resettled Bhutanese immigrants in Columbus
photo of Bunsi Chapadia, with poster demonstrating her research
Bunsi Chapadia changed her major to Public Health during the first week of her freshman year. Now a senior, she considers this decision to be a pivotal point in her time at Miami.
"I realized I wanted more of an expansive, people-focused approach. I'm also a problem-based learner, which is exactly how public health is structured," Chapadia said. "That's one of the best decisions I made, switching to Public Health." 
The public health curriculum was a perfect fit, and it also led Chapadia to seek research opportunities that involved work outside of a lab setting. During her sophomore year, she began working with Saruna Ghimire, assistant professor of Sociology & Gerontology, on a project that would eventually become her research for the Undergraduate Summer Scholars (USS) program.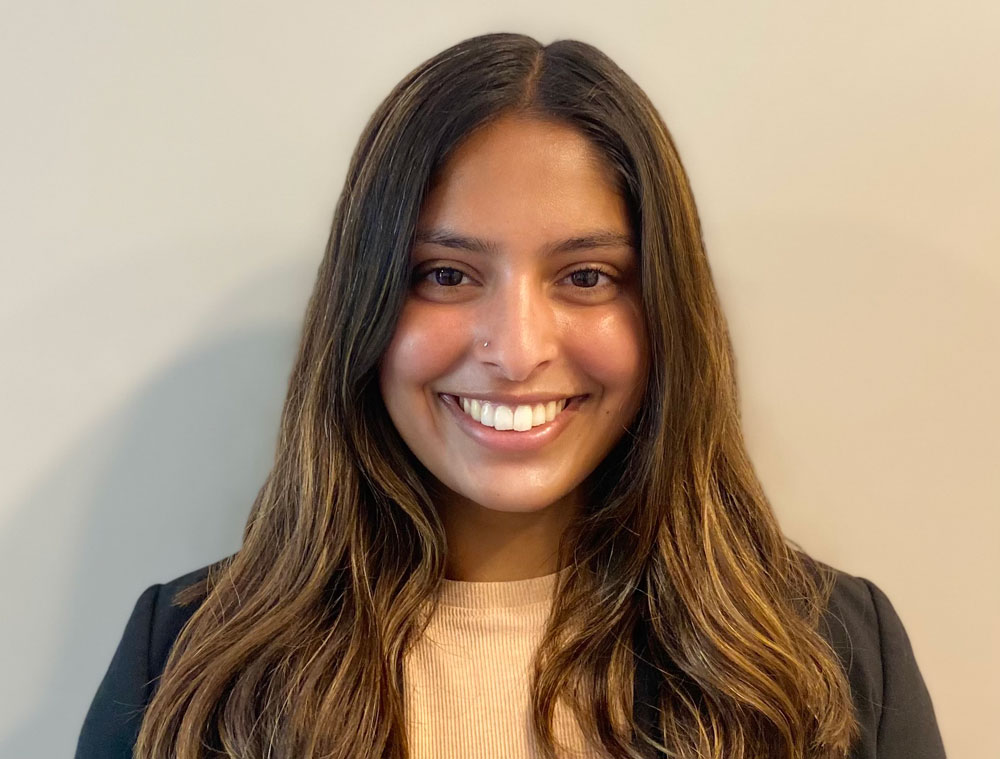 Photo of Bunsi Chapadia
In the early stages, Chapadia assisted Ghimire in organizing and interpreting a data set about resettled Bhutanese in Columbus from the State of Ohio.  
"That project was just a basic data analysis. It was kind of like taking that huge data set that we'd gotten from the state and figuring out what variables we wanted to compare and contrast and what was important," Chapadia said.
After exploring the data and understanding the health problems within the Bhutanese community, (view her poster here) Chapadia and Ghimire decided to focus on mental health, which they characterized as occurrences of depression, anxiety, or both. Chapadia later presented this research at the Undergraduate Research Forum during the spring semester of her sophomore year.
One of the key findings from the initial data analysis was the connection between occurrences of mental health issues and levels of social support. Chapadia's research continued into her junior year as the two decided to reconfigure the data and investigate further.  
This project exposed Chapadia to statistical research, where she learned to use programs like SAS and SPSS. Analyzing and reporting the data was a completely different experience than what Chapadia was used to. 
"Reading results has never been tricky for me, because I've been doing it in a lab setting," she said. "But in this project, it becomes this whole public health, statistics-based data analysis. It's completely different."
Over the course of her project, Chapadia's research goals changed as she learned more about the resettled Bhutanese population in Columbus.
"My learning objectives and goals transitioned from actually learning how to do research and data analysis, to how I can continue to learn about different populations and different people that are going through public health crises," Chapadia said. "What can I do about that on a bigger scale?"
Chapadia added that this shift was prompted when she wrote her introduction for her manuscript. After learning about the history of the Bhutanese refugee population, she was struck by the tragedies they endured.
"During the research process, we don't know their names, and they're little data points," Chapadia said. "But when you're writing the introduction and the discussion, those data points become people, people who've actually lived this life experience." 
Chapadia plans to attend medical school next fall and said that her research changed her approach for practicing medicine and helping others. 
"You can't really help others without understanding the social determinants of health," she said. "Understanding the environment that my patients are coming out of has been ingrained in my head now, because I can see how much it's impacted the lives of people I've worked with."