CAS announces its 2023-24 Dean's Scholars
29 rising seniors will receive stipends to support their research projects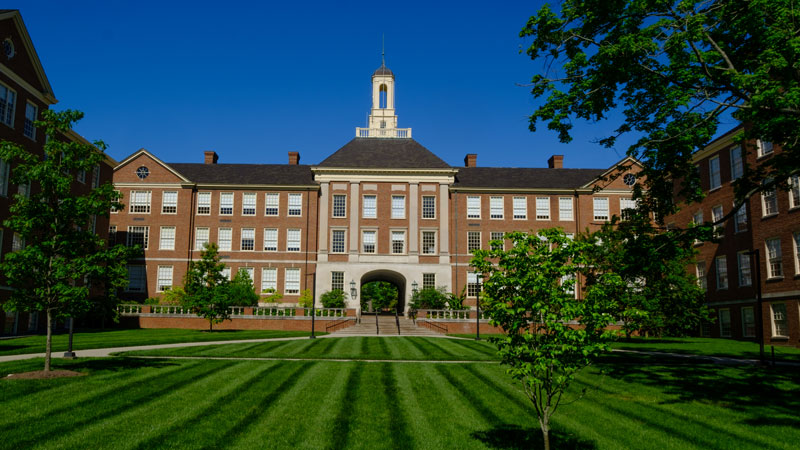 Upham Hall
CAS announces its 2023-24 Dean's Scholars
Upham Hall
The College of Arts and Science has selected 29 rising seniors as its Dean's Scholars for the upcoming 2023-2024 academic year.
Each of these students submitted project proposals for independent studies earlier this spring and received support from a faculty mentor.  Both the Dean's Scholar and the faculty mentor receive a $500 stipend for professional expenses related to the research project.
Dean's Scholars work on their projects during their senior year at Miami and then present them at either a professional conference or at the Undergraduate Research Forum in the spring.
"These students and their faculty mentors did a great job putting their applications together and are all set to do wonderful work next year," said Jennifer Blue, associate dean and professor of Physics.
The 2023 Dean's Scholars are:
Cambria Beane (Psychology major) - faculty mentor Anna Radke (Department of Psychology)

Elise Bossenbroek (Speech Pathology and Audiology major) - faculty mentor Kelly Knollman-Porter (Department of Speech Pathology and Audiology)

Harrison Carvour (Psychology major) - faculty mentor Anna Radke (Department of Psychology)

Ethan Chapman (German major) - faculty mentor Nicole Thesz (Department of German, Russian, Asian and Middle Eastern Languages and Cultures)

Juliana Curtis (Geology major) - faculty mentor Claire McLeod (Department of Geology and Environmental Earth Science)

Becca Dun-Roseman (Public Health major) - faculty mentor Kevin Yehl (Department of Chemistry and Biochemistry)

Lake Ernst (Biology major) - faculty mentor Katia Del Rio-Tsonis (Department of Biology)

Samuel Fouts (English: Creative Writing major) - faculty mentor Patrick Murphy (Department of English)

Abigail Green (Biology major) - faculty mentor Katia Del Rio-Tsonis (Department of Biology)

Kris Hackiewicz (Biology major) - faculty mentor Paul James (Department of Biology)

Harry Hughen (East Asian Languages and Cultures major) - faculty mentor Haosheng Yang (Department of German, Russian, Asian and Middle Eastern Languages and Cultures)

Ava Kalina (Data Analytics major) - faculty mentor Scott Damon (Department of Geography)

Cole Kubesch (Biochemistry major) - faculty mentor Benjamin Gung (Department of Chemistry and Biochemistry)

Melody Lebus (Biochemistry major) - faculty mentor Michael Kennedy (Department of Chemistry and Biochemistry)

Hannah McDougall (Engineering Physics major) - faculty mentor Imran Mirza (Department of Physics)

Shr-Hua Moore (East Asian Languages and Cultures major) - faculty mentor Haosheng Yang (Department of German, Russian, Asian and Middle Eastern Languages and Cultures)

Minh Nguyen (East Asian Languages and Cultures major) - faculty mentor Kazue Harada (Department of German, Russian, Asian and Middle Eastern Languages and Cultures)

Dat Nguyen le Phuoc (Philosophy major) - faculty mentor Facundo Alonso (Department of Philosophy)

Alivia O'Donnell (German major) - faculty mentor Nicole Thesz (Department of German, Russian, Asian and Middle Eastern Languages and Cultures)

Kat Pikus (Psychology major) - faculty mentor Joseph Johnson (Department of Psychology)

Peter Rothschild Averback (East Asian Languages and Cultures major) - faculty mentor Kerry Hegarty (Department of Media, Journalism, and Film)

William Salvia (Chemistry major) - faculty mentor Scott Hartley (Department of Chemistry and Biochemistry)

Katherine Schuckmann (Biology major) - faculty mentor Katia Del Rio-Tsonis (Department of Biology)

Jaden Singh (History major) - faculty mentor Cameron Shriver (Department of History)

Jacob Urmston (East Asian Languages and Cultures major) - faculty mentor Tomoyuki Yabe (Department of German, Russian, Asian and Middle Eastern Languages and Cultures)

Chloe Wakim (Data Science and Statistics major) - faculty mentor Jing Zhang (Department of Statistics)

Kathryn Williams (Chemistry major) - faculty mentor Ann Hagerman (Department of Chemistry and Biochemistry)

Hannah Wudke (Geology major) - faculty mentor Mark Krekeler (Department of Geology and Environmental Earth Science)

Caitlin Zawodny (History major) - faculty mentor Kimberly Hamlin (Department of History)