The arts are for everyone, and at Miami University, that means you! No matter what your academic major, career path, or experience level, we welcome you to get involved with the College of Creative Arts and related organizations and make the arts a central part of your college experience.
Play

Last year, 800+ students took sprint classes like ceramics, metal, and glass. Sign up for a sprint class this semester, and have fun learning how to make something new by hand. It might just become your new passion!

Explore Sprint Courses at the Art Center
Perform
10% of all Miami students participate in a music ensemble or performance group each year. Join in on the fun, and you'll not only find your moment in the spotlight, but you'll make lifelong friendships and gain confidence to help you excel in your future career, whatever it may be.
Enjoy

Support the arts and your classmates by attending a performance, lecture, or other event at the CCA. Whether you're in the mood for a light-hearted musical, a new gallery opening, or a thought-provoking dialogue with other students and faculty, you can find the perfect experience to inspire and engage you here.

Explore Events and Lectures
Learn
Art and design are reflections of our values, cultures, and societies; thus they are always evolving with the times. Stay up-to-date on the latest trends, past movements, and important figures, and discover what they all say about the way we live now, through free art and architecture lectures. Want to dive even deeper? Pursue an art minor, and make the discipline an integral part of your Miami education!
Explore Art 281/Contemporary Art Lecture Series
Create

Tap into your creativity, express yourself, and make magic through art. With so many CCA-affiliated art organizations available, your opportunities for turning ideas into music, theatre, art, video games, dance, and fashion are limitless.

Explore Ways to Create
College of Creative Arts
The arts at Miami University didn't evolve on a whim—they were challenged, inspired, modernized, and made more relevant by each new generation of artists. Welcome to the College of Creative Arts, with degree programs that range from the classical to the contemporary.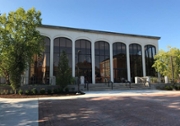 Interdisciplinary Programs