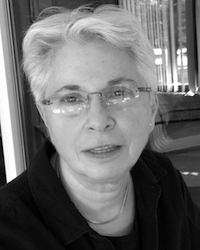 Associate Professor
Lead Departmental Advisor
203B Alumni Hall
(513) 529-6447
fellowd@miamioh.edu
Courses Taught (past two academic years)
ARC 107 Global Design
ARC 301/401/402C Architecture Studio
ARC 4/504V Film & Mixed+Multimedia
ARC 701 Pre-Thesis Design Studio
Educational Credentials
M. Arch., University of Oregon, 1992
M. F. A., University of Wisconsin-Madison, 1987
B. F. A., Photography, Philadelphia College of Art, 1978
Teaching Experience
Associate Professor, Miami University, 2009-Present
Assistant Professor, Miami University, 2002-2008
Visting Lecturer, University of Missouri, Kansas City, 2001-2002
Graduate Teaching Fellow, University of Oregon, 1990-1992
Lecturer, Summer Architecture Academy, 1990
Professional Experience
Project Designer, Ellerbe Becket Inc., (AECOM) Kansas City, Missouri, 1997–2001
Diane Fellows Design, Denver, Colorado, 1994–1996
Davis Partnership Architects, P.C., Denver, Colorado, 1994-1995
Significant Publications, Creative Projects, Paper Presentation
Creative Projects: Curated/Blind Jury Review
Contesting and Bridging Boundaries and Borders: the US-Mexico Indigenous and Migration Experience (in progress) Forthcoming. The European Cultural Centre (ECC) 6th edition of "Time Space Existence," an architecture biennial exhibition in Venice, Italy, May 20th - November 26th 2023, in parallel with La Biennale Architettura. International/Competitive/Curated. An immersive installation presenting how space is defined and interpreted through the indigenous people's experience and migration narratives of the US-Mexico border along the Rio Grande. 2023
Lead Designer: Diane Fellows, photographic and video essay, soundscape. Collaborators: Adrian Jesus Falcon (artist, Falcon Art Center Foundation, Del Rio, Texas); Diana Lizbeth Zuñiga Hernandez (artist and founder of Global Indigenous Collective): mural process; Gion DeFrancesco, (scenographer and technical director, Department of Theatre, Miami University) scenography and technical collaborator.
On the Question of Power (photography/assemblage), created 2019 Cimarron National Works on Paper Exhibition, The Gardner Gallery of Art, Oklahoma State University (OSU) Art Museum, Stillwater, OK (Curator/Juror: Larissa Goldston, Owner/Director, Universal Limited Art Editions (ULAE), NYC). 450/48: 11% Acceptance . Purchase Prize: The permanent collection of the Gardiner Gallery of Art, OSU Art Museum. 2021
11th Biennial PhotoMidwest Juried Exhibition, Madison, WI. 2020
(Juror: International Photojournalist Peter Turnley) 700/70: 10% acceptance
Territories. The Empty Room (digital film, photography, prose) iterations 2019; 2021; 2022. Accepted: Paris Women Festival (awards film festival). Awarded: Semi-Finalist. Genre: Experimental 2022
The Conversation (photography/assemblage) created 2015
Female in Focus, The Center for Fine Art Photography, Fort Collins, CO (Juror: Lisa Volpe, Associate Curator, Photography, The Museum of Fine Arts, Houston) Competitive: 35 works accepted. 2020
Book Chapter. Fellows, Diane. "Social Media, Shelter and Resilience: Design in Za'atari Refugee Camp" in Structures of Protection?, Mark E. Breeze and Tom Scott-Smith eds., Berghahn Press, New York: Oxford, 2020
Awards, Recognitions, Grants, Competitions
The Crossan Hays Curry Distinguished Educator Award, College of Creative Arts, Miami University, 2021
Grants:
For the Greater Good (FGG): Boundaries, Borders, and the Imaginary. Funded by the Global Initiatives. ($3,000) 2021-22
Altman Program: Migrations. Funded by Altman Faculty Scholar, The Humanities Center, Altman Program, Miami University, Oxford, OH($2,500) August 2020 - May 2021
Howe Center for Writing Excellence, Faculty Writing Fellows, 6 Department Faculty, ($2,000) Spring 2021
Professional Memberships, Service
Professional membership
(OISTAT) The International Organization of Scenographers, Theatre Architects and Technicians, 2022.
Service to the Profession
The AIA Chicago DEI Panel Presentation, "Designing Beyond Boundaries: Addressing the humanitarian crisis through architecture and approaching design through the refugees' perspective." July 20, 2022 (webinar). Invited.
ACSA (Association of Collegiate Schools of Architecture) Reviewer: Abstracts for the 111th Annual Meeting: IN COMMONS
Professional Development
International Summer School for Forced Migration, Refugee Studies Center, University of Oxford, UK, 2018 (Certificate of Participation)
International Criminal Law and Human Rights (course), New York University, School of Professional Studies, 2021
Rockefeller Fellow, Center for Advanced Visual Studies, (CAVS) Massachusetts Institute of Technology (by invitation), 1987