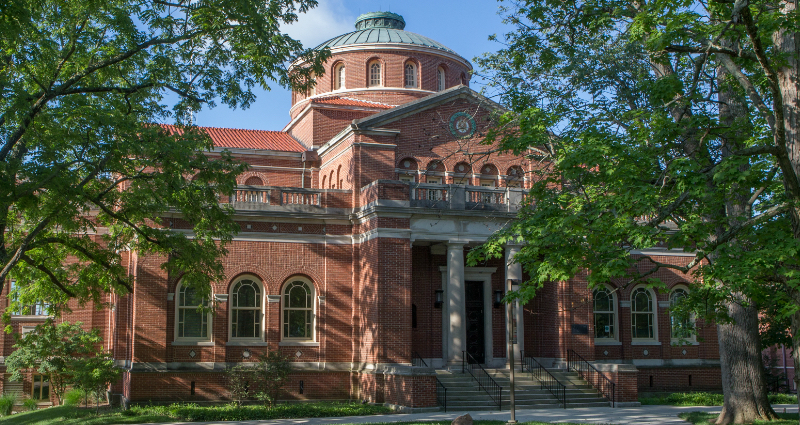 Since 1972, the Department of Architecture has been located in Alumni Hall, originally designed and constructed as the University's Alumni Memorial Library in 1909, the first centennial year of the institution. It became home for the Department when the University's new King Library was opened.
Alumni Hall is noted for its splendid neo-classical form, including a domed rotunda which is used by the Department for receptions, awards ceremonies, and, on occasion, the Beaux-Arts Ball. Alumni Hall houses the Department's administrative and faculty offices, fully outfitted studios, lecture and seminar rooms, galleries for exhibits and reviews, the Wertz Art and Architecture Library, a fully equipped woodshop, and a digital fabrication facility.
In October 1991, the State Architects Office announced a capital project for the renovation and expansion of Alumni Hall. In the spring of 1992, Hammond Beeby & Babka of Chicago were selected as design consultants in association with The Collaborative, Inc., of Toledo. Construction commenced in the winter off 1994–95. The cost of the project was $9.2 million with another $1 million invested in furnishings. The Department returned to Alumni Hall in the summer of 1997.
The renovation expanded and reorganized 43,000 square feet of existing space as studios, shops, galleries, classrooms, and research facilities while improving circulation in and through the building. A new facade oriented to the south encloses a 32,000 square foot addition, half of which houses the W.W. Wertz Art and Architecture Library.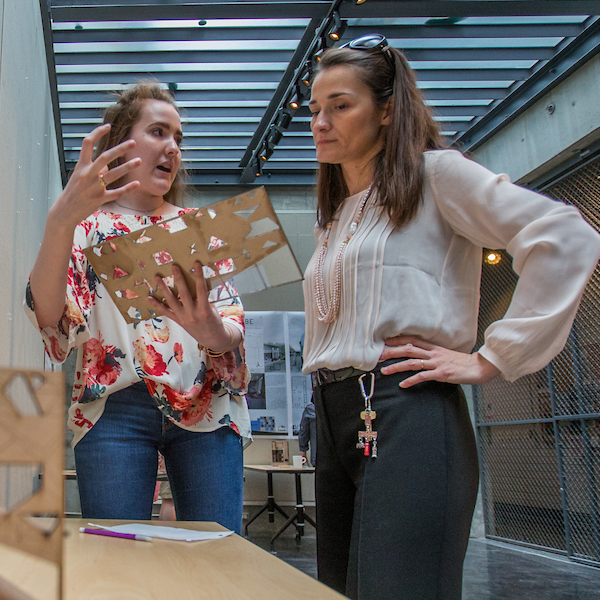 The Cage Gallery, located in the lower level of Alumni Hall, provides ongoing exhibits of professional as well as student work within Architecture and Interior Design.
---
 Stay Tuned for Upcoming Shows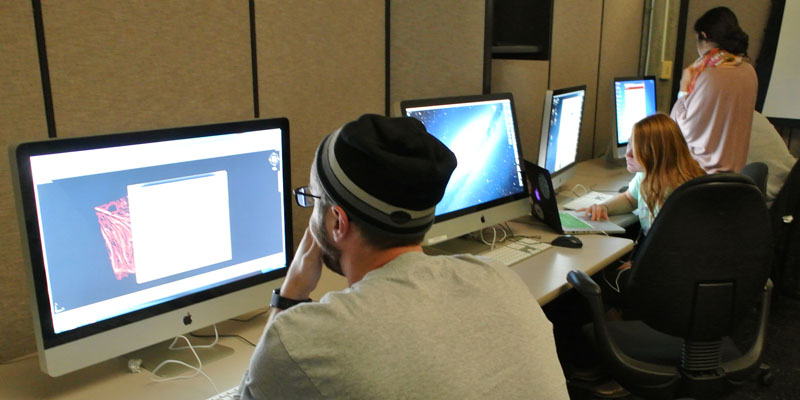 Alumni Hall boasts state-of-the-art computing facilities, including complete networking and wireless Internet access for all studio workstations. The Department's requirement for student-owned laptop computers allows our central lab to support more advanced digital investigation. Ongoing grant activity ensures that students have access to state-of-the-art digital hardware and software, as well as digital fabrication equipment including 3D printers, laser-cutters, and digital routers.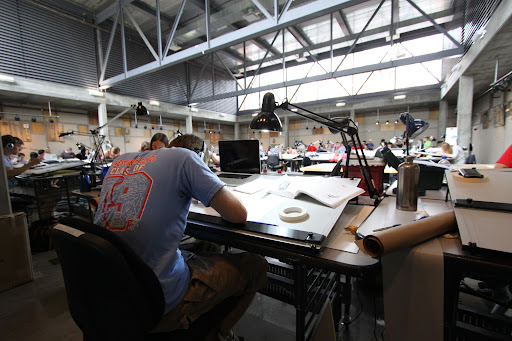 The department boasts dedicated student workstations (around the clock access) at all studio levels, facilitating ongoing student interaction and student learning. This is particularly unique within programs of Interior Design. Work areas support the Department's requirement for a laptop computer. Several break-out spaces support studio instruction and discussion as well as the presentation and critique of student work.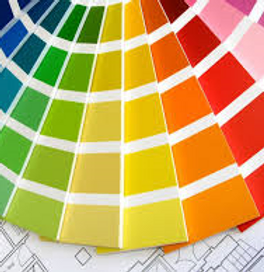 The Interior Design Materials Library is located in the southwest corner of the Wertz Art & Architecture library's subbasement. This library contains a wide variety of samples, from fabric to counter tops, for design students to check out and use for coursework. The Materials library offers students the opportunity to familiarize themselves with current vendors, have hands-on experience with samples and utilize the adjacent study space.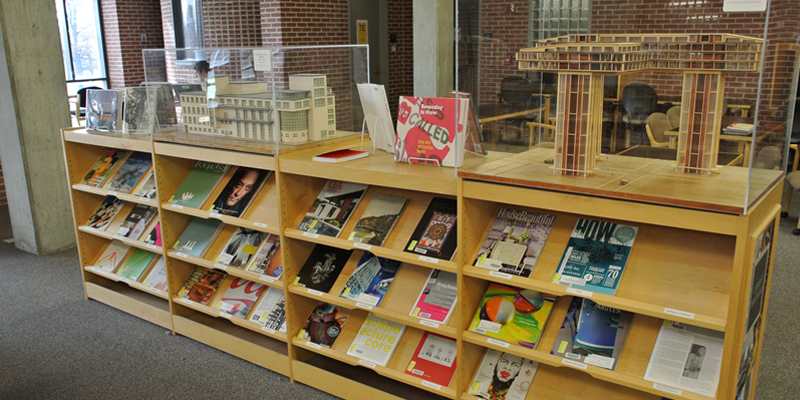 The W. W. Wertz Art and Architecture Library is a branch of the Miami University Library system located in Alumni Hall. It includes holdings for art, architecture, landscape architecture, photography, and interior design. The library provides access to over 200 current journal titles in print or electronic format, and houses a collection of over 65,000 print volumes. It also provides access to a growing collection of electronic books.
The library provides access to numerous important databases and online resources, including the Avery Index to Architectural Periodicals, Art Full Text, Art Bibliographies Modern, and ARTstor.

The W. W. Wertz Art and Architecture Library also lends equipment such as laptops, power cords, cameras, graphic tablets, and also provides access to computers, printing, copying, and scanning. 

The Miami University Library system is a member of OhioLINK, a consortium of 88 Ohio colleges and universities plus the State Library of Ohio, and provides access to millions of book and journal titles.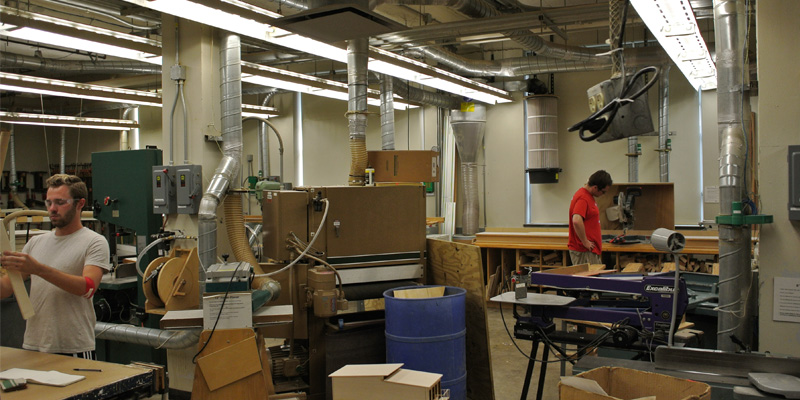 The Alumni Hall woodshop contains equipment suited particularly for model-making, furniture-building, and larger scale constructions, all critical to students in Architecture and Interior Design. An outdoor building yard adjacent to the shop permits welding and metal work. Digital fabrication includes 3D printers, laser-cutters, and digital routers. 
Location, Location, Location
The Department of Architecture and Interior Design Woodshop is located on the West side of Alumni Hall in the basement. Just follow the trail of dust. The facility is approximately 3000 sq.ft. and is equipped primarily for woodworking although there is some provision for light metal-working. Hours of operation are from generally 9 am to 10 pm Monday-Thursday, 9 am to 5 pm on Friday, 10 am to 5 pm on Saturday, and 1 pm - 5 pm on Sunday. The woodshop is closed daily from 12 to 1 pm for lunch and 5 - 6 pm for dinner Monday-Thursday. The woodshop is open to all Architecture and Interior Design students and to those outside the department who are enrolled in specific Architecture and Interior Design classes.
Mission
We want to provide a safe and secure environment for students to explore the way things are made and put together. Because the shop is primarily equipped for woodworking, the scope of explorations tend to focus, but are not limited to, the medium of wood. Students are encouraged to explore other materials and their working characteristics but should inquire about the shop's capabilities of handling various materials.
Orientation
Orientation to shop use is given to all new incoming students (graduate and undergraduate) during the first weeks of fall semester each year. Other orientations are offered on an appointment basis. All students that want to use the shop must attend an orientation session and complete a Shop Safety Test. In addition, detailed descriptions and safety precautions for each machine in the shop can be found in the Shop Manual.
Shop Director
Ted Wong
10 Alumni Hall
(513)529-7242
wongtw@miamioh.edu
Contact Us
Department of Architecture and Interior Design
101 Alumni Hall
Oxford, OH 45056