History is a narrative that is constantly re-made and re-made and re-made. Each new 'historian' re-constructs that narrative to make new meaning. From the myths, ghost stories, and legends of the very ground on which Miami University stands ....to the French Revolution....to a cave in West Virginia....to horrific events played out in real time on social media—our diverse season is a thrilling ride through our past. And careful examination of our present.
We look forward to seeing you in the theatre and being a part of our season!
---
Echoes of Miami
Processional Performances from Past to Future
Conceived by Saffron Henke, and written by Olivia Gorom, Meryl Juergens, Tanner McCormick, Katelyn Nevin, Melissa Rowan, and Anthony Thompson
October 18-21, 7:30 p.m.
Various locations around the Center for Performing Arts
Directed by Caroline Avolio, Nate Bissinger, Olivia Gorom, Christiana Molldrem Harkulich, Saffron Henke, Raechel Lombardo, and Tanner McCormick
Designed by Ben Cobb (costumes), Gion DeFrancesco (scenery), Melanie Mortimore (costumes), Josh Romero (scenery), Shelby Scaffidi (lighting), Abby Thompson (scenery), Holly West (lighting), and students in THE 453 (costumes)
The myths, legends, and history of Miami itself echo through time in this collection of ten-minute plays written entirely by Miami University students and alumni. Miami's most mischievous specter, Helen Peabody, will lead audiences to multiple locations to witness performances that will transcend genre and time periods, highlighting the musicality, comedy, poetry, horror, and memories that have been woven into Miami's own rich story.
---
Good Kids
by Naomi Iizuka
November 14-17, 7:30 p.m.; November 18, 2:00 p.m.
Gates-Abegglen Theatre
Directed by Torie Wiggins
Designed by Gion DeFrancesco (scenery), Lawton Lovely (projections), Cassie Mings (lighting), and Melanie Mortimore (costumes)
How do we uncover truth in our history in the age of social media? Based loosely on an actual event that happened in Steubenville, Ohio, Good Kids is a chilling portrayal of the gravity of sexual assault and the permanence of social media. After a big high school party, a sixteen year-old girl wakes up, undressed, in a strange boy's house with little memory of what happened. As multiple stories spread on Facebook, Twitter, Instagram, and YouTube, we must come to terms with the realities of sexual assault, privilege, and victim blaming.
---
The Revolutionists
By Lauren Gunderson
March 6-9, 7:30 p.m.; March 10, 2:00 p.m.
Studio 88 Theatre
Directed by Stormi Bledsoe
Designed by Lauren Leinhart (scenery), Meggan Peters (costumes), and Emma Wott (lighting)
Olympe De Gouges: badass activist-playwright and feminist. That's how Lauren Gunderson describes her protagonist in this sparkling all-female comedy set during the French Revolution. Olympe yearns to write the great play, the one that will define her time and place in history. With the help of three other actual historical "badasses" — a spy, an assassin, and a certain soon-to-be-beheaded Queen — we come to learn how feminism, extremism, and art have the ability to shape society and change the world.
---
Bat Boy: The Musical
by Keythe Farley & Brian Flemming, and Laurence O'Keefe
20th Annual John D. Yeck Production
April 25-27, 7:30 p.m.; May 2-4, 7:30 p.m.; May 5, 2:00 p.m.
Gates-Abegglen Theatre
Directed by Suann Pollock
Choreographed by Ashley Goos
Designed by Ben Cobb (costumes), Gion DeFrancesco (scenery), Melanie Mortimore (costumes), and Marly Wooster (lighting)
Bat Child Found In Cave! The story of a half-boy, half-bat creature was but one of the fantastic stories created by the tabloid the Weekly World News. This musical comedy gives Bat Boy the origin story he deserves. What happens after Bat Boy is discovered and brought to the home of the town veterinarian where he is taught to act like a human? When this outsider is blamed for mysterious deaths in town, we are reminded of the difficulties of being different, fitting in, and doing what's right.
---
Tickets
A curricular discount price of $6 per ticket is available to students, with faculty entitled to 2 free tickets per show if students receive credit for attending. To participate, contact the box office and provide your course number. Group discounts are also available for groups 10 or larger. Offers not available online.
Tickets can be purchased online or by contacting the Miami Box Office 513-529-3200. The Miami Box Office, located in the Campus Avenue Building, is open Monday - Friday, 8 a.m. to 5 p.m. for walk-up purchases.
The Box Office in the Center for Performing Arts lobby is open one hour before curtain for door sales and will-call.
For additional information about the productions please contact the Department of Theatre at 513-529-3053.
---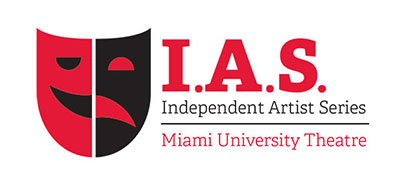 The student-run Miami University Independent Artist Series (IAS) provides an outlet for the creative work of students and encourages an experimentation with theatrical form. The series is modeled after the "storefront" theatre movement and is produced entirely by students who serve as directors, designers, technicians, performers, stage managers and marketers. Visit the IAS blog to learn more!
---