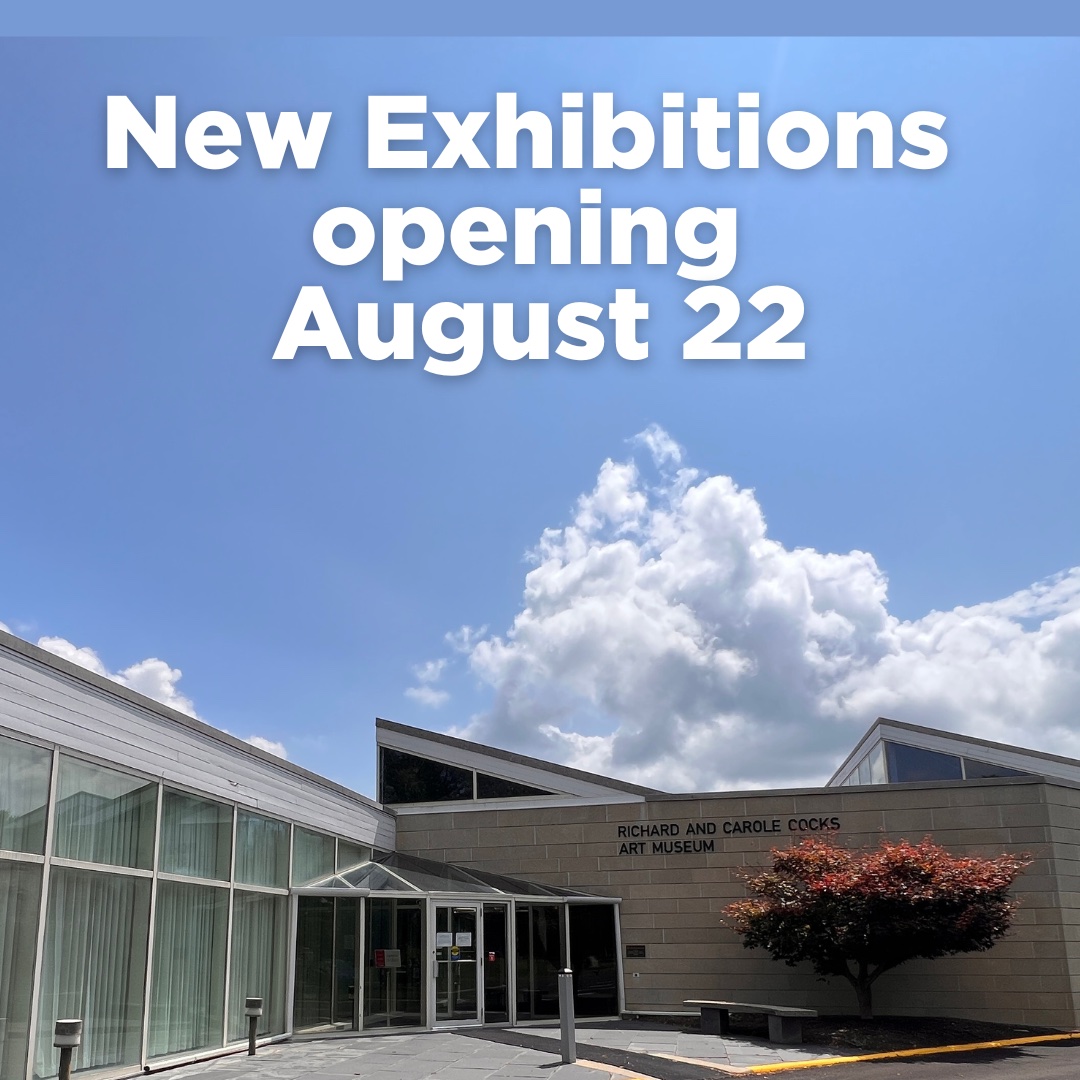 The Richard and Carole Cocks Art Museum (RCCAM) at Miami University is excited to announce three new exhibitions opening on Tuesday, August 22, 2023. Visitation is FREE and open each Tuesday through Friday from 10 AM-5 PM and Saturdays from Noon-5 PM. New exhibitions featured from August 22 through December 16 include: It's Our World: A Student Response Exhibition; A Golden Time: Turn of the Century Ohio Women Artists; and Heritage: Shaping Past, Present, Future. A symposium and several additional public programs are scheduled with information listed below.
It's Our World: A Student Response Exhibition
DOUGLASS GALLERY (1)
In this 8th juried Student Response Exhibition (SRE), Miami University students are called upon to creatively respond to a theme - the Environment. It's Our World, is one of two exhibitions in 2023-24 developed in conjunction with Miami University's FOCUS [LINK]  theme of Environmental Justice led by the Institute for Environment and Sustainability. Students creatively reflect and respond to our changing environment, illustrating how creative expression can be used to observe, understand, represent, and draw attention to environmental issues that face individuals and the collective in this one world we share. Interpretations are subject to the student's personal perspective, major/minor, year of study, culture, age, and experiences. Awards for entries are supported by the Art Museum Members Association. RCCAM is also grateful for additional support from the FOCUS program.
A Golden Time: Turn of the Century Ohio Women Artists
MCKIE GALLERY (2)
The late 19th and early 20th centuries were a golden time for artists across Ohio. In particular, many women with strong Ohio connections, including Elizabeth Nourse, Alice Schille, and Maria Longworth Nichols Storer (founder of Rookwood Pottery) helped propel the state to national attention. It was also a remarkable time for women who gained much respect and recognition for their own artistic merits. Painting, ceramics, sculpture, printmaking, and furniture and woodworking, were the most widely produced and celebrated art forms. In addition to the rise of women artists in Ohio, many important art institutes and museums were founded to promote educational opportunities and venues for public appreciation of the arts. Supported by Richard and Kathy Sollmann and the M.I.A.M.I. Women Giving Circle.
Heritage: Shaping Past, Present, Future
FARMER GALLERY (3)
Representations of the past, whether real or imagined, have long been the focus of artists and craftspeople through the ages. Heritage explores how traditions have been reinvented and reimagined over time, from mythologizing to romanticizing, along with attempts to document and conserve in tandem with dismantling the past on to contemporary artists who are exploring new ways of representing, reinventing, and deconstructing cultural heritage in present day and future pasts. Artworks on display include an ancient terracotta depicting an image of Medusa, a recently restored 18th century painting of the Forum in Rome by Italian artist Ferdinando Galli da Bibiena alongside works by Giovani Battista Piranesi, and contemporary works on loan by artists Dread Scott and Kenya (Robinson). The exhibition will also feature the first artwork acquired by RCCAM created using AI (Artificial Intelligence), Daniel R. Small's Myth of the Divine. Heritage will feature diverse voices from Miami University faculty, artists, and external scholars who  contribute interpretive writings in response to select works relevant to the themes of the exhibition and their academic disciplines. This exhibition and associated program is supported by the Miriam W. Howard Art Museum Fund.
Fall 2023 Programs
FREE and OPEN to ALL
A special opening event is open to Art Museum members. Save the dates for the following programs being offered in conjunction with the Fall exhibitions. Further information on programs will be available online after August 15:


THURS, SEP 7, 12-1 PM: A Golden Time webinar with Kimberley Hamlin and Jason Shaiman. In partnership with Miami University Alumni Association. Online only
WED, SEP 13, 5-7 PM: A Golden Time reception, gallery talk, and lecture. Guest speakers Kimberly Hamlin and Christine Fowler Shearer
THURS, OCT 5, 2:30-5:30 PM: Heritage exhibition symposium day 1, featuring a range of guest speakers and keynote by Erin L. Thompson, Monumental change: recent responses to controversial historical sculptures in America.
FRI, OCT 6, 9:30 AM-12:30 PM: Heritage exhibition symposium day 2, featuring range of guest speakers including L.A. based artist, Daniel R. Small
WED, OCT 11, 5-8 PM: Exhibitions open house reception incorporating RCCAM's 45th anniversary celebration
WED, NOV 8, 5-7 PM: It's Our World Student Response Exhibition reception and wards. Environmental Justice FOCUS theme event.
TUE, DEC 5, 3-4.30 PM: The Heritage of McGuffey House and Museum: Reflections on its Architecture, Historical Significance and Diverse Collections. Mini-symposium with guest speakers.
SAT, DEC 16, 2-4 PM: Final Saturday reception, refreshments, tours and activities.