CEC Women's Advisory Council - October 18, 2018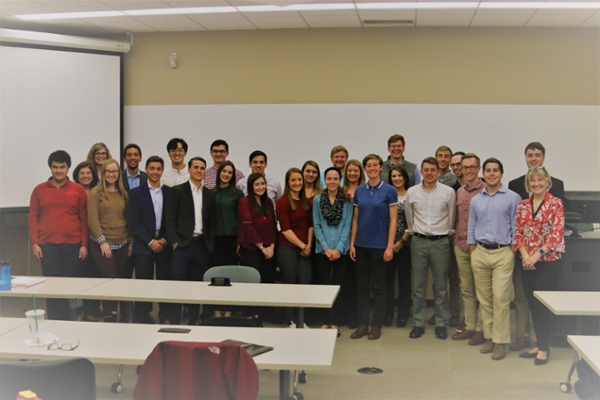 Advisory Council members Marie Campagna (Accenture - ret.) Jessica Geurts  (P&G); Mary Ellen Giffels (Synchrony Financial); Nicole Smith (NASA); and Jacquie Wall (Trimble Navigation) shared their leadership learnings and held a panel discussion with seniors in Cohort 6.
Listening Workshop - October 2018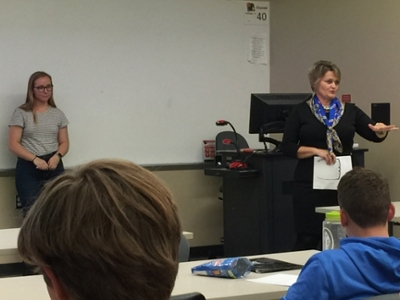 Karen Moss, Assistant Director of the Leadership Institute, presented Active Listening Workshops to Cohorts 7 & 8. During this interactive session, students discovered the differences between hearing and listening, and identified many barriers that prevent us from being effective listeners. Karen also shared techniques to help improve active listening skills.
Nicole Smith - October 17, 2018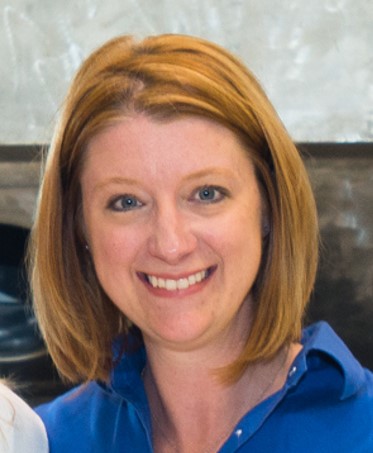 Nicole Smith is the Project Manager for Orion Spacecraft Testing at Plum Brook. She has worked in engineering, mission operations, and program management for the International Space Station and Orion Programs at both NASA Johnson Space Center in Houston, Texas, and NASA Glenn Research Center, in Cleveland, Ohio. As the guest speaker in the CEC 391 Leadership class, she focused on the importance of women in STEM fields—sharing report data as well as her experiences and insights on some of the barriers to keeping women in STEM. The students were engaged in a thought-provoking Q&A session and talked about what action they could take to help support women in STEM.
Julie Elberfeld - Sept. 2018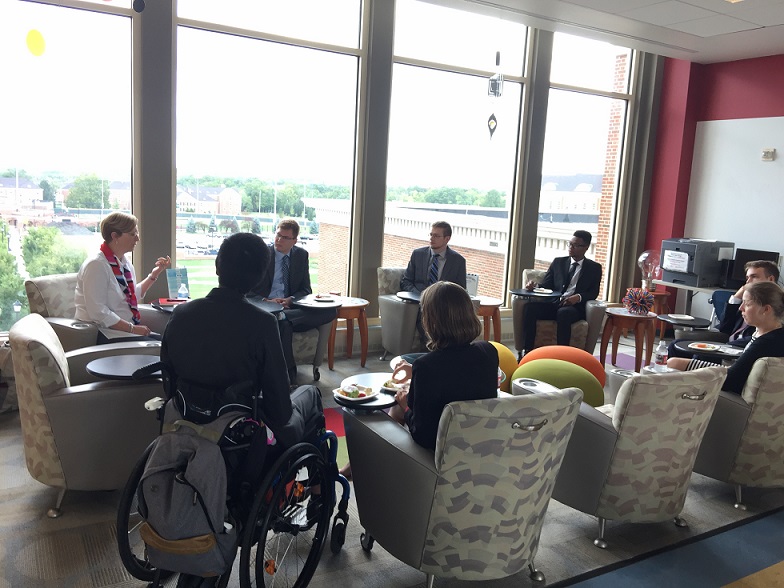 Julie Elberfeld, Senior Vice President, Shared Technology at Capital One talked with the students about her Miami Story, career, and spoke about the values needed to be good leaders in the computer science industry.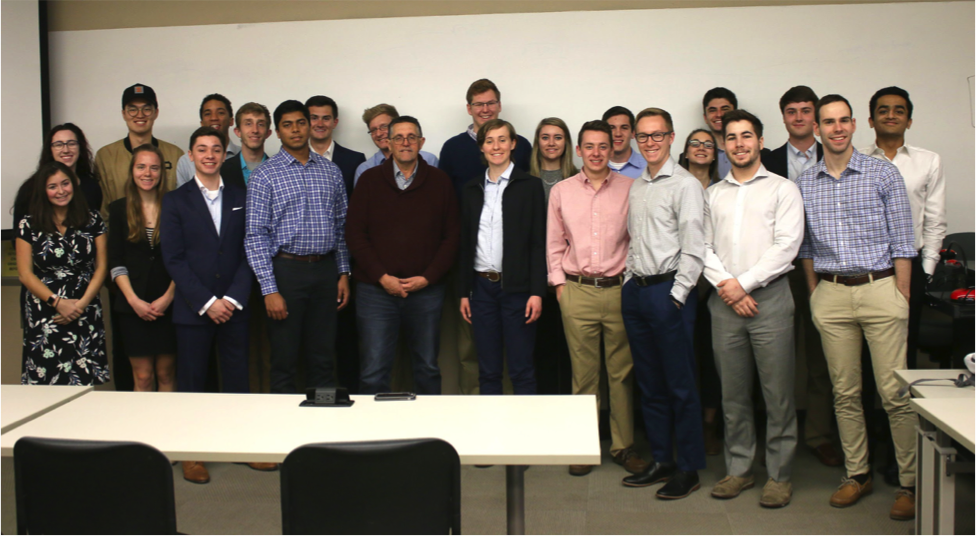 Mr. Cook, Director of Organizational Change and Management at IBM, visited the Institute and shared with each Cohort the benefits of the Agile methodology and mindset in the workplace. Mr. Cook also provided many insights from the field of Human Resources, contrasting the technical backgrounds with which engineers are so comfortable.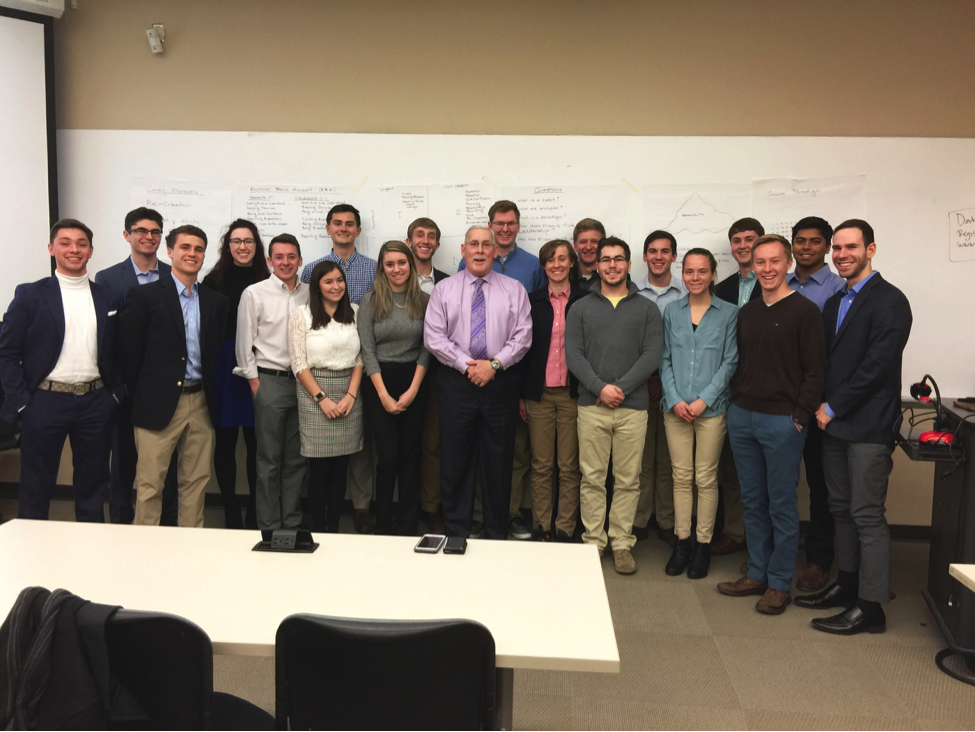 Mr. Lakes, President and CEO of ManufacturAgility, visited the Institute and Cohort VII to share the benefits of the 7 Habits of Highly Effective People. This methodology developed by Dr. Steven Covey stresses the importance mastery of self, positivity, and emotional intelligence in success both in and out of the workplace.
Steve Wozniak - October 2017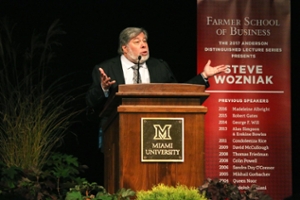 Students in the Institute joined thousands at Millett Hall to hear the Anderson Distinguished Lecture Series speaker Steve Wozniak, co-founder of Apple.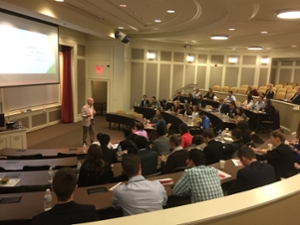 Thanks to Dr. Gerhardt and the hard work of all of those involved at the Farmer School of Business, the Institute had the opportunity to examine and reflect on their inner blind spots/biases at the CBL 13th Annual Executive Conference. Keynote Speaker Audrey Nelson and other business leaders such as Joshua Schwarz(Pictured above), challenged members to change the narrative and push for workplace equality for all.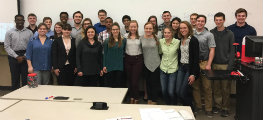 Dr. Megan Gerhardt, Associate Professor of Management and Leadership at Miami University and Director of the Buck Rodgers Business Leadership Program at Farmers School of Business, held a StrengthsFinders workshop for Cohort 6. She discussed the importance of using your strengths to overcome your weaknesses and become a better leader.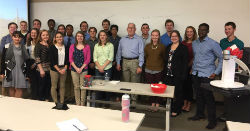 Marty Lakes, President and owner of ManufacturAgility, L.L.C., visited the Institute to share with Cohort 6 the importance of the seven habits of effective leaders, the well-known leadership methodology formulated by Dr. Stephen Covey. Mr. Lakes shared with students how he was able to achieve success across many engineering disciplines using this leadership approach.
Nicole Smith, Senior Project Manager at NASA's Glenn Research Center in Cleveland, returned to the Institute this year to share her experiences as a leader in the field of engineering.
Listening Workshop - Spring 2016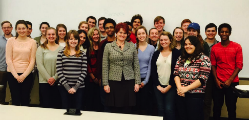 Karen Moss held an Effective Listening Workshop for the cohorts. Students learned skills and techniques necessary in order to be an effective listener. 
David Becker of Lockheed Martin gave a presentation to Cohort 4 members about project management in engineering disciplines.
President Hodge - Nov. 2015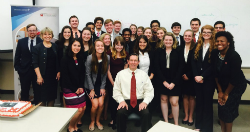 David Hodge, President of Miami University spoke to Cohort 5 students about Miami's year-long initiative to further creativity and innovation in education. 
Marty Lakes, Director, Science and Technology, for Corporate Domestic Business Development, spoke with students in Cohort 5. He discussed the importance of having a mission to live by and why students should live to understand, not to respond.
Global Rhythms - Oct. 2015
Students in Cohort 3 participated in Global Rhythms 20th anniversary celebration concert where they performed music and dance they learned as part of their global perspectives course.
Public Speaking Workshop - Oct. 2015
The Mathews Group held a workshop for Cohorts 3, 4, and 5 on public speaking. The workshop was a day-long event where students learned how to write and deliver an effective speech or presentation.
Nicole Smith, Senior Project Manager NASA Glenn Research Center in Cleveland, spoke to Cohort 5 students about her experience with leadership in engineering roles.
Charlie Haddad - Oct. 2015
Charlie Haddad, an employee at Eli Lilly, graced Cohort 4 with his insights on picking a career path that aligns with your personal values. He talked about his personal mission and the reason that he does what he does.
Miami Meets India - Sept. 2015
Students in Cohort 3 gained global perspectives by participating in a course taught by Srinivas Krishnan that focused on India's Music, Film and Dance.