History of the Department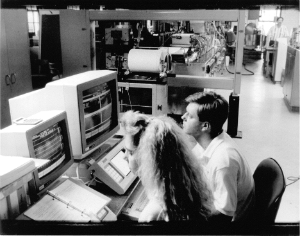 The department of Chemical, Paper and Biomedical Engineering is the oldest engineering program on campus. In the 1950's, the pulp and paper industry had a strong presence in southwest Ohio. Leaders of the paper industry approached Miami University with a request to train students in paper science, so those students could then serve the needs of the pulp and paper industry. Pulp and paper-related courses were first offered in 1958 at Miami. The Paper Science and Engineering program became the first ABET-accredited Paper Science and Engineering program in the United States in 1999. Students of the paper program became very successful in their chosen career.
With the help of industry and alumni, the Paper Science and Engineering Foundation was established in 1960. The mission of the Foundation is to support Miami University's Chemical, Paper, and Biomedical Engineering Department in attracting and preparing talented and highly motivated individuals for careers in leadership within the pulp, paper, and affiliated industries. This is accomplished by providing scholarships and work experience opportunities to students, support to faculty, enhancements to department facilities, and by demonstrating the value of the program to the industry.
The department recognized an opportunity to meet the needs of a broader set of industries by the development and incorporation of a chemical engineering program at Miami. Using the existing Paper Science and Engineering program as a basis, a chemical engineering program at Miami was established and was first offered in 2005. The Paper Science and Engineering program is currently an elective track within the Chemical Engineering program. Other elective tracks within the Chemical Engineering curricula were also established, including biochemical engineering and environmental engineering.
In response to the global rise of the biotechnology and bioengineering industries in the 2000's, a new program was created at Miami in bioengineering, first offered in 2010. This curricula will educate students with strong consideration of the emerging interests and needs for innovation in biomedical products and bio-based processes and products. There are four tracks in bioengineering: bioinformatics, biomedical, bioprocessing, and pre-medical studies. The breadth of these tracks is characteristic of the range of bioengineering as a field of study.
Chemical Engineering and Bioengineering are ABET-accredited programs at Miami.