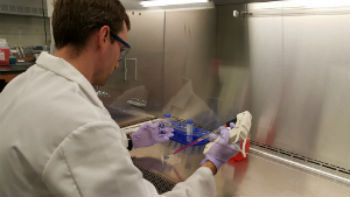 Our undergraduate students have the opportunity to conduct leading edge research in the fields of chemical and bioengineering. Topics that our students have recently worked on include:
Development of a water purification systems for under-developed societies
Fabrication of synthetic materials that mimic biological tissues
Effects of mechanical, chemical, and biological stresses on various types of cells
3D printing of structures for bio-related research
Research can be conducted as independent study or as summer employment with one of our faculty members. It may also be conducted in a group with other students from this department or other CEC departments as part of the senior level design course. Check out the Office of Research for Undergraduates for more opportunities to get involved with research. If you're a first-year student, check out the First Year Research Experience.