Graduate student Saugat Tripathi wins gold award in STLE exhibition
Miami graduate student Saugat Tripathi wins gold award at this year's STLE Annual Meeting and Exhibition with his poster presentation, titled "Comprehending Nano Scale Corrosion Behavior using Multi-Layered Perceptron for Regression."
Graduate student Saugat Tripathi wins gold award in STLE exhibition
Saugat Tripathi, a graduate student at Miami University, received the gold award at this year's Society of Tribologists and Lubrication Engineers (STLE) Annual Meeting and Exhibition for his poster presentation about using machine learning algorithms to understand corrosion behavior.
Each year, STLE seeks student poster presentations at its annual meeting, highlighting an aspect of tribology research that can be translated into friction, wear, and lubrication. 
The poster research topics can be co-authored by faculty and other researchers, but only the students are allowed to present their posters and their work at the session. The poster presentations are judged by a conference committee and awards are given to whichever posters the judges decide are the best.
Tripathi completed his undergraduate from Nepal and is now working toward his Master of Science in Electrical and Computer Engineering at Miami. 
"I am still adjusting to the new environment, but Miami University already feels like a home to me," Tripathi said.
Tripathi's current research interests include looking at engineering applications of machine learning, researching deep learning, and studying the intelligent management of unmanned aerial vehicles (UAV) based cellular networks.
The poster presentation that got Tripathi the gold award looked at how one could use machine learning algorithms in order to understand corrosion behavior at the nanoscale.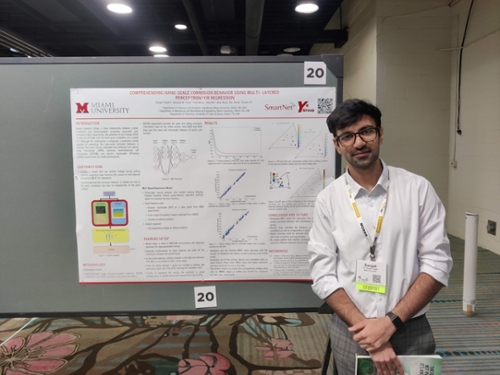 "Corrosion has an economic impact of almost 3.4% of global GDP, so a proper study can help us develop a model capable of predicting the corrosion behavior based on surface features," Tripathi said.
The work Tripathi did for this project was done over a period of seven months, with the last month mainly being used for Tripathi to prepare for the conference and his presentation. Tripathi first heard about the STLE meeting from one of his advisors for his work, Dr. Zhijiang (Justin) Ye.
Tripathi is thankful to his advisor, Dr. Ran Zhang, for guiding him throughout his academic journey, as well as for Zhang serving over Tripathi as a supervisor for him on SmartNet lab
He also praises Dr. Zhijiang (Justin) Ye and Dr. Miao Wang for their direction, and to the Department of Electrical and Computer Engineering for their continuous support in his adjustment to Miami.