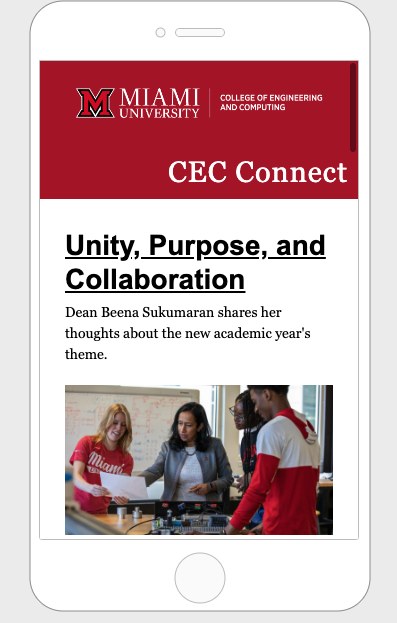 This month, the College of Engineering and Computing debuts CEC Connect for faculty and staff.  

CEC Connect will bring news and information monthly to your email inbox. The fresh new design template is from university communications and marketing, and the content is from CEC's marketing and communications department. 

Carole Johnson, director of CEC's marketing and communications, serves as the editor and oversees a talented team of student interns and student workers.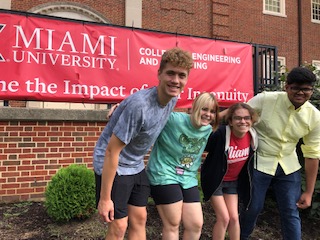 Gabby Benedict continues as a student writer.  Benedict is a junior Journalism and Arts Management and Entrepreneurship double major with a Music Theatre minor. CEC News readers will recognize her name as she has written numerous stories over the last year. 
(Pictured above l-r: Kelton French, Gabby Benedict, Charlie Sutter and Shreyansh Shreyansh. Pictured Below, French, Benedict, Sutter and Anna Lewis.)

Kelton French, a longtime CEC student worker, also will continue working as a website content editor during the fall semester. Kelton is a senior Computer Science major.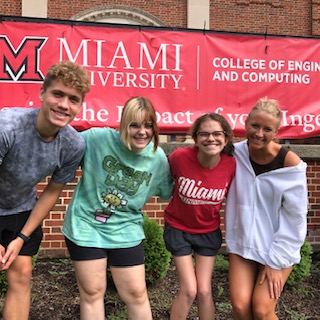 Anna Lewis joins us this fall working with CEC's social media. Lewis previously worked for the Department of Chemical, Paper, and Bioengineering creating social media posts. She is a junior double majoring in Nutrition and Global and Intercultural Studies with a Chemical Engineering minor.

Shreyansh Shreyansh continues with CEC also as a website content editor. He is a second-year student majoring in Computer Science.

Emma (Charlie) Sutter also joins us this fall as a website content editor. Sutter, who goes by her nickname, Charlie, is a sophomore Biomedical Engineering major.
Connect with CEC Connect
All the news and information starts with each of you. Please let us know about your awards, grants, research and classroom activities, and more by emailing us at cec@MiamiOH.edu. Please include in your subject line the word, 'News.'

If you have an update for the College of Engineering and Computing website, please email cechelp@MiamiOH.edu.