Biomedical engineer Justin Saul receives $2.5 million grant from the National Institutes of Health for research on osteoporosis treatment
The funding will support research in the use of tissue-engineered ovarian constructs to prevent or reverse osteoporosis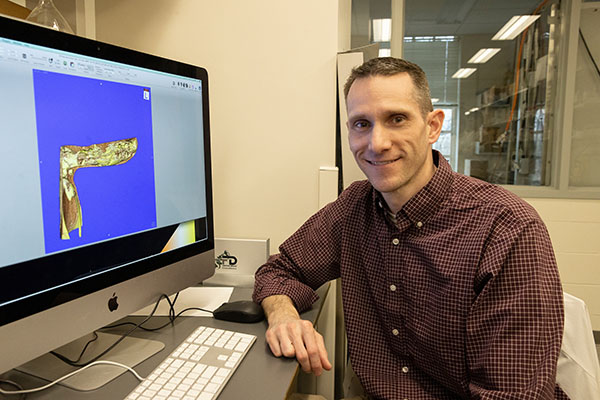 Biomedical engineer Justin Saul receives $2.5 million grant from the National Institutes of Health for research on osteoporosis treatment
Justin Saul, professor of Chemical, Paper and Biomedical Engineering at Miami University, received a $2.5 million multi-year grant from the National Institutes of Health (NIH) Research Grant Program (R01) for research on potential treatments for osteoporosis. 
The long-term goal of the research is to develop a cell-based therapy that can be used in humans to prevent osteoporosis associated with loss of ovarian function in females.
The project "Sustained Regulation of Hypothalamus-Pituitary-Ovary Hormones with Tissue-Engineered Ovarian Constructs as a Treatment for Osteoporosis in Females," includes co-investigators Michael O'Connell, assistant professor of Statistics; Byran Smucker, associate professor of Statistics, and Andor Kiss, director of the Center for Bioinformatics and Functional Genomics.
The collaborative project also includes co-principal investigators Emmanuel Opara of Wake Forest University Health Sciences, Saami Yazdani of Wake Forest University, and Barbara Boyan of Virginia Commonwealth University.
This research can potentially provide a simple alternative solution to drug-based forms of hormone therapy that frequently require remembering to take pills, creams, or patches to deliver hormones, according to Saul. A cell-based construct could help release other hormones naturally secreted by native ovaries in the body but that are not found in traditional hormone therapies. This could lead to a safer, longer-term implant for preventing and treating osteoporosis in females, Saul said.
"An easy way to explain is, if you take a drug that has progesterone and estrogen in it, those are two major players. But there are multiple other hormones that a woman's ovaries secrete such as activin, inhibin, progesterone, and even testosterone. With a drug, you're getting two big pieces of the pie, but you're not getting everything, so the goal of this research is to have the cell-based construct act as an artificial ovary and secrete more hormones than a pill typically could," Saul said.
Saul has mentored several Miami undergraduates students involved in this research, including Rachel Duke B.S./M.S. '22 and senior Biology major Nick Stanich, co-authors with Saul on a study published last month about a mathematical model demonstrating the potential for cell-based hormone therapy.
Saul joined Miami in 2011 after serving on the faculty at Wake Forest University Health Sciences. His current research includes biomaterials to support cells for retinal regeneration, delivery of growth factors to promote bone regeneration, cell delivery strategies for skeletal muscle, and tissue engineering strategies for hormone replacement.