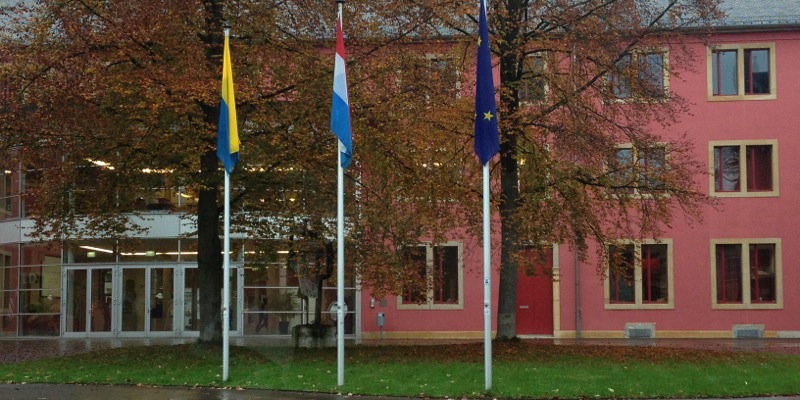 Handbook for Student Teachers in Europe
Handbook for Student Teachers in Europe
Conceptual Framework
The College of Education, Health and Society is a community of collaborative practitioners who are committed to fulfilling Miami University's mission to prepare caring, competent, and transformative educators by infusing skills, knowledge, and dispositions that promote the highest caliber professional programs in the areas of education, health, and society.
A caring, competent, and transformative practitioner is a person who holds the unique responsibility of preparing young people for their roles in society. A teacher's role and relationships with students are evolving, and transforming.
Caring means that you understand the perspective of others.
Competent means that you have a good command of your subject area and know how to teach that subject to your students.
A transformative teacher is engaged within critical reflection upon the practice of teaching and the learning environment in the classroom and the larger community.
Course Description
Student Teaching is a practical experience in a Pre-K – 12th-grade classroom, working closely with a cooperating teacher for 15 weeks who will model safe, effective, and current teaching methods.
Course Objectives
At the completion of this course, teacher candidates will be able to:
Teach effectively with knowledge of students' background experiences.
Articulate clear learning goals for the lesson.
Demonstrate connections between previous, current, and future content.
Plan teaching methods, activities, and materials aligned with lesson goals.
Select evaluation strategies appropriate for students and lesson goals.
Communicate challenging learning expectations for each student.
Establish and maintain rapport with students.
Maintain consistent standards of classroom behavior.
Create an environment that promotes fairness and is safe and conducive to learning.
Clarify learning goals and procedures for students.
Make content comprehensible for students.
Create opportunities for students to extend their thinking.
Monitor student comprehension and provide feedback.
Make effective use of instructional time.
Demonstrate a sense of efficacy.
Reflect on the extent of learning goals being met.
Build professional relationships to support student learning.
Communicate with parents or guardians about student learning.
Background of Student Teaching in Europe Program
The Student Teaching Program in Europe (STEP) is the oldest teaching abroad program at Miami. For more than a quarter of a century, schools in Luxembourg and Germany have hosted Miami student teachers. These schools offer English-language learning with international curricula, including the International Baccalaureate program, to meet the needs of a globally mobile student body.
Overview of Current Programming
Student teaching in Europe is only offered during the fall semester. Students spend the first 8 weeks in local placements, then travel abroad for the second portion of the semester. Students are required to complete their edTPA during the first 8 weeks while in the United States.
Eligibility and the Application Process
Students considering student teaching in Europe during the fall of their fourth year must be in good standing and demonstrate a 3.0 GPA in their content area. Additionally, the following needs to be completed during their third year:
Review the information posted on the Student Teacher website.
Check with Global Initiatives regarding university requirements.
Attend the general student teaching abroad informational seminar and all of the student teaching in Europe seminars.
Complete the Student Teaching Abroad application found on the website.
Provide 2 letters of reference from faculty familiar with the student's academic record.
Submit the Application and reference letters, along with 3 copies of the autobiographical narrative, and a copy of the DARS to the Office of Student Teaching no later than December 2.
Participate in a brief individualized interview with the Director of Clinical Field Experiences and School Partnerships.
*Disciplinary history is a factor in the application process. All students will be required to sign a behavior contract. Any university disciplinary violations will preclude participation in student teaching abroad.
Next Steps
During the spring semester, the Office of Student Teaching will be working with contacts in Europe to make placements in schools. Students who do not have a passport should apply during this period. Seminars will be held during the spring in order to provide information regarding flights, placements, housing, and supervision.
A Student Investment (down payment signifying a firm commitment to the program) in the amount of $1000.00.
Final information regarding cooperating teachers and host families will be sent via email to students as soon as it becomes available. Often this information is not confirmed until late summer or early fall due to the European school calendar.
Anticipating Costs
While all costs are dependent on a variety of factors beyond the control of Miami University, the following represents an approximation of expenses:
Item
Europe
Register for: 15 hours undergraduate/12 hours graduate
Tuition plus $1200 student fee for student teaching abroad. This includes the $300 edTPA fee
Housing
Approx. $150/week with host families*
*Current MUDEC rate applies in Luxembourg
Flight/transportation to and from Oxford
Approx. $1200-$1500 round trip
Insurance/healthcare
HTH International Student Insurance - Approx. $10.50/week
Passport
$100 Passport application fee
Preparing for Departure
While the Office of Student Teaching works on placements and other logistics abroad, the student should address the following responsibilities:
Buy airplane ticket and provide flight information to the Office of Student Teaching.
Purchase HTH Insurance, as required by the university.
Complete the Housing Information Sheet and return it to the Office of Student Teaching.
Complete all necessary Global Initiatives modules and forms online.
Email a letter of introduction to the cooperating teacher and Principal of the assigned school thanking them for your placement.
Students placed in Luxembourg should complete the Host Information Form and submit it to the Director of Housing.
Email your host family with an introduction, detailed arrival plans, and any specific personal needs or requests.
Upon Arrival Abroad
After arriving abroad, students should complete the following:
Notify the Office of Student Teaching.
Contact your school to arrange a meeting with your cooperating teacher.
Purchase necessary transportation passes.
Ensuring a Successful Classroom Experience
In all contexts, a student teacher is a guest of the host school and cooperating teacher. Student teaching in another country may differ from US experiences in a number of ways, and the amount of time spent co-teaching or solo teaching can vary. Students are encouraged to engage in volunteer experiences, such a tutoring, mentoring, or coaching to enrich the overall understanding of students and their culture.
Lesson Planning continues to be a mandatory element of student teaching. Student teachers are to have complete lesson plans for every lesson they teach or are responsible for in Europe. These should be retained electronically and available for review at each observation. Lesson plans are working documents; after a lesson is taught it should be used for reflection, notes, and ideas for improving the lesson. There is a lesson plan template in the Student Teacher Handbook for reference. Formats may vary but should include the following: the academic standards, anticipatory set, activities, materials and resources, accommodations for special learners, assessment (formal or informal) and reflection.
Dress code in European schools is typically more formal and conservative than in the United States and many schools require students to wear uniforms. Student teachers are expected to dress professionally, to be clean and well-groomed, and to wear clothing that is not distracting or inappropriate. Please ask your cooperating teacher about the school dress code, including the policy for footwear and neckties, and clarify expectations for your appearance. Student teachers should not wear clothing that reveals their stomach or back and should ask if tattoos, piercings, or unusual hairstyles are acceptable.
The use of appropriate technology, including but not limited to Smart Boards, iPads, and computers is encouraged in Europe. However, personal devices should not be used during the school day, with the exception of lunch and planning time. Facebook and Twitter postings must be kept confidential and should never include students or any identifiers that would disclose information about the class or school.
Attendance Policy for Student Teachers
Student teachers are required to be on time every day of the student teaching experience and are expected to stay at school during the hours required of a regular classroom teacher. A student teacher who must miss a day due to illness or another severe issue is required to inform their cooperating teacher and university supervisor prior to the absence.
Students who miss more than five days will be required to make up the days or repeat the student teaching experience upon return to the United States.
Two tardy incidents or early departures will equal one day's absence.
Any unexcused absence is cause for removal from the student teaching placement.
Student teachers in Europe must follow the calendar of their host school for the duration of their placement. Please note that you will be expected in school during US holidays that are not observed in Europe.
UNDER NO CIRCUMSTANCES SHOULD A STUDENT TEACHER ACT AS A SUBSTITUTE TEACHER. If the cooperating teacher is absent, a licensed substitute must be in the room with the student teacher. The student teacher can, and should, continue regular teaching while the teacher is absent, thus maintaining regular standards of learning and classroom management.
Assessment and Feedback
The Ohio Teacher Performance Assessment (edTPA) is the benchmark assessment for student teaching and must be successfully completed in order to pass student teaching. Students are expected to submit this assignment prior to departure.
The cooperating teacher will also submit a Letter of Recommendation to be used for reference purposes at the conclusion of the placement. This letter should describe the context of the school and classroom, curricula used, strengths and progress of the student teacher, and any special projects or activities that took place during the 8-week experience.
University supervisors are assigned to work with all student teachers, including those placed in Europe. They serve as a liaison between the student teacher, cooperating teacher, and the university. The supervisor makes site visits, arranges formal observations, schedules conferences with the student and cooperating teacher, and is available, either in person, or electronically to address the needs of the student teacher. Feedback from formal observations should be used in a constructive manner; it is vital to the growth and success of the student teacher. Other factors that will influence the passage of student teaching are attendance and punctuality at school and at the mandatory seminars, lesson planning, and professionalism.
Disciplinary Consequences
Students who violate program dispositions or the disciplinary contract while abroad may be asked to return to Oxford.
Students who are removed from a classroom by either university or school personnel will not be permitted to remain in Europe.